Not a day goes by without some outrageous drama in the NBA. There's a reason why it's the only truly 24/7, 365 sporting league in the world and we'll give you the scoop: it isn't because the Summer League is particularly compelling viewing.
After Friday night's earthquake in LA came a seismic shake of a different kind; Kawhi Leonard and Paul George would be teaming up to play in Tinseltown. For the Clippers. NOT the Lakers.
The immediate aftershocks of that remarkable news are pretty clear. The Clippers move from a mediocre 8th-seed in the stacked Western Conference to an out-and-out favourite; the Lakers' perennial hold on 'Kingpin in LA' status suddenly looks tenuous at best (and completely gone at worst); while Toronto go from NBA champions to possibly a non-playoff team.
Oh, and with George's shock exit there's the small matter of the Oklahoma City Thunder losing any possible chance of competing for a championship in the foreseeable future.
With that in mind, and given the fact that 30-year-old (and ageing fast) Russell Westbrook is set to earn over $170 million in the next four seasons, OKC and GM Sam Presti are understandably keen to explore all of their options. One of those (according to Woj) is the possibility of trading Westbrook and completely burning their current roster to the ground.
With Jerami Grant now on his way to Denver in exchange for a second-round pick, that possibility is starting to look more and more like a probability every second. On Monday night, Shams reported that both sides (OKC and Westbrook) were becoming increasingly receptive to the idea of Westbrook playing for another franchise as early as the start of this upcoming season.
Finding a partner willing to take Westbrook in a trade will not be easy, but it's certainly possible. Let's see where the Bodie might be plying his trade in 2019-20.
New York Knicks
It would be oh-so-very Knicksy to utterly bomb out in free agency and then over-compensate by burning their remaining cap space on a near-obsolete Westbrook.
On the plus side, Russ is still a star in this league, for the moment at least. There's something to be said for the argument that if the Knicks can't get the absolute best, they may as well get somebody! Right?
Westbrook on a poor New York roster would be a statistical behemoth; if not a genuine MVP candidate then at least a guy half a chance to put up 35/10/10 on any given night. Someone who could provide basketball fans in the Big Apple with that most mystical of all qualities that they've been in short supply of for so long – hope.
Given they struck out on Anthony Davis the Knicks do have the assets to get a trade done. They also have the ability to free up cap space given the conspicuous lack of KD or Kyrie on the books. Any trade would not be able to get done until at least December 15 due to free agent signings, but a combination of Dennis Smith Jr., Frank Ntilikina, Reggie Bullock, Wayne Ellington and Taj Gibson would likely be enough to persuade Sam Presti's Thunder to forego their most valuable remaining asset.
The Knicks desperately need a win, of any shape or form. Maybe this is it.
Houston Rockets
On Sunday, Sam Amick and Brett Dawson from the Atlantic reported that the Rockets were a potential trade partner for the Thunder, with rival executives apparently pinpointing them as a likely suitor.
The whispers around Westbrook to the Thunder seem to be entirely based on two factors;
GM Daryl Morey's unparalleled reputation as a wheeler-and-dealer; and

The Rockets' recent history of trading for ageing, slowing point-guards on horrendously awful contracts.
Yeah. That's about it.
On paper this would make absolutely no sense, assuming Morey can't find a way to get out from under the enormous Chris Paul contract. A back-court of Paul, Westbrook and James Harden is an absurd prospect, unless Morey can somehow figure out a way to give three guys more than 40% usage rates. Quick maffs.
Assuming Morey can get out of the Paul contract somehow… This still wouldn't make any sense. Two ball-dominant guards with known difficulties in *ahem* being decent, ball-sharing teammates (to put it nicely) are not going to fit together.
The Rockets could (if they wanted to) put together a fairly decent trade package with the likes of Clint Capela, PJ Tucker and Eric Gordon, but none of those guys fit the profile that a rebuilding Thunder is likely to want. In simple terms – the Rockets are old and the Thunder want youth.
We just can't see a way this could work. Never say never though. Morey is an evil genius. We"ll be deep in the cold ground before we rule him out of anything.
Miami Heat
We're not sure what it is, but something about the idea of Westbrook in a Heat jersey feels oh-so-right.
After all, with Hassan Whiteside no longer on the roster who else is going to grab those cheap stat-padding defensive rebounds? The structure is already in place – Russ could step right in and pick up the 15 uncontested rebound per game slack.
On Monday night Woj reported that the Heat and Russ' camp were mutually interested in Miami as a destination. Apparently Westbrook wants to go to a team in contention, and somehow someone has convinced him that the Heat fit that bill. Newsflash: they don't.
Regardless, there's a world in which this works for both parties; Russ gets to show his biceps off in the sun and Pat Riley and Erik Spoelstra get another guy on the roster with enormous muscles, a chip on his shoulder and an apparent will to win at all costs.
The trickiest part of this deal is going to be the deal itself. Miami have almost no cap space and almost no assets. A trade involving Meyers Leonard, Goran Dragic and Justise Winslow may work financially, but it's fair to say Presti and OKC would like their chances to get a bigger offer than that from elsewhere. What a pity Josh Richardson is no longer on the roster…
Making things even more difficult is that thanks to the Richardson sign-and-trade, Miami are hard-capped below $138,627,000 for the remainder of the season. That's not great given they're currently sitting just $986,000 under that mark.
In the NBA, though, deals often find a way to get done when both parties are motivated. Maybe a third player (Dallas?) will enter the fray. They have been showing some interest in Dragic after all…
Detroit Pistons
Is it crazy to think that a team built around Blake Griffin, Andre Drummond and Russell Westbrook could actually be competitive in the East next year? Weirdly, the answer feels like a no.
Purely basketball-wise, this seems the best fit of all Russ' potential options. Drummond fits the Steven Adams mould of the centre willing to clear the lane and finish an occasional dunk, while Griffin (despite his well-documented injury issues) was still capable of leading a sub-par Pistons to the playoffs last season. We'll willfully turn a blind eye to what happened after that *ahem* SWEEP *ahem*.
The centrepieces of any Westbrook -> Detroit trade are likely to be some combination of Reggie Jackson, Luke Kennard, Thon Maker, Tony Snell, Langston Galloway and picks.
Leaving aside the ironic hilarity of seeing the fan-reaction to Jackson returning to OKC, that package really isn't that appealing. Detroit just don't have the young talent the Thunder are likely to be looking for, although maybe Presti will be attracted to the idea of adding to his already-bulging war chest of picks.
For Detroit though, the attraction in pushing hard for a second star is obvious. Blake Griffin still has three years to go on his monster deal, and reading the tea-leaves from last year it'll be fairly clear to everyone that maybe only 1 and a half of those years are going to be at a relative level of productivity. At some point in that span the Pistons need to push themselves all in, or run the risk of wasting whatever chance they thought they had when trading Tobias Harris to the Pistons.
Side note: Andre Drummond is still only 25 years old. This team isn't as far as the media (or lack thereof) would have you believe. Maybe Russell Westbrook would be what they need to get over the line?
Minnesota Timberwolves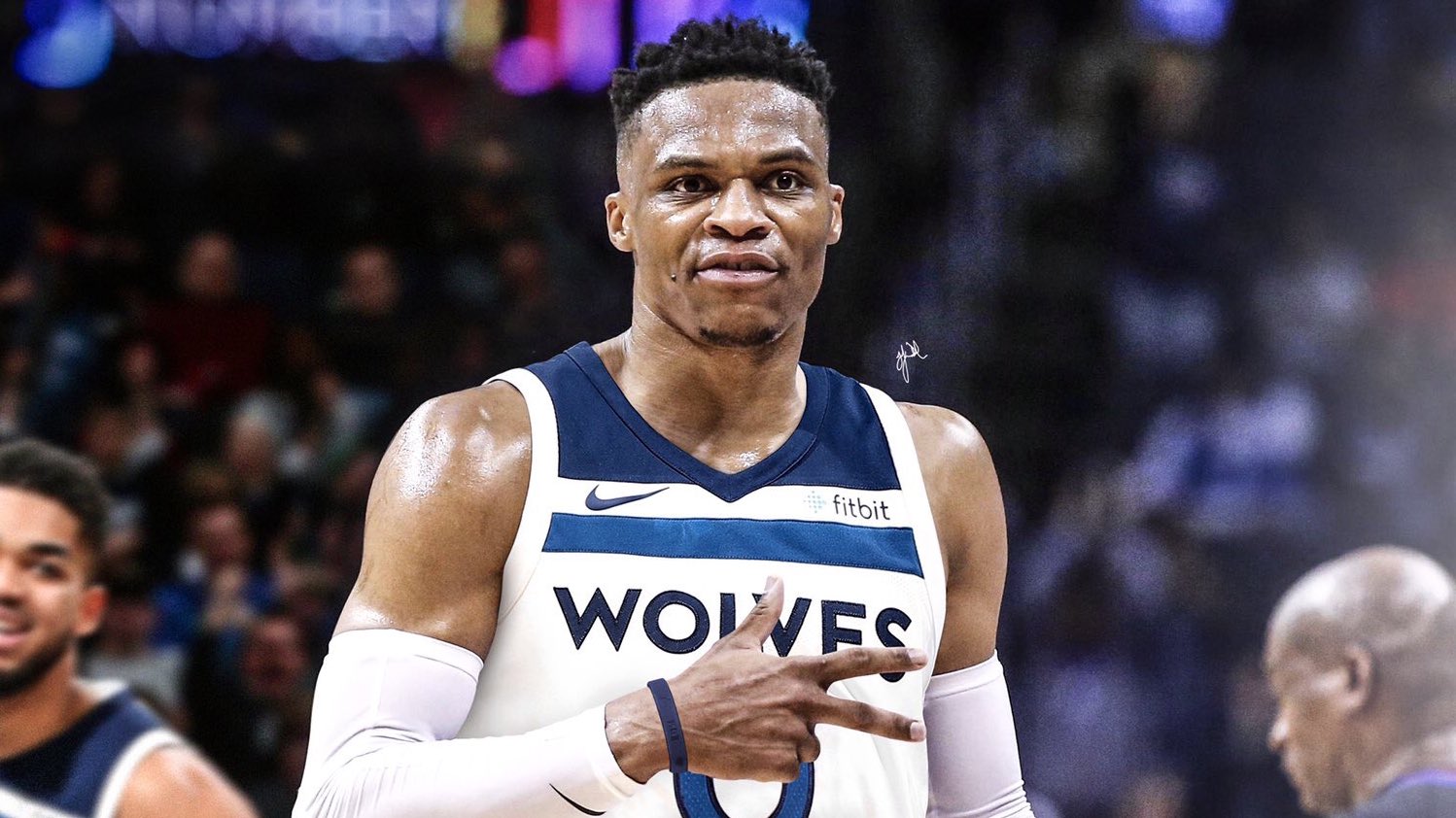 Russ sure does look good in a Wolves jersey (thanks to MNS Sport News on Twitter).
It sounds like Minnesota are kiiind of involved in talks with OKC, but not really.
If the Thunder aren't interested in Andrew Wiggins in a putrid contract for putrid contract swap, it's hard to see what else Minnesota could give up. Karl Anthony-Towns is going nowhere, Jeff Teague is getting paid $19 million next year (WTF?!), Josh Okogie is highly-rated in the Twin Cities and probably untouchable and… Well, there's not much else.
It is intriguing to note that despite being over the cap, Minnesota were reportedly close to getting a deal done for D'Angelo Russell. The lesson to be taken out of that is that they're keen to make moves, so don't think you've heard the last of them this offseason.
It's going to be tough for the Wolves to find a partner willing to take on Wiggins at this point, and if OKC don't want him then no one will. We can't really see this one working.
Any teams we've missed? Let us know on Twitter! Follow Sportstips.com to get the best highlights and updates sent straight to your socials.