On Thursday afternoon, the NBA announced the three All-NBA teams.
Without delving too deep in to how the Collective Bargaining Agreement ('CBA') works (we'll save that for another article), it's important to note that, as part of the CBA, making an All-NBA team in the year prior or two of the three years prior to the end of a player's current deal makes them eligible for a significantly larger contract with the team they're currently on than what they would be eligible to receive otherwise.
The player effectively becomes eligible for what is known as a "supermax" extension by virtue of being one of the 15 players chosen to an All-NBA team.
Before we analyse the results, let's see who actually made it:
All-NBA First-Team:
Giannis Antetokounmpo, Forward, Milwaukee Bucks
James Harden, Guard, Houston Rockets
Stephen Curry, Guard, Golden State Warriors
Paul George, Forward, Oklahoma City Thunder
Nikola Jokic, Center, Denver Nuggets
All-NBA Second-Team:
Joel Embiid, Center, Philadelphia 76ers
Kevin Durant, Forward, Golden State Warriors
Damian Lillard, Guard, Portland Trail Blazers
Kawhi Leonard, Forward, Toronto Raptors
Kyrie Irving, Guard, Boston Celtics
All-NBA Third-Team:
Russell Westbrook, Guard, Oklahoma City Thunder
Blake Griffin, Forward, Detroit Pistons
LeBron James, Forward, Los Angeles Lakers
Rudy Gobert, Center, Utah Jazz
Kemba Walker, Guard, Charlotte Hornets
More than any of the various other NBA awards, looking at those 15 places is generally the most reliable port of call if you're wondering who the bona fide, superstar, upper-echelon players in the league are.
That being said, as with all subjectively-voted awards in sports, there are going to be certain players who were lucky to make it, and certain players who were unlucky to miss out.
In the case of the All-NBA teams that distinction is particularly relevant thanks to the aforementioned conditions regarding supermax extensions.
So, who won big and who lost hard thanks to Thursday's announcement? Let's find out.
Losers
1. Bradley Beal
Despite how poor Washington were overall this year, there's no escaping that the stats say Bradley Beal was desperately unlucky to miss out on an All-NBA team.
The Wizards' shooting guard averaged 25.6 points, 5.5 assists and 5 rebounds and played in all 82 games this season.
The other 5 players in the league who averaged 25/5/5 ALL made it in to an All-NBA lineup.
Startlingly, Beal is only the 5th player in NBA HISTORY (!!) to average those marks and not make it to an All-NBA team, and two of those five (Demarcus Cousins in 2017-18 and Michael Jordan in 1994-95) played less than 50 games.
Beal is also just the 11th player in NBA history to average those statistical marks and shoot at a true shooting percentage better than 58%; joining the likes of Larry Bird, Stephen Curry, Harden, Jordan and LeBron James (among other stars).
The real loss though isn't to Beal's reputation or his standing among the game's elite; it's to his hip-pocket.
Had he made an All-NBA team, Beal would have been eligible for a four-year $191 million extension (to take effect in 2021-22).
He still can trigger that super-max eligibility with an All-NBA nod next season, but at the moment remains stuck in limbo. That may provide the Wizards with exactly the flexibility they need to find a trade for Wall and/or Beal before the purse-strings draw even tighter.
In Beal's corner there's a strong argument to be made, despite the team's horrendous record, that he had a much better individual season than the polarising Westbrook, or volume-shooting Walker.
If he doesn't end up making an All-NBA team next year though, Beal may have cost himself upwards of $30 million.
2. Karl Anthony-Towns
"Loser" is a tough moniker to bestow on Towns here; the reality is that as a true centre it's difficult to mount an argument that he should supplant Jokic, Embiid or Gobert in any of those All-NBA roles.
That said, to have the kind of offensive year Towns did and not be recognised as one of the top 15 basketballers in the NBA still feels incredibly unfortunate.
Arguably, Towns has one of the top 10 most-complete offensive skill-sets in the NBA; a trait highlighted by the fact that his usage rate of 28.9 is among the league's top 20.
He shot 40% from three on 355 attempts, which looks more like the stat-line of a three and D wing rather than a 7-foot centre. His ability to pump-fake, disrupt a defence and drive to the hoop is un-matched by nearly any other big-man in basketball.
Without Towns on the floor, the Timberwolves' offensive rating plummeted by 7.4 over the course of the season.
His raw stats are unbelievable as well; 24.4 points, 12.4 rebounds, 3.4 assists and 1.6 blocks on 51.8% shooting from the floor is a ridiculous season by any measure.
While Towns is already on an enormous contract (limiting the relevance of the All-NBA choice for any extension purposes) reportedly he's lost out on more than $32 million in contract incentives by failing to make an All-NBA team.
3. Klay Thompson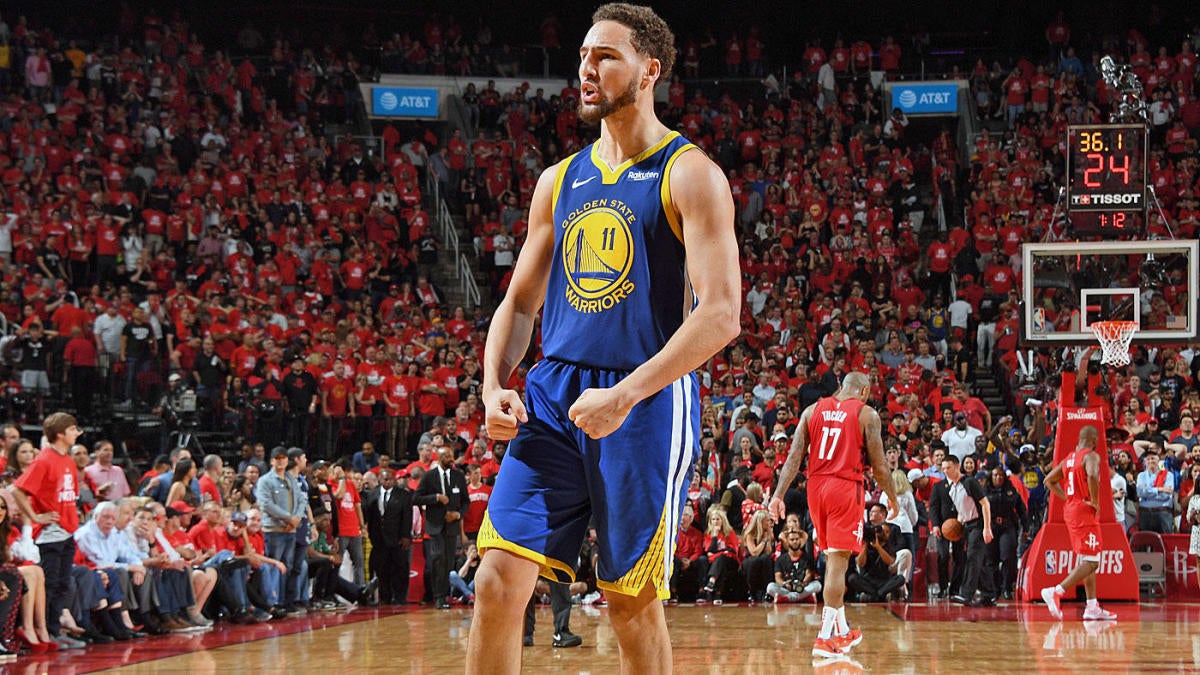 Although he's made 5 straight NBA Finals, statistically it's hard to make a case that Thompson deserved a nod over any of the guards who did make an All-NBA team.
Despite taking more shots per game (18) than any other season in his entire career, the Bay Bomber dropped just 21.5 points per game on 40.2% shooting from three – his worst shooting percentage from long range since his sophomore 2012-13 season.
His overall shooting from the floor was also below-par; at 46.7% that's his lowest mark since the 2014-15 title run.
Financially, though, Thompson was the biggest loser of them all coming out of Thursday.
Thanks to his impending free-agency, had he made an All-NBA team, Thompson would have been eligible for a 5-year $221.3 million supermax deal in this offseason.
Now, the most he can get (cry me a river) is 5 years and $189.7 million; effectively he's lost out on nearly $32 million.
Regardless, it's impossible to see the second member of the Splash Brothers signing anywhere but Golden State. If anything, his ineligibility for a supermax just makes the process easier for both sides; hard for anyone to argue Klay would really be worth $221.3 million to any team, let alone one with the number of superstars the Warriors already have.
Winners
1. Kemba Walker
It felt inevitable for most of the season, but Kemba Walker is now officially eligible for a supermax extension with the Charlotte Hornets.
Worth how much, you ask? Just a lazy $221.3 million over five years. In a complete contrast to Thompson, Walker now stands to make $31 million more than he would have if he didn't make All-NBA.
The major question now is whether the Hornets will fork out to keep their best player in franchise history, or whether he (and the team) may start to look elsewhere.
At the age of 29 there's little doubt that, whatever happens from here, the back-end of any contract Walker gets is going to look horrendous. Even if he takes somewhere closer to $200 million to stay with the Hornets, that's still an incredible amount of money to pay for an undersized point guard.
The most any other team can offer is $141 million over 4 years; effectively staying with Charlotte may benefit Walker by upwards of $80 million in guaranteed money.
2. Giannis Antentokounmpo
With the Bucks' game 5 loss to Toronto fresh in his mind, we're guessing the Greek Freak is feeling a little down right now.
Becoming eligible for the biggest contract extension in NBA history may make him feel slightly better.
After earning himself All-NBA selection for the second straight season, Giannis has officially set himself up to be offered a five-year $247.3 million extension in the summer of 2020. In the final year of that contract he'd be making $56.3 million.
The winning in this instance is for both Giannis and the Bucks; now they can offer him over $100 million more in guaranteed money than any other team in the NBA if he were to test the waters in free agency.
It seems a pretty safe bet that the Greek Freak will be in Milwaukee for the foreseeable future.
3. Damian Lillard
When it emerged on Tuesday that Portland and Lillard were close to agreeing to a four-year, $191 million supermax contract extension, the unspoken caveat was that he had to make an All-NBA team before the offer could be formalised.
Now the formalities are over with, it's likely that deal gets done sooner rather than later.
Extending a player like Lillard at top-dollar through his age-34 season is always going to be risky for a small-market team like Portland, particularly given the struggles they're likely to endure this offseason.
Still, they don't really have an option. Lillard bleeds Trailblazer blood, and would be offered huge money by any team in the league were he to explore his options.
Portland have to keep him, and they will.
In the end, both sides are likely winners.