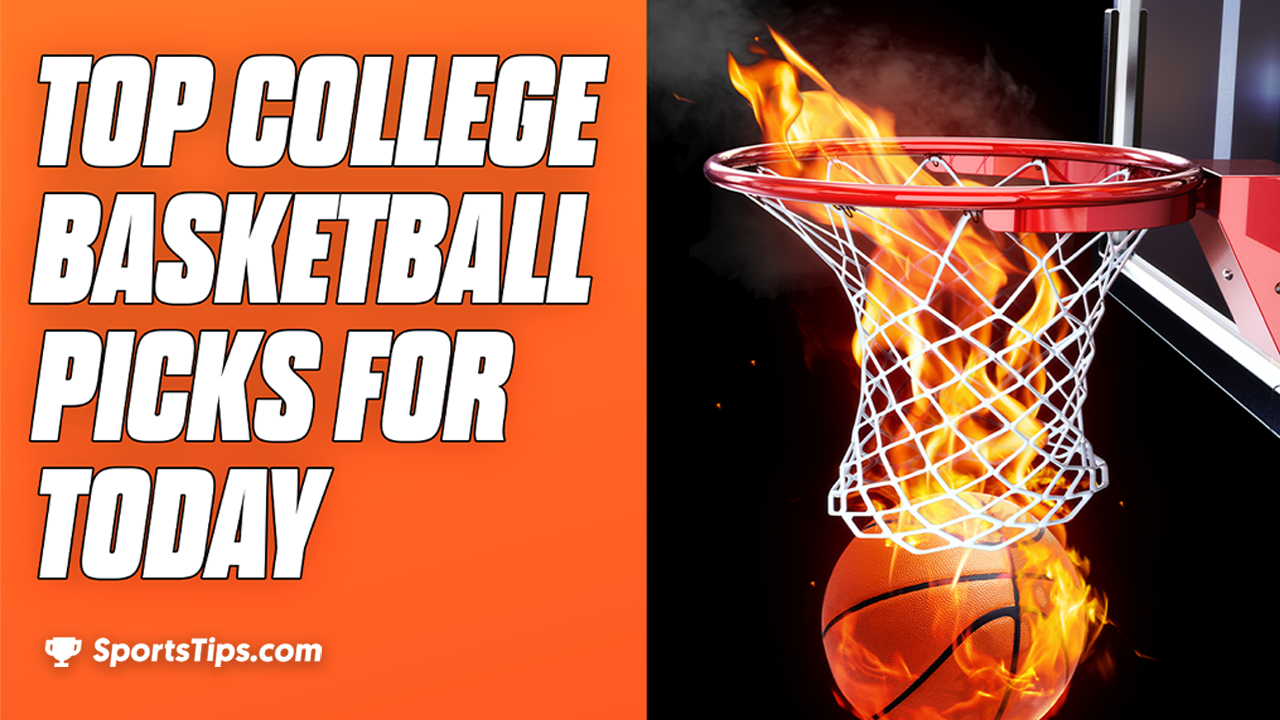 Our free College Basketball picks are out for Wednesday, December 8th, 2021! Make sure you check our expert College Basketball picks before the action kicks off.
Look below to find our free College Basketball picks for the best games on today's schedule!
#15 UConn @ West Virginia -7pm ET
Another big-time game pitting two old Big East foes head to head. The nationally-ranked Huskies meet Bob Huggins and the Mountaineers in Morgantown.
In one of the most interesting games on Wednesday in the NCAA Uconn will travel to Virginia to face off West Virginia. Both teams are looking decent at the moment with Connecticut being slightly ahead with 8 wins and 1 loss, while West Virginia holds a 7-1 record. The Uconn Huskies know they have to make up for last year's early exit in the bracket. They lost to Maryland in the 1/32 finals which was a really disappointing performance, although well anticipated. So far, they have only lost to Michigan State in a tight contest two weeks ago. R.J. Cole and Adama Sanogo are playing very well for the Huskies, while Tyrese Martin and Jalen Gaffney are solid from the 3-point line.
West Virginia looks to further build on their good performance recently as they are heading into this match on a 4-game winning streak. Their sole loss came against Marquette who was off to some fantastic opening games to the season. Although this loss was a bit surprising and they lost a double-digit lead against a lower-tier team, I would say that such games occur from time to time. They have just been outclassed in the second half by a more determined and purposeful team. In the rest of their matches, West Virginia has been performing on a decent level which led them to 4th place in the Big 12. In my opinion, such meetings are unpredictable and I'd rather choose something different. Having in mind both teams' conservative approaches, especially the one of West Virginia, I would suggest picking "under 138.5 points".
Denis' College Basketball Pick: Under 138.5 (-110)
The old Big East meet-up in the game that has the potential to be the best we see Wednesday night. UConn comes into this one ranked 15th, and playing some great basketball. They have slipped up once this year, but it's not a bad loss at all, as they fell in a tight one to perennial power Michigan State. RJ Cole and Adama Sanogo are leading the way for a Huskies team that looks as if they have the potential to make a deep run in this year's tournament.
An Old Big East Battle on Tap Wednesday Night at the Coliseum https://t.co/KqHur1fR8G

— WVU Men's Basketball (@WVUhoops) December 7, 2021
On the other side, we have a West Virginia team led by one of the winningest head coaches the sport has ever seen in Bob Huggins.. They come into this one showing that they're talented enough to make another run in the tournament this year, as they enter at 7-1, with the only loss coming to a good Marquette team. The one issue I have with the Mountaineers and Huggins over the past few years is their inability to win big games. It's a trend that's persisted for two or three years now, and I have doubts as to whether that trend ends this year. Give me UConn in a great game, as virtually all former Big East games are.
Noah's College Basketball Pick: UConn (+108)
Much like I said yesterday when you get two old Big East Conference teams on the court you're in for a great game. Expect more of the same in this one as the nationally-ranked Connecticut Huskies hit the road to play the West Virginia Mountaineers. UConn comes into this game ranked 15th in the country with a record of 8-1 on the season. Their lone loss of the season came to Michigan State in the Bad Boy Mowers Battle 4 Atlantis Semifinals. Since that loss, they have won three games in a row by an average margin of victory of 15 points.
The West Virginia Mountaineers come into this game with a record of 7-1 on the season. Led by one of the winningest head coaches in the history of college basketball Bob Huggins. The only loss of the season for West Virginia came against Marquette in the semi-finals of the Shriners Children's Classic. As for the result of this game, I expect a tough physical game that goes down to the wire. When the final buzzer sounds I have West Virginia coming out with a victory at home.
Tony's College Basketball Pick: West Virginia (-130)
Indiana @ #22 Wisconsin – 7pm ET
A Big Ten battle between two of the conference's best. As the Indiana Hoosiers hit the road to Madison to play the Badgers. Both teams will be looking to get a head start on Big Ten play with a win here.
The game between Indiana and Wisconsin will give us a better insight into how things are going within the Big 10 Conference. Both teams hold a 7-1 record as their performance has been nothing less than spectacular so far. Indiana missed on the bracket last season, finishing off the campaign with a negative win ratio. The team has struggled immensely against the better teams, ending on a 6-game losing streak. However, they now have managed to improve and are 3rd in their conference with more than half of their wins from last year gathered for less than a month.
Wisconsin suffered just one upset against Providence in their third match for the campaign. The Badgers have been quite dominant against weaker teams and showed sheer concentration against teams of their caliber. For instance, they defeated Georgia Tech, Marquette, and St. Marys (CA) in their last 3 games. Moreover, the team outsmarted the strong Houston Cougars on November 24th, closing out the match 63:65 after taking a demanding 20-point lead in the first half. On top of that, their playmaker, Johnny Davis, averages more than 20 points per game and leads the team in rebounds, assists, and steals as well. I think the Wisconsin Badgers are slightly better than Indiana and they will prove that on Wednesday.
Denis' College Basketball Pick: Wisconsin -3.5 (-110)
Under, under, under, under.
These are two solid Big Ten teams, and if there's one thing we all know about Big Ten basketball, especially among the conference's best, it's that the defenses are virtually always strong, while the offenses sometimes struggle. In this battle of 7-1 teams, look for points to come at a premium, as both of these schools (especially Wisconsin) are known for slowing the game down and limiting the number of possessions we see. I think the Badgers have a slight edge in terms of who gets the win, but I don't think that's a safe bet, seeing as they've now reached conference play, and that always has the potential to throw things off a bit. To me, the safest play is the under, as I just don't see that many points scored.
Noah's College Basketball Pick: Under 132.5 (-110)
An early season Big Ten Conference matchup is on the slate for Wednesday and it will likely be the best game of the evening. The 7-1 Indiana Hoosiers will travel to Madison to play the 7-1 and nationally ranked Wisconsin Badgers. Indiana comes into this game off of a win over Nebraska to open up Big Ten play. They are still looking to recover from their loss to Syracuse in overtime in an absolute classic of a game to close out the month of November. They will be looking to start their Big Ten slate at 2-0 with a win in this one.
The previously mentioned Wisconsin Badgers come into this game ranked 22nd in the country and possess a record of 7-1 as well. Since the Badgers upset loss against the Providence Friars, Wisconsin has picked up five victories in a row. Three of those wins gave them a first place finish in the Maui Jim Maui Invitational. Now they will be looking to get their conference play slate off to a good start with a victory at home over the Hoosiers in this one. As for the result of this game I have Wisconsin picking up the win at home.
Tony's College Basketball Pick: Wisconsin -3.5 (-110)
#19 Michigan State @ Minnesota – 9pm ET
Another huge Big Ten Conference match up during the Wednesday slate. The Michigan State Spartans head to Minnesota to play the Golden Gophers.
The game between the #19 Michigan State and Minnesota promises to be one of the most compelling for Wednesday night in the NCAA. Minnesota are still undefeated as they went for a 7-0 start to this season, while Michigan State have already suffered two losses. These two defeats were quite anticipated as they faced some of the best teams in the league overall in the face of Baylor and Kansas. The Spartans have won 7 games which puts them in the inconvenient 7th place in the Big Ten Conference.
Alongside Purdue, Minnesota remains the only other team in the Big Ten without a single loss. The Golden Gophers are off to such an amazing start thanks to their focus and hustle from the start of the season. They managed to outplay Mississippi State in their last match in which they were an 11-point underdogs. The team is playing fantastic basketball as Payton Willis and Jamison Battle average around 18 points per game. Eric Curry further helps his team in defense with blocks and in the paint with numerous rebounds. However, I think the game will be a tight one and I see Minnesota taking the win by surprise.
Denis' College Basketball Pick: Minnesota (+188)
In another really good matchup on the Big Ten slate, don't look at the team records, actually look at the talent level. Minnesota comes in undefeated at 7-0, but the schedule has been somewhat favorable to the Golden Gophers. That's not to disparage the great start to the season, but it's just to point out that I think the record is somewhat inflated a bit.
📍Minneapolis pic.twitter.com/73ioY8fiqX

— Michigan State Basketball (@MSU_Basketball) December 8, 2021
For Michigan State, they come in with two losses on the year, but have played one of the toughest schedules in the country. The losses are to Baylor and Kansas, who are both sitting as current top-8 teams in the nation. That's why I say ignore the records in this one. The Spartans have already had their fair share of big games in the first month of the season, where Minnesota is yet to play that big-time marquee game. MSU is a mainstay in the NCAA tournament, whereas Minnesota sneaks in every now and then, and I think we see a similar fate with the two teams this year, as well. I like Sparty to go on the road and get the win in this one, as experience ends up playing a huge factor.
Noah's College Basketball Pick: Michigan State (-245)
The second Big Ten Conference game of the evening pits the Michigan State Spartans up against the Minnesota Golden Gophers in the Twin Cities. Michigan State comes into this game nationally ranked on the year at #19 in the country. They are sitting pretty at 7-2 on the year with some high profile losses to the likes on Kansas and Baylor. Since that second loss to the Baylor Bears, the Spartans have won their last two games and will be looking to extend their winning streak to 3 and start conference play off with a win in this one.
The Minnesota Golden Gophers come into this game undefeated at 7-0 on the season. They have picked up a few close wins this year, proving that they are able to grind it out when it matters. A win over a top 25 Michigan State team would likely be enough to propel them into next week's top 25 poll. As for the result of this game, I have the Spartans picking up the victory and ending the Golden Gophers unbeaten run.
Tony's College Basketball Pick: Michigan State (-245)
Utah State @ #24 BYU – 9pm ET
This one is an in-state matchup between these two Utah based schools. The 6-2 Aggies travel to Provo to the play the #24 BYU Cougars who are 7-1.
Utah State is off to a good start with 6 wins and 2 losses, while BYU has played perfect so far except for the game against Utah Valley State. The 24th-seeded team has suffered a huge upset, despite being a 13-point favourite for this meeting. Brigham Young have been quite conservative so far as they find it difficult to score above 75 points in a single game. They did so on three occasions and excluding the game against Oregon, they did it against teams who are not really a benchmark – Texas Southern and Central Methodist.
Utah State, on the other hand, enjoyed a 6-game winning streak where they defeated the likes of Richmond, Oklahoma, and New Mexico State. The team has proven that they are up for any difficult task as in all of these games they have been the underdogs. The Aggies rely much on their senior, Justin Bean, who averages 22.1 points, 12.5 rebounds, and 1.9 steals per game. His 66% field goals made is one of the highest in the NCAA having in mind the total amount of shots attempted. Himself and Brandon Horvath have been quite decent from beyond the arc as well. I believe that Utah State is a much better team than what everybody thinks. Hence, I will go with them covering their spread in the match against BYU.
Denis' College Basketball Pick: Utah State + 8.5 (-110)
At first glance, most people would take BYU blindly in this one. They're the team with more talent, they've played a tougher schedule overall, and it's at home in Provo. They come in ranked 24th, and outside of a bit of an embarrassing loss at the hands of Utah Valley State, they've been dominant for the rest of the year. The one question I do have with the Cougars is the offense, as sometimes they look a bit stagnant. The defense more than makes up for it, hence the lone loss, but as the season progresses I think that could become a bit of a problem.
The Aggies from Utah State are a team that has been a bit surprising so far this year, as they've already knocked off Oklahoma, and now they look to send the Cougs to the same fate. Behind one of the nation's best scorers in Justin Bean, who is averaging over 22 points per game on 66% shooting from the field, Utah State is a team that has the potential to put points on the board in bursts. This offensive production has the potential to put pressure on a BYU team that struggles to score, and I think that's why the Aggies keep it close. BYU ends up winning, but it's much tighter than they want, so take USU to cover.
Noah's College Basketball Pick: Utah State +8.5 (-110)
Utah State comes into this game with a record of 6-2 on the year. They upset the Oklahoma Sooners in the Myrtle Beach Invitational earlier this season. In their last game, they lost to Saint Mary's, as the Gaels picked up a competitive 2 point victory over the Aggies to open the month of December up. Now Utah State will be looking to rebound and pick up a huge top 25 upset win over in-state rival BYU. A win over the Cougars in Provo would snap a nine-game losing streak for Utah State.
The BYU Cougars come into this game with a 7-1 record after an upset loss to Utah Valley, dropping them from 12th in the country to 24th. They rebounded with a win over Missouri State, now they will be looking to pick up a 10th straight win over the Utah State Aggies in this one. As for the result of this game, I look for the hometown Cougars to come away with the victory over Utah State.
Tony's College Basketball Pick: BYU (-360)
Wyoming @ #11 Arizona – pm ET
It's Mountain West vs Pacific 12 in this one, as two undefeated teams meet looking to give each other their first loss of the season. Wyoming comes into this game at 8-0, while the Wildcats are nationally ranked and 7-0.
Wyoming and Arizona are two teams that are still undefeated in the NCAA. Both of them have started this season in perfect fashion as Arizona won its first 7 games, while Wyoming took their record to 8-0 after a win over McNeese State on Friday. It's clear that the Wyoming Cowboys have had a slightly easier schedule as the best teams that have come up against were Washington, Grand Canyon, Detroit, and CS Fullerton. However, they have managed to display their masterclass in each single one of these matches. The team struggled only against Washington where the game was forced into overtime, won by Wyoming without much resistance from their opponents.
Arizona, on the other hand, has been monsters throughout the opening stage of this campaign. The Wildcats have dismantled every single team that came their way as the most recent victim was Oregon State, losing to Arizona by 25 points. The team's biggest strength is their offense as Bennedict Mathurin and Christian Koloko are making great use of their abilities and drop around 15 points per game. The Wildcats' roster consists of several other big guys like Azuolas Tubelis and Oumar Ballo who are a nightmare for the opposing players. However, I think that the form that Wyoming has shown so far is just enough to cut them some slack in the game against #11 Arizona. I am willing to trust the Cowboys in this one, hoping they won't lose by more than 15 points.
Denis' College Basketball Pick: Wyoming +15 (-110)
This is a game that surprisingly (for one side) features two undefeated teams. Arizona coming into this one undefeated isn't all that shocking, as from a talent standpoint they're one of the best teams in the country, led by Christian Koloko, who has just been having his way with the Wildcats competition up to this point.
See YOU in McKale on Wednesday!

We are 3⃣rd in the NET rankings and our opponent, Wyoming, is also undefeated and 1⃣2⃣th in the rankings.

Tickets: https://t.co/PHLyQcIj3C#BearDown | #RunWithUs pic.twitter.com/9ccn2sbLWq

— Arizona Basketball (@ArizonaMBB) December 7, 2021
The surprising part of this is that Wyoming is still unbeaten on the year. The Cowboys aren't a great team, but up to this point they've managed to get past everyone on the schedule, although the schedule has helped a bit as it has been a bit weak. That all ends in this one, as they just haven't seen a team yet that has the talent and size that Arizona is about to throw at them. Look for Koloko to have another big night, and I like the Wildcats and the points, even though the line sits a bit high.
Noah's College Basketball Pick: Arizona -15 (-110)
It's a battle of undefeated teams as the Wyoming Cowboys travel to Arizona to play the unbeaten and nationally ranked Wildcats. The Cowboys come into this game with a record of 8-0 on the year. They have already taken down one PAC12 team this year, last month they beat Washington by a score of 77-72 in overtime. Most of their games have ended with double-digit wins for Wyoming. A win against the Wildcats would likely be enough to put themselves into next week's AP Top 25 Poll.
The Arizona Wildcats come into this game ranked just outside the top 10 at #11 in the country. They are the winners of the Roman Main Event Classic after picking up wins over Wichita State and Michigan on back-to-back nights last month. As for the result of this game I have the Arizona Wildcats picking up the win at home to end Wyoming's undefeated season while keeping their own alive.
Tony's College Basketball Pick: Arizona (-1600)
If you need more news, information and predictions, head over to our College Basketball hub page for all your college basketball needs!
*Odds and spreads correct at time of publication, courtesy of FanDuel.