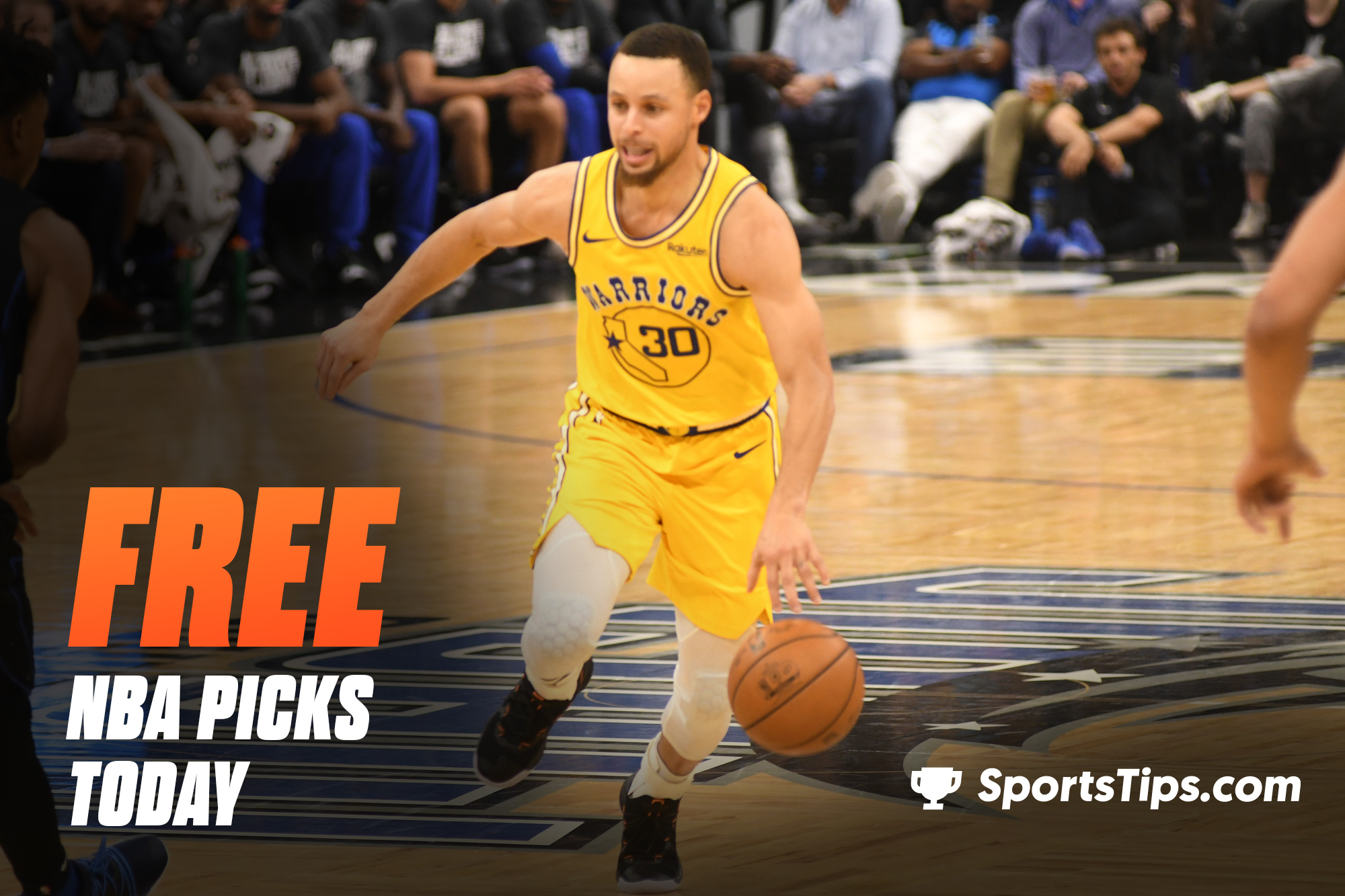 Our free NBA picks are out for Monday, March 14th, 2022! Make sure you check our NBA picks before the action kicks off.
Look below to find our free NBA picks for the best five games on today's schedule!
The Los Angeles Clippers wrap up their three game road trip on Monday with a game against the Cleveland Cavaliers. The Clippers are playing on back-to-back nights, and last time out they beat the Pistons, 106-102. The Cavaliers will be looking to get back on track after dropping their last two games against the Heat and Bulls.
The Los Angeles Clippers will be playing their second game in as many days after a nice road victory on Sunday over the Detroit Pistons. In the 106-102 win, Marcus Morris led the way with 31 points and 7 rebounds as the Clippers had to rally back from an 18-point deficit to pull off the victory. The two former Pistons that are now Clippers, Reggie Jackson and Luke Kennard, both had respectable games against their old team, dropping 15 and 16 points respectively. The Cleveland Cavaliers will try and turn around a rough start to March, dropping 4 of their first 6 games this month. That includes their last game out when Cleveland fell to the Bulls in Chicago by a score of 91-101.
Darius Garland led the Cavs with 25 points despite a rough shooting night, going 9-26 from the field. The Cavs now find themselves just 1 game ahead of the play-in tournament after such a promising start to the year, so they will need to find their early season magic soon. The Cavs haven't been very strong lately but they will be happy to be at home here against this tough Clippers team on Monday night. On top of the home court, Cleveland will have the rest advantage on their side, having been off since Saturday but the injuries issues are still a huge problem for the Cavs and they just don't have enough depth right now to be confident in. The Clippers aren't a great team by any means, but I do think they should be getting more respect in this game and I think Los Angeles will keep it close throughout.
The Los Angeles Clippers continued to secure their spot in the Western Conference playoff race yesterday as they beat the Detroit Pistons 106-102. The team continues to have a variety of scorers, with everyone from Marcus Morris to Reggie Jackson to Amir Coffey being capable of scoring double digits. On Monday they'll have a tough task as they take on the Cleveland Cavaliers in Cleveland.
📊 14 PTS | 54.5% FG | 15 REB

@IvicaZubac was all over the glass. pic.twitter.com/hobz7dfs99

— LA Clippers (@LAClippers) March 14, 2022

After a brilliant start to the season, the Cavs have slipped a bit in recent weeks. They're 3-7 in their last ten games, and have been getting hit constantly with injuries. They had two tough games over the weekend as they had to face the Miami Heat and Chicago Bulls in back-to-back games. Now, after a rest day they take on a Clippers team that lacks the star power of their previous opponents, but at the same time, don't fear anyone. For this one, I think we'll get a close match, but I'll pick the Clippers to at least cover on the road.
After being one of the best teams in the East for much of the season, the Cleveland Cavaliers have fallen off just a bit, as they're now struggling to pick up wins, which is still almost certainly due in large part to the injuries that they've picked up all year. They've now lost two straight, and they get a Los Angeles Clippers team in this one that has been playing extremely well given the circumstances they've been under all year.
The Clips have faced multiple injuries this season, and the problem is that they've virtually all come to key players. Kawhi Leonard still hasn't stepped on the floor this year, and they've also been without Paul George for much of the year as well. Despite all of this, they're still clinging to a playoff spot as of this point, which is amazing given what they've been through. Normally, with how the two teams have been playing, I would take the Clips in this one, but seeing as they're on an Eastern road trip, and the fact that they just had to play yesterday, I think fatigue plays a bit of a role in this one, so give me Cleveland to pull out a close win at home.
The Denver Nuggets start the new week by kicking off a three game road trip, and tonight they will face off against the Philadelphia 76ers. The Nuggets have lost their last two games, and this takes their overall record to 40-28. The 76ers are another team that is playing on two nights in a row, and in their last game they beat the Magic, in overtime, 116-114.
On Monday night we have a great matchup for fans of elite centers when Joel Embiid and Nikola Jokic face off. The Denver Nuggets big man is the reigning MVP of the league and is coming off a 26 point, 10 rebound, 7 assist effort in a loss to the Toronto Raptors on Saturday. His averages of 26.1 points, 13.8 rebounds, and 8.1 assists per game have him squarely in the MVP race again this season, with his main adversary for the award being his opponent on Monday, Joel Embiid. Embiid and the Sixers had a hard fought overtime victory over the scrappy Orlando Magic, winning the game 116-114.
Embiid led Philadelphia in points (35), rebounds (16), and assists (7) in the Sixers' 41st win on the season. This game could go a long way in determining this year's MVP so expect both guys to bring their A game. Philadelphia had to exert a lot of effort on Sunday against the Magic, playing four of their five starters over 40 minutes in the overtime game. There's no way that won't have any impact on their guy's fatigue levels on Monday and I expect the run and gun Nuggets to have a field day on offense. Don't hesitate to take Embiid and Jokic props as both guys will put up monster numbers in what I see as a very tightly contested game. Give me the Nuggets to cover.
After winning four games in a row, the Denver Nuggets have dropped two straight games—both by double digits. The team has had an impressive run this season, as Nikola Jokic has done a phenomenal job leading them despite some key injuries to other players. On Monday they'll look to turn things around against a Philadelphia 76ers team that's struggled in its last couple of games as well. While things started out pleasantly for the James Harden era in Philadelphia, the honeymoon quickly took a dark turn.
GN Sixers twitter and @Tobias31! 😱 pic.twitter.com/A8GPpiSwyc

— Philadelphia 76ers (@sixers) March 14, 2022

They were obliterated by the Brooklyn Nets on Thursday, and then on Sunday, they barely snuck past a terrible Orlando Magic team, winning 116-114 in overtime. Now 24 hours later, they'll go up against a Denver Nuggets team that's sitting comfortably in sixth place in the Western Conference. This one is a battle between two juggernaut players and MVP candidates as Joel Embiid and Nikola Jokic go head-to-head. Ultimately, I'll pick the 76ers to bounce back at home after losing at Wells Fargo Center on Thursday. It'll be tough against a great Nuggets team, but this team realizes how important it is to pull off victories against playoff-worthy teams.
Arguably the two leading candidates for the MVP award get together in this one, as Nikola Jokic and the Denver nuggets travel East to take on Joel Embiid and the Philadelphia 76ers. The Nuggets were a slow starter to the year, but have become a real contender over the last month or so, as they're one of the hottest teams in the league, though they are certainly way too reliant on Jokic leading the way. When they get Jamal Murray and Michael Porter Jr. back, they're going to become a legitimately dangerous team, but right now, while they are good, I don't think they're quite ready.
Philadelphia on the other hand, has MVP candidate Joel Embiid, but they also went out at the trade deadline and acquired James Harden from Brooklyn. While I was hesitant to know how they would mesh together, so far the answer has been really well. They're one of the favorites to win the East right now, and with them having Embiid and Harden, I think they take care of business, in close fashion, against a Denver team that is basically a one-man team right now.
The Washington Wizards are on the road to open up their account for the new week when they travel to Chase Center and face off against the Golden State Warriors. The Wizards have lost their last three games, all on the road, to the Clippers, Lakers and Trail Blazers. The Warriors, on the other hand, have won their last three games in a row, and this takes their overall season record to 46-22.
The Washington Wizards will travel to the Bay to take on the Warriors in the fourth and final game of their road trip that has so far resulted in three losses. The last game out for Washington was a 118-127 loss to the Trail Blazers, ending Portland's six-game losing skid. That could prove to be a costly loss for the Wizards who need to start stacking up wins, as they sit currently 3 games out of the play-in tournament. A win may be out of their reach on Monday night against Golden State who is expected to get Draymond Green back on a minutes restriction. If that is the case then things will be coming together at the perfect time for the Dubs, who also finally have the Klay Thompson of old back.
On Saturday in the Warriors' 122-109 win over Milwaukee, Klay dropped a season-high 38 points with 8 three-pointers, breaking out of his shooting slump. Steph Curry was face guarded all night opening up the floor for Thompson and Jordan Poole who went off for a 30 point game of his own against his hometown Bucks. No matter which way you slice it, this is a horrible matchup for the Wizards. The last thing a slumping team needs is a trip to the Warriors arena for a road game, and I think Golden State will come out firing and put the game away early. Steph Curry had a down game, only dropping 8 points on Saturday so expect him to get going against this vulnerable Wiz defense and carry his team to a double digit victory.
Over the last couple of weeks, the Washington Wizards have been down, but not out of the playoff race. That took a hit over the last week as they've dropped three straight, including a double digit loss to a depleted Portland Trail Blazers team. Things won't get any easier for them as they face a Golden State Warriors squad that seem to have broken out of their slump and are now thriving just a month before the postseason.
PRESS PLAY ▶️@Verizon || Plays of the Week pic.twitter.com/rMlcHk4Bmu

— Golden State Warriors (@warriors) March 14, 2022

The Warriors have won three straight games, against playoff-contending teams—all by double digits. This included a 122-109 win over the Milwaukee Bucks on Saturday as Klay Thompson looked like his old self again, dropping 38 points. Even better news for the Warriors: they're getting Draymond Green back for this game. While Green will probably play minimal minutes, that's a big step for this team, that's been a bit inconsistent without Green's presence. With the way the Warriors have been dismantling good teams with ease, I don't expect they'll have a problem with a struggling Wizards team. I'll pick the Dubs to cover.
The Washington Wizards started this season extremely hot, but have since decided that they either don't know how to play basketball or just don't feel like doing it. They've gone from being one seed in the East after the first month or so, to being a team that is almost certainly going to miss the postseason, and not even qualify for the play-in tournament, as they're on yet another losing streak, this one a three-game streak.
Now they get the Golden State Warriors, a team that has spent most of the year as the second best team in the league. They did hit a lengthy rough stretch a few weeks back, but have since rebounded pretty well, as they look to be playing much better ball. Steph is back to looking more like the Steph we're used to seeing, and Klay Thompson looks like he's finally getting back to being the old Klay. With Draymond Green returning from injury, I think Golden State is ready to make another run, one that could lead to a title if they get consistent enough play from everyone. Give me the Warriors in this one, as I think they blowout the Wizards at home in the Bay Area.
The Chicago Bulls kick off their three game road trip with a game against the Sacramento King late on Monday night. The Bulls will be hoping they can build on the modest two game winning streak they are currently on. The Kings are desperate to get back on track, after dropping their last four games, which takes their overall record on the season to 24-45.
The Chicago Bulls have rebounded from a five-game losing streak to win their last two games against the Pistons and Cavaliers. The Cavs game was on Sunday, and they were without the services of All-Star Zach Lavine but did get a boost to their lineup with the return of Alex Caruso. Caruso had 11 points off the bench in his return but the most important stat was the four steals! The Bulls had been getting dominated on the perimeter by guards with Caruso and Lonzo Ball out so now with one of them back, it's not as much of an exploitable matchup for opponents. That will be tested in a big way on Monday when Chicago takes on the Sacramento Kings and De'Aaron Fox.
Fox has two 40-point performances in the last four games and has really been putting up some astonishing numbers since they traded away Tyrese Haliburton. He's been flourishing individually but the team as a whole is still struggling mightily. They have lost four straight and have already clinched another losing season and are in extreme danger of missing the playoffs for a 16th straight season. This line is a little confusing to me but I guess Vegas is factoring in the possibility of Zach Lavine missing his second straight game. Even without Lavine, I like the Bulls to be able to do whatever they want offensively against a Kings team that just isn't playing for anything and are rarely competitive nowadays. With or without Lavine, I like DeMar DeRozan and the Bulls to take care of business on the road.
The Chicago Bulls are starting to click again, as they beat the Cleveland Cavaliers 101-91 on Saturday. The team got defensive stopper Alex Caruso back after he missed some time with an injury. While the Bulls saw All-Star Zach LaVine sidelined before the Cavs game, he's expected to be back in the next couple of games—as early as tonight against the Sacramento Kings. With Caruso back and the team thriving with their two elite scorers in LaVine and DeMar DeRozan, they're gearing up for a deep run in the playoffs.
Needed that W. BULLS WIN. pic.twitter.com/BHXQL5h2Yu

— Chicago Bulls (@chicagobulls) March 13, 2022

But for the Bulls, no game can go overlooked. This includes the Sacramento Kings. Sacramento may be 13th in the Western Conference, but they still have the talent to pull an upset on any given night. After missing a couple of games, Domantas Sabonis should be back for this one, and they always have De'Aaron Fox and the young Davion Mitchell as well. Still, I'll pick the Bulls to come out on top in this one. Even if LaVine is still out, that just gives more of an opportunity for DeRozan to go off or someone like Nikola Vucevic or Coby White to fill LaVine's void.
After a five game losing streak, the Chicago Bulls look like they have figured things out again, as they've won their last two, and should make it three in this one. They've been one of the best teams in the East for the entire year, and now that they've had Alex Caruso return, I think they could be on the verge of another good run. The one problem that Chicago has had this year is being able to beat the best teams in the league, as they struggle against the top-3 or 4 from each conference, which does make me question how serious they are as a contender come the postseason.
The good news for them is that Sacramento isn't remotely close to being one of the best teams in their conference, and in fact they're one of the worst. Even with De'Aaron Fox playing well, and Domantas Sabonis returning, they're a team that doesn't have anywhere close to enough talent to take down a Bulls team that has been nearly unstoppable against average or below average teams this year. Give me Chicago on the road, as I think they take care of business with ease.
The road trip continues on for the Milwaukee Bucks who will travel to Utah on Monday to take on the Jazz. The Bucks will be playing angry tonight, after their six game winning streak was snapped last time out by the Warriors. The Jazz have been alternating wins and losses for the last seven games, and this takes their overall record on the season to 42-25.
The Milwaukee Bucks had their six-game winning streak snapped on Saturday when they lost to the Golden State Warriors 109-122. Giannis had a great game, adding another 30-point performance to his season log and added 8 rebounds in the loss. They used an interesting defensive strategy against Steph Curry, using one defender to face guard him no matter where he went, which helped limit him to 8 points, but opened the floor up for Jordan Poole and Klay Thompson to both go off for 30 and 38 points respectively. The Utah Jazz have their own dynamic backcourt in Donovan Mitchell and Jordan Clarkson who are each capable of 30-point explosions any given night. On Saturday, Clarkson set a career-high with 45 points against the Sacramento Kings in a 134-125 win. There was no Rudy Gobert or Mike Conley for the Jazz, so they needed someone to step up and he did just that.
Now he will look for an encore performance against a Milwaukee team that is susceptible to giving up a lot of three-pointers and points to backcourts. The Jazz have one of the best home court advantages in the league and it's not easy coming into Utah for a late night game as an East Coast team. That's what the Bucks will be doing on Monday night and in my opinion will be doing successfully. Their losses usually come in bunches, so that's a concern, but this matchup favors them as a high octane offense going against a Utah team that hasn't been defending all that well. The Bucks will have problems down low dealing with Gobert if he plays, but he's not too involved in the offense to where he can completely shift a game on that side of the court. I like the Bucks here to get a nice bounce back win.
The Milwaukee Bucks had a rough result on Saturday, as they fell by double digits to the Golden State Warriors. Sure, the Warriors are a great team, but the Bucks are looking to repeat as NBA Champions; losing to teams you might face in the Finals by 13 points is unacceptable. Still, that loss ended an impressive six-game win streak, so the Bucks have proven lately they still have what it takes to compete. Even better news: they'll be getting Brook Lopez back soon—a valuable player whose presence has been missed all year. They'll look to get back on track against a very good Utah Jazz team.
No hot water, @jordanclarksons, we're trying to cool you off 💧#TakeNote pic.twitter.com/Ebpt8GDSNn

— Utah Jazz (@utahjazz) March 13, 2022

Whenever the Utah Jazz look like they're about to rise in the standings, they fall into a bit of a rut. They've gone 3-3 in their last six, with the Dallas Mavericks breathing down their neck for the fourth seed in the Western Conference. If the Jazz want home court advantage in the first round, every game is going to count, as both the Mavericks and Denver Nuggets are zeroing in on the Jazz, looking to jump them in the standings. Rudy Gobert missed their last game with a foot injury; while the Jazz were able to prevail, they'll desperately need him for a game against Giannis Antetokounmpo and the Bucks. Imagining he plays, this should be close. But I'll pick the Bucks to bounce back after their bad loss to the Warriors, as they'll look to be the outright two-seed in the East.
This is the game that should be the best of the night, as the defending champion Milwaukee Bucks travel west to take on the Utah Jazz. The Bucks have been playing much better lately, following a slow start to the year, though they did get run out of the building in their last game, a blowout at the hands of Golden State out in the Bay Area. I do think that was an outlier performance though, as with Giannis and Khris Middleton leading the way, they should be competitive in every game they play.
Now they take on a Utah Jazz team that has one of the most balanced rosters in the league, though the results don't always match up. Despite a slower season than we're used to seeing from this team, they are still there for seeding in the West, and apart from a lengthy stretch where they were without Rudy Gobert or Donovan Mitchell, they would quite possibly be higher. This is almost certainly going to be a great matchup that results in a close game, but I'm going to take Utah by a nose, largely due to the fact that it's in Salt Lake City. Gobert slows down Giannis, and Mitchell has a great game, as the Jazz sneak away with a tight one at home.
If you are looking for more news, information and predictions, head over to our NBA hub page for all your basketball needs!
*Odds and spreads correct at time of publication, courtesy of FanDuel.