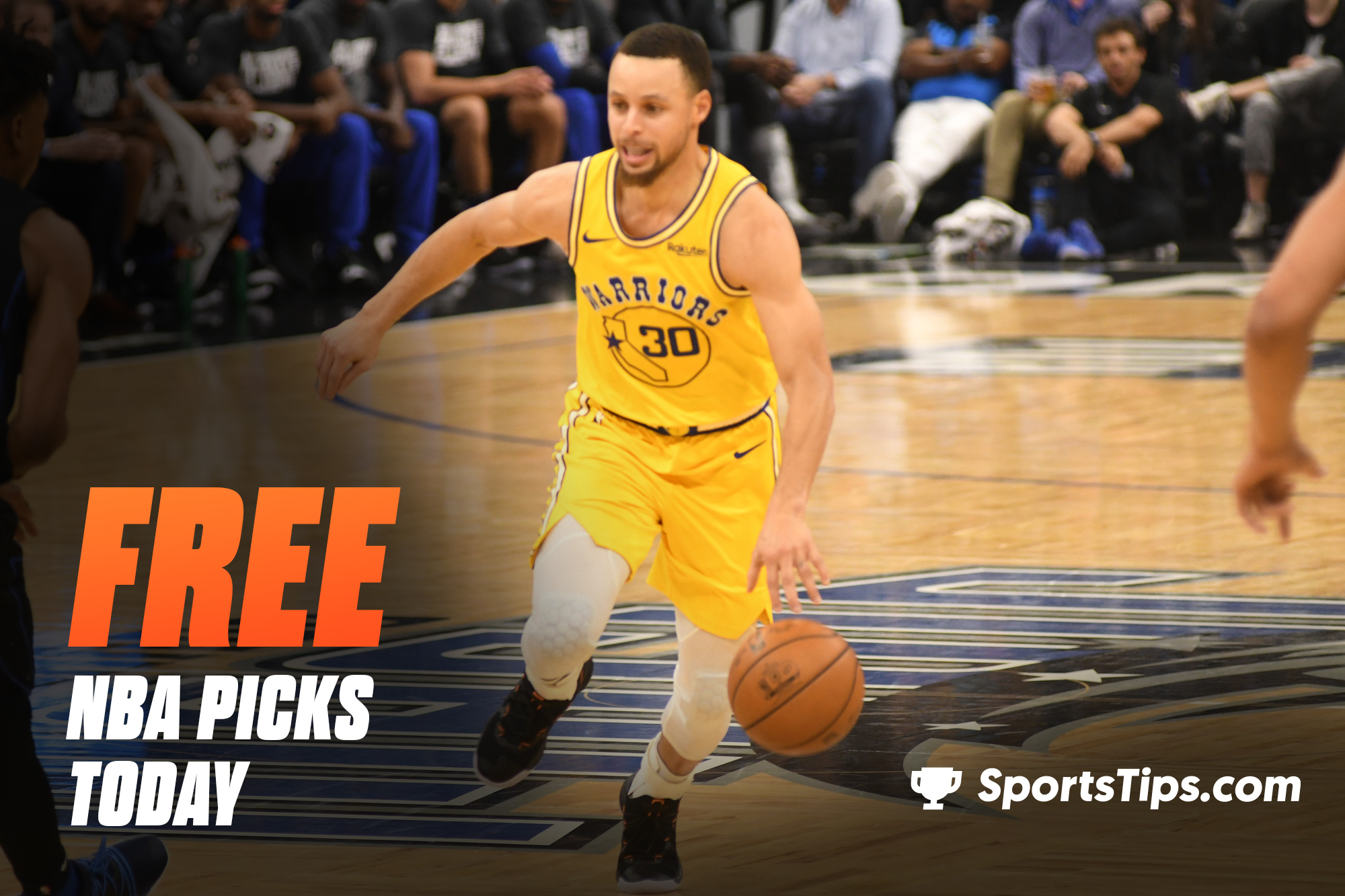 A massive 10 game night across the league and SportsTips has the best free NBA picks on the market! We have predictions for Money Line, Spread and Total Points for all 10 games, meaning we have 30 free NBA picks for you.
Can the Toronto Raptors overcome a COVID-19 scare to beat the lowly Detroit Pistons? Can the Brooklyn Nets hand the Houston Rockets their 13th straight defeat in James Harden's return?
We have all the answers for you below, so don't miss out!!
The big story here is that the Toronto Raptors will be missing five players for tonight's clash due to COVID-19 health and safety protocols, including Fred VanVleet, Pascal Siakam and OG Anunoby. That gives the Detroit Pistons the perfect opportunity to notch up their 10th win of the season against an undermanned Toronto side.
However, it isn't as clear cut as that for Detroit as their last two games have been very uninspiring. Their last two games were both at home and ended in losses. First to the Kings, who were on the second night of a back to back and had lost their last nine heading into the game, followed by the Knicks, where they managed just 90 in a 19 point defeat.
The Raptors will be without Fred VanVleet, OG Anunoby, Pascal Siakam, Malachi Flynn and Pat McCaw because of the NBA's health and safety protocols for tomorrow's game against the Pistons. That is in addition to Nick Nurse and several other coaches.

— Tim Bontemps (@TimBontemps) March 2, 2021
Jerami Grant is the clear leader of the team but is shooting under 40% from the field over the last week and has averaged more turnovers than assists. With Delon Wright still sidelined, the team has no clear playmaker and shot creator, and it has taken its toll.
Toronto may be short handed for this matchup, but with Kyle Lowry, Normal Powell and Chris Boucher still in the lineup, the Raptors will go in with three of the top four players in the game. In their last game, a 122-111 win over Houston on Friday, Siakam didn't even play and Powell top scored with 30 while Lowry had a 20 point triple double.
The Raptors will definitely miss some of their key players, but they still have enough of a rotation to outplay this disastrous Detroit side. Jerami Grant may be able to score as many points as he likes, but with no play making ability and no consistent second option, Toronto will be too much to handle.
NBA Pick – Toronto Raptors (-245)
NBA Spread – Toronto Raptors -6 (-110)
Total Points Pick – Under 212 (-110)
Two teams on opposing sides of four game streaks face off as the Cleveland Cavaliers will look for a fifth straight win when they host the slumping Indiana Pacers. After sitting as high as fourth in the East, Indiana finds themself ninth at the moment thanks to their four straight losses.
This game in Cleveland is the end of a four game road trip for the Pacers and they will be hoping to end it on a more positive note. Their last game saw them fall 114-130 in Philly, despite the Sixers being without 20 point per game scorer, Tobias Harris. Malcolm Brogdon returned to action after a one game absence to top score for the team with 20 while All Star Domantas Sabonis managed just 15.


Things don't get any easier though as the Cavaliers have found some very nice form, keeping teams to under 102 points per game over their four game streak. Monday night's 101-90 win in Houston was thanks to a massive night from Collin Sexton. The third year guard scored a game high 39 points, along with eight assists and two steals, helping guide the Cavs to another road win.
Indiana took the first meeting between the two sides by 20 points, but that was in Indiana and over two months ago. Things are obviously very different now and the Cavs are playing some very good basketball over this steak. It will be a close one for sure, but given it is in Cleveland, we are riding with the Cavs to get their fifth in a row.
NBA Pick – Cleveland Cavaliers (+200)
NBA Spread – Cleveland Cavaliers +6 (-110)
Total Points Pick – Over 216.5 (-110)
The second and final clash between the conference leaders as the Utah Jazz and Philadelphia 76ers do battle, this time in the City of Brotherly Love. Utah took the first matchup 134-123 but Joel Embiid didn't play in that one and the Jazz have faltered on their current road trip, going 1-2 so far.
Monday night saw the Jazz fall in New Orleans, 124-129, and it would have been worse if not for a late rally. Utah trailed by 11 going into the last period thanks to a terrible 24-40 third quarter showing. Bojan Bogdonic had a rare big scoring night, putting in a team high 31 but defense was the issue. Utah allowed the Pelicans to shoot 56.5% from the field and 63.6% from deep, with 129 points being the second most they have given up all season.
Trust. The. Process. #HereTheyCome pic.twitter.com/1OLAQwzzhi

— Sports Are Philly (@SportsArePhilly) March 2, 2021
Philly will be sweating on the availability of Tobias Harris for this clash as he has missed the last two and is just questionable for tonight. After falling to the Cavs in overtime, the Sixers recovered with a big 130-114 win over Indiana on Monday. Shake Milton top scored for the game, putting in 26 points off the bench while Embiid had a modest 24 points, 13 rebounds and five assists, playing under 27 minutes in the blowout.
This could really come down to whether Harris plays or not, as Utah haven't been playing good defense on this road trip. In their two losses they have allowed a total of 253 points and Harris' scoring punch would help tip Philly over the edge. Obviously the inclusion of Embiid is a big positive for the Sixers after their last meeting with the Jazz and since it is in Philly, we expect the home team to tip the scales tonight.
NBA Pick – Philadelphia 76ers (+130)
NBA Spread – Philadelphia 76ers +3 (-110)
Total Points Pick – Over 226.5 (-110)
The matchup we have been waiting for, James Harden's return. The Brooklyn Nets are coming in off a 124-113 overtime win in San Antonio on Monday night and will be looking to hand the Houston Rockets their 13th straight loss.
Despite 32 points and five assists from John Wall, the Rockets could only manage 90 points in an 11 point loss to Cleveland two nights ago. As a team, Houston only shot 40.8% from the field, 32.3% from deep and had 14 turnovers for the night. They were outrebounded by 18 and honestly don't look like winning as long as Christian Wood remains on the sidelines.


Brooklyn on the other hand bounced back nicely from a shock home loss, however they were without Kyrie Irving, who joined Kevin Durant on the injury list for just that game. Irving returned to have 27 points, seven assists and six rebounds but the star of the show was James Harden. The new MVP contender became the first player in NBA history to have 30+ points, 15+ assists, 10+ rebounds and no turnovers, finishing with 30, 15 and 14 respectively.
This is a pretty straightforward one. The Rockets will come out with a point to prove, especially given how Harden handled the end to his tenure in Houston, but Brooklyn are too good in every aspect of the game right now and should be winning this comfortably.
NBA Pick – Brooklyn Nets (-550)
NBA Spread – Brooklyn Nets -9.5 (-110)
Total Points Pick – Under 228.5 (-110)
A Southeast Division clash sees the Atlanta Hawks and Orlando Magic meet each other for the first time this season. This is an intriguing clash as the Hawks, after firing head coach Lloyd Pierce, were able to pick up a win in Miami last night, snapping a two game road skid while the Magic have lost four straight, three of which were at home.
While slightly more competitive with Dallas on Monday, it was the same result for Orlando, losing 124-130. Nikola Vucevic continued his fine form with a massive 29 point, 15 rebound, eight assist night, all of which were team highs. Evan Fournier also added 26 points while Michael Carter-Williams had a nice all around game with 18 points, eight rebounds and six assists.
The Magic shot an incredible 20/41 from deep in the game and still fell short but will now find it tougher against an Atlanta side that just kept Miami to 80 points last night. This was the first time the Hawks kept a side under 100 in over five weeks, so it is making us think it was more the Heat's poor offense rather than the Hawks' good defense.
Friction had grown between Trae Young and Lloyd Pierce before Pierce's firing, per @davidaldridgedc, @ChrisKirschner, @sam_amick

Young and other Hawks players 'were eager to hear a new voice' amid drama with now-fired HC Pierce pic.twitter.com/lil3D75VZH

— Bleacher Report (@BleacherReport) March 2, 2021
Trae Young led the charge for Atlanta, putting up an 18 point, 10 assist triple double but still shot just 41.7% from the field whilst having eight turnovers. All four other starters reached double figures with Clint Capela's 10 points and 17 rebounds being the next best stat line, but the bench managing just 22 points on just 8/19 shooting is a worry.
Atlanta may have won last night but their performance wasn't inspiring at all. Despite the win, they are just 3-8 in their last 11 games and 2-6 from their last eight on the road. However, Fournier is listed as just questionable for this one and the Magic are a terrible 3-11 in games he doesn't play this season. Without his scoring punch next to Vucevic, Orlando might not have enough firepower to win this.
NBA Pick – Atlanta Hawks (-140)
NBA Spread – Atlanta Hawks -2.5 (-110)
Total Points Pick – Under 224.5 (-110)
The Charlotte Hornets come into this one with some mixed form of late, going 5-5 over their last 10 games and going 2-3 over their current road trip. They now face a Minnesota Timberwolves side that has lost eight straight games and that they beat 120-114 in their first meeting.
Charlotte needed a massive 41 points from Terry Rozier to get over the line in that one, but Minnesota had 31 from Malik Beasley, but he is now suspended and has missed the last two games because of it. Those two games have resulted in a 16 point loss to the Wizards and a 19 point loss to the Suns.
The Timberwolves have had two nights off to regroup after their embarrassing home loss to Phoenix on Sunday night where Anthony Edwards top scored with 24 points while Karl-Anthony Towns had just 21 points and 10 rebounds. Unfortunately Minnesota made just 37.6% of their field goals while converting just 22.9% of their long bombs and committing 15 turnovers.


They will have to be more efficient than that to overcome Charlotte who beat that same Phoenix side just four games ago and are averaging 119.7 over their last three games. However, on the second night of a back to back on Monday, Charlotte struggled to keep up with the Blazers. The Hornets gave up 123 points on above 50% shooting from the floor and from deep but could only manage just 111 of their own.
LaMelo Ball continued to emerge as a star in the league, scoring a game high 30 points, along with eight assists, six rebounds and four steals. Charlotte were without Gordon Hayward for that clash and he is listed as just questionable for this one so we are going to assume the Hornets will keep him out, given it is their last game before the All Star break.
Given Minnesota can't piece together a performance that can get them a win, we don't see that changing anytime soon. Charlotte has been inconsistent but is much better than this Timberwolves side and we like the Hornets to head into the All Star break with a bang.
NBA Pick – Charlotte Hornets (-150)
NBA Spread – Charlotte Hornets -3 (-110)
Total Points Pick – Over 229.5 (-110)
The New Orleans Pelicans and Chicago Bulls will go head to head for the second and final time this season, with the Bulls getting a 129-116 home win three weeks ago. However their recent form has been a bit shaky, needing overtime to beat the Timberwolves before falling to the Suns and Nuggets, all at home.
Zach LaVine has averaged just 23.5 points per game over their two losses having the same amount of turnovers as assists as well. Coby White had 20 points and 10 rebounds in the 112-118 loss to Denver on Monday, but the Bulls didn't have enough to overcome their poor 25-37 first quarter.
The Bulls will want to enter the All Star break on a high, but with New Orleans playing the way they are at the moment it may be tough. After a four point loss in Milwaukee and a three point loss in San Antonio, New Orleans returned home to pick up a massive 129-124 win over the league-leading Jazz.
Brandon Ingram's IG post about Lonzo Ball after the Pelicans beat the Jazz

23 PTS
9/16 FG
7 REB
8 AST
3 3PT
2 BLK
0 TO pic.twitter.com/BV6eTjo0c1

— Ballislife.com (@Ballislife) March 2, 2021
The Pelicans had three players score over 20 points, led by Brandon Ingram and Zion Williamson's 26 points each. On top of that, four different players had at least five assists, with Lonzo Ball putting dishing out a game high eight.
New Orleans are playing better than their 15-19 record and 11th place in the West suggests, coming in at 13th for net rating and sixth for offensive rating. They perform much better at home than on the road and will be too much for Chicago to deal with tonight.
NBA Pick – New Orleans Pelicans (-210)
NBA Spread – Chicago Bulls +6 (-110)
Total Points Pick – Over 236.5 (-110)
Following back to back wins, the Dallas Mavericks have climbed above 0.500 and will want to ensure they stay there with a win over the Oklahoma City Thunder before the All Star break. That shouldn't be too hard as the Thunder will have some rust after having a scheduled three days off following their 96-126 home loss to Denver on Saturday night.
Shai Gilgeous-Alexander managed just 13 points, more than 10 below his average, as Darius Bazley top scored with 22 points on 50% shooting. Outside of Bazley, the other four starters combined to shoot a putrid 9/34 (26.5%) and the team as a whole had less assists, less rebounds and more turnovers in the blowout.


Dallas will be looking to carry their recent form back home for this one, coming off a 17 point win in Brooklyn and a six point win in Orlando. Luka Doncic has been a big catalyst for the whole team's performance and Monday's win over the Magic was no different. The 22 year old All Star Starter had 33 points on 54.5% shooting, 10 rebounds and nine assists while Jalen Brunson continues to impress off the bench, as he finished with 24 points on 9/13 shooting.
The Mavericks have been playing some great basketball over the last five games, since they returned back from a week-long COVID-19 forced absence, going 4-1 with their only loss coming to the Sixers in Philadelphia. Oklahoma City just doesn't have the pieces to keep up and contend with Dallas in this one and the home side should get their third straight.
NBA Pick – Dallas Mavericks (-192)
NBA Spread – Oklahoma City Thunder +8 (-110)
Total Points Pick – Under 224.5 (-110)
A Pacific Northwest clash between two of the league's best deep bomb shooters as Damian Lillard and his Portland Trail Blazers host Steph Curry and his Golden State Warriors. The teams are separated by just one game in the Western Conference standings and with the teams splitting the first two meetings, both Warriors home games, this one will decide the season series.
Portland enjoyed being back on their home floor on Monday night, snapping a four game losing streak, three of which were on the road, in a big 123-111 win over Charlotte. After holding just a seven point lead early in the fourth quarter, Portland hit four straight threes to go on a 12-0 run to put the game out of reach. Carmelo Anthony hit two of those and scored 17 of his 29 points in the final frame as Portland came out big winners
CARMELO SETS THE RECORD 🚨

The Blazers set their franchise record with 24 threes in a single game. pic.twitter.com/mC5b5HbPz1

— ESPN (@espn) March 2, 2021
Golden State on the other hand comes into this one after a tough blowout loss to the Lakers, in LA, on Sunday night. Draymond Green managed just 13 minutes before going down with an ankle injury, but he has been cleared to play in this one. Andrew Wiggins had a disastrous night, ending up with just three points, while Steph Curry only had 16 points on 38.5% shooting.
We expect both Lillard and Curry to be on top of their game for this matchup, but we are siding with Portland for this one. The Warriors are just 7-10 on the road this season while the Blazers are 9-6 at home.
NBA Pick – Portland Trail Blazers (+105)
NBA Spread – Portland Trail Blazers +1.5 (-110)
Total Points Pick – Over 233 (-110)
The Los Angeles Lakers ended their three game home stand with a 104-114 loss last night, but get an opportunity to bounce back straight away. They get on the road to face a struggling Sacramento Kings side that has lost 10 of their last 11 games, with the single win coming over the lowly Detroit Pistons.
The Kings almost had a second straight win last time out when they hosted the Charlotte Hornets, but their 123-115 lead with 69 seconds left disappeared. In those 69 seconds, Sacramento went just 1/6 from the line and were outscored 3-12 to lose the game by one. Buddy Hield (30), Harrison Barnes (28), Marvin Bargley (24 and 10 rebounds) and De'Aaron Fox (20 and 14 assists) all eclipsed 20 points as the bench only scored 11 points, all from Nemanja Bjelica.


Rookie, Tyrese Halliburton, being out is a huge blow for their bench and late game production, but now they have to go up against one of the league's best. Los Angeles may just be 2-2 in games with no rest but are 7-4 after a loss and 13-4 on the road this season.
Last night's loss came despite LeBron James having an incredible night as he ended with 38 points on 66.7% shooting, along with six assists, five rebounds and two steals but Dennis Schroder, Kentavious Caldwell-Pope and Wesley Matthews combined for just 7/26 shooting.
This is the first time that these two sides will face off this season and while the Lakers had a tough loss last night, they should be able to bounce back in this one. Montrezl Harrell played just 18 minutes in a starting role but will be used more against a Kings side that has both Bagley and Richuan Holmes. Look for the Lakers to enter the All Star break on a high note.
*Update – After writing, LeBron James was listed as OUT due to rest. The pick remains as written, but the odds have been updated*
NBA Pick – Los Angeles Lakers (+145)
NBA Spread – Los Angeles Lakers +3.5 (-110)
Total Points Pick – Under 228.5 (-110)
If you need more news, information and predictions, head over to our NBA hub page for all your basketball needs.
*Odds and spreads correct at time of publication, courtesy of Bet365.