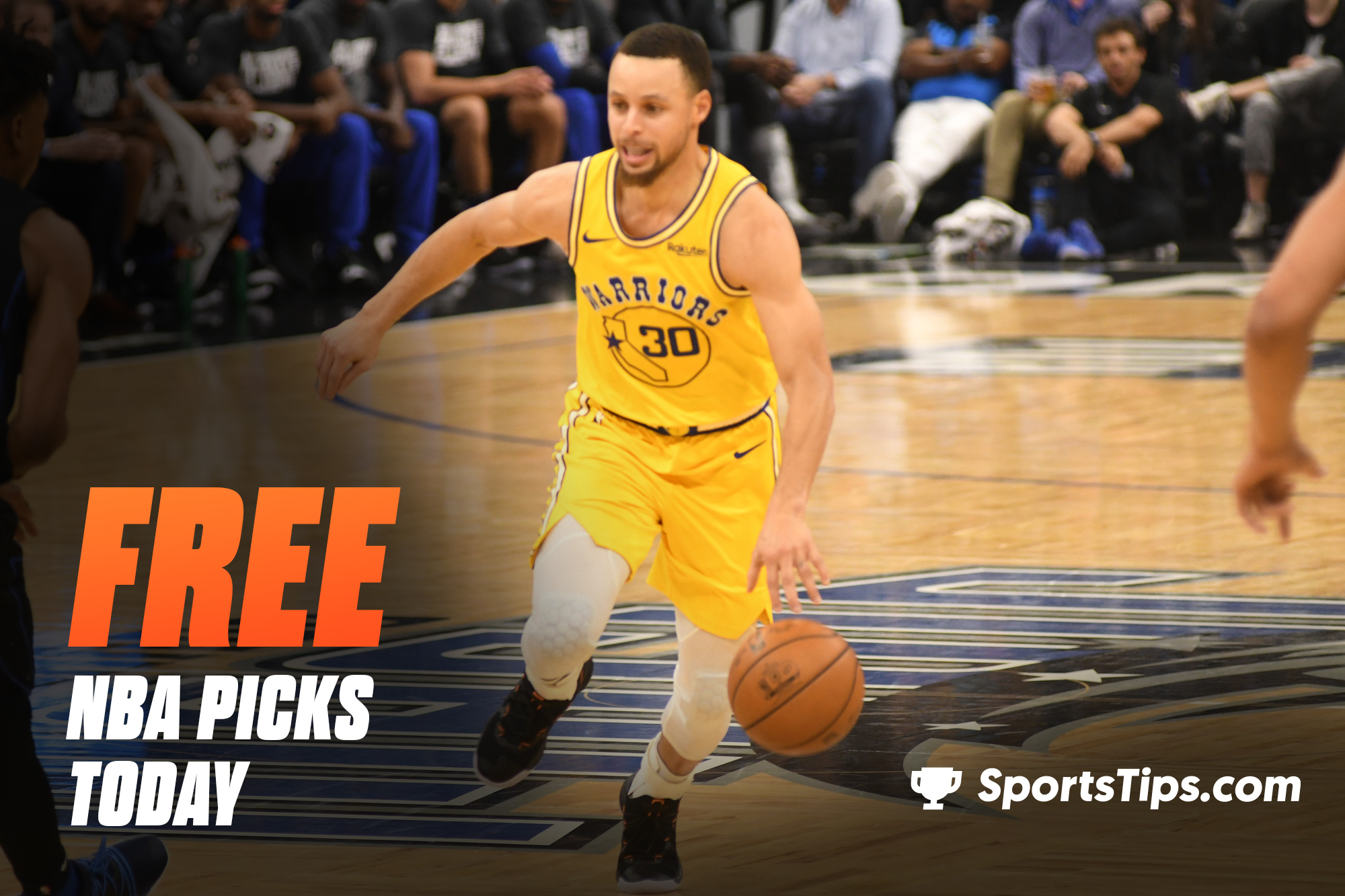 Our free NBA picks are out for Wednesday, January 5th, 2022! Make sure you check our NBA picks before the action kicks off.
Look below to find our free NBA picks for the best five games on today's schedule!
The Golden State Warriors are on the road for two games, and their first stop is in Dallas when they take on the Mavericks. The Warriors have only lost seven games so far this season, and they are currently on a two game winning streak. The Mavericks are currently on a three game winning streak, with wins over the Kings, Thunder and Nuggets.
The Golden State Warriors will go head-to-head with the Dallas Mavericks who are still trying to find their rhythm this season. The Warriors have given us quick flashbacks to their best season, 2016, when they did the impossible, beating the 20-year Bulls' record of 72 wins and 10 losses. Steph Curry has been forced to carry the team on his own in some intense moments when he has been left without Andrew Wiggins and Jordan Poole. However, in these specific mini-periods players like Otto Porter Jr., Gary Payton II, and Draymond Green came up big to help him. The Warriors top the Western Conference with 29 wins and just 7 losses.
The Dallas Mavericks are coming into this fixture on a 3-game winning streak. They consecutively defeated the Sacramento Kings, the Oklahoma City Thunder, and the Denver Nuggets. The team from Texas has been performing on plenty of up and down periods throughout the season which was mainly due to the internal problems they have had. Luka Doncic and Kristaps Porzingis have quite a small number of games in which they have been together on the court which surely has a negative impact on their performance. Just when Luka made his return, the Mavs announced that the Latvian tested positive for COVID-19 and will most likely miss the game against the Warriors. Keeping all these problems in mind, I think that it will be a miracle if we see Dallas taking the win here. So, I will highly recommend picking the Warriors who have the ambition to continue storming the NBA this season.
Denis' NBA Pick: Golden State Warriors (-205)
The Dallas Mavericks just can't seem to stay healthy at the same time. Right after Luka Doncic returned from almost a month long absence, Kristaps Porzingis became sidelined due to COVID protocols. Still, the Mavericks have found a way to prevail; they've won their last three and sit in sixth in the Western Conference. They'll have a huge test on Wednesday as they face the NBA's best team, the Golden State Warriors.
reps on reps on reps pic.twitter.com/Gov40xbXqC

— Golden State Warriors (@warriors) January 5, 2022

Golden State sits atop the NBA with a 29-7 record, after they recorded huge wins against the Utah Jazz and Miami Heat to start the new year. It's not just Steph Curry lighting up the opposition, in fact Steph only scored 9 points against the Heat, while five other Warriors players scored in double digits (including Jordan Poole with 32). With Klay Thompson's return just around the corner, the Warriors have their sights set on their fourth title in eight years. While Dallas should be able to give them a good fight, I worry about their ability to compete without Porzingis on the floor, which won't give them a definitive number two option. Even in Dallas, I'll pick Golden State to cover this one.
Michael's NBA Pick: Golden State Warriors -5 (-110)
The Golden State Warriors are the best team in basketball, and they've proven that time and time again this season, as they come in at 29-7, and have the potential MVP of the league on their team, in Steph Curry. While Curry has been a huge factor, it also helps that he's gotten a ton of help from guys like Jordan Poole and Andrew Wiggins, all in Klay Thompson's absence. Now with there being some speculation that Klay could return by Sunday, I'm expecting to see an even more energetic, excited Warriors team.
For Dallas, they just can't catch a break. They've faced injury and Covid problems all year long, and now that continues, as Kristaps Porzingis has now been put into health and safety protocols, which occurred right as Luka Doncic returned to the lineup. I think it was already an uphill battle for this roller coaster Mavs team, but without Porzingis, I'm just not sure they have what it takes, even at home, to knock off the best team in the league.
Noah's NBA Pick: Golden State Warriors -5 (-110)
The Brooklyn Nets have a short one game road trip on Wednesday when they take on the Indiana Pacers. The Nets will be looking to get back to their winning ways, as they are currently on a three game losing streak, with losses to the 76ers, Clippers and Grizzlies. The Pacers are playing on back-to-back nights and last time out they lost to the Knicks, 94-104.
The Brooklyn Nets and the Indiana Pacers will go head-to-head on Wednesday night in a very interesting battle in the East. Both teams are on opposite poles at the moment. The Nets are 2nd with 23 wins and 12 losses, while the Pacers are struggling in 13th place with a 14-24 record. On top of that, Indiana has been underperforming quite a lot recently as they went on a 4-game losing streak. The team will have to find a solution to their problems as soon as possible, if they want to make the Playoffs this season. Their ambitions are surely high, but without a couple of their players including TJ Warren and Malcolm Brogdon, their fate seems predetermined. However, they will face a shaky Nets team that is also in a mini-crisis, piling up loss after loss.
At the end of the day, the Nets are still second and although they suffered three consecutive upsets to the 76ers, the Clippers, and the Grizzlies, the team is still looking up way ahead. Kevin Durant has been out of rhythm since Christmas, while James Harden has been left alone to deal with the pressure. The rest of the team doesn't help as well which presents the biggest problem ahead of Steve Nash. Blake Griffin will surely need some more playing time, while players like Nic Claxton and Cameron Thomas are still gaining vital experience. I think that we might see a low-scoring contest with plenty of misses on both ends. Indiana knows how to play defense well against less experienced and out-of-form rotations which is a great premise to hold the game to under the points spread.
Denis' NBA Pick: Under 224 (-110)
The Brooklyn Nets are in a rough spot right now. They've lost three straight games, and in the process have played lackluster defense, and are truly starting to show their old age. Luckily they'll get a burst of energy on Wednesday—or so they hope. Kyrie Irving is set to return to play after being sidelined so far this year for his refusal to take the COVID vaccine. For now, the Nets will have Irving back for road games. Some will jump to the conclusion that Irving will continue to be a distraction for this team, but when Irving, Kevin Durant, and James Harden played together last season, they usually looked unstoppable. Even if their defense was lackluster, when these three play at their height, they'll make Brooklyn very hard to catch up to.

The Indiana Pacers will be the first team to have a go at the Nets with Irving. Indiana has struggled for most of the season, but even more so lately as they have lost multiple key players to COVID protocols and injuries. They're in the midst of a five-game losing streak, and I'm not sure I see that getting better against a Nets team with so much firepower, who are looking to end a skid of their own. With the Nets cover only at -6.5, I'll pick them to take care of business in Indianapolis.
Michael's NBA Pick: Brooklyn Nets -6.5 (-110)
At least we know this Brooklyn Nets team has potential. They haven't played well as of late, as they've dropped three straight, but with Kevin Durant, James Harden, and now Kyrie Irving back (at least for road games) what the core three (two if Irving's out) means, even by themselves, is points and lots of points if they're actually playing well. The defense has been a bit of a concern, but that's not a huge worry if the offense is playing well, as KD and Harden can just about outscore anyone.
Indiana has just been an absolute mess this season. They came into the year with hopes of making a playoff run, but unless something changes in a hurry, I think you can just about go ahead and give up on that idea. Much like Brooklyn, the offense has the potential to score, but they just haven't lately, and the defense has been absolutely abysmal for much of the year. The key difference here is that the Pacers don't have guys like Durant or Harden that they can turn to when the game gets tough and they need someone to take over. For that reason, I'm taking the Nets here, with the points, as I just don't see a way this offensive firepower gets slowed down by a defense that has been as bad as Indiana's oftentimes has.
Noah's NBA Pick: Brooklyn Nets -6.5 (-110)
The Toronto Raptors are on the road for one game when they face off against the Milwaukee Bucks on Wednesday night. The Raptors are playing two nights in a row, and last time out they got a nice and convincing win over the Spurs, 129-104. The Bucks had their six game winning streak snapped last time out, by the Pistons of all teams, eventually going down, 106-115.
The Milwaukee Bucks take on the Toronto Raptors in one of the classics in the Eastern Conference in the NBA. The Raptors seem to be right in rhythm for this important match as they have won their last 3 games against the Clippers, the Knicks, and the Spurs. The team, however, is still in the middle of the table with an even 17-17 record. The Raptors started off the season with 4 straight wins away from home, but throughout the season their record on the road took a hit as it now stands at 7-7.
The reigning champions have suffered a huge upset against the Detroit Pistons on Monday night. They were outplayed by Saddiq Bey, Josh Jackson, and Cade Cunningham. This loss put an end to their 6-game winning streak that could have been quite misleading as they defeated teams like the Magic, the Pelicans, and the Rockets. The Bucks will have to utilize their potential and only then, they will be able to defeat the fierce competition in the East. They will have a tougher task this season as the Bulls, the Heat, the Nets, and even the Cavs are looking strong and hungry for success. I think that they might struggle against the Raptors who are coming into the game on a positive note and I will suggest trusting Toronto in this one.
Denis' NBA Pick: Toronto Raptors (+295)
Just when the Milwaukee Bucks were starting to look like the premier Eastern Conference squad—they lost to the Detroit Pistons. Even worse, they lost to them at home, with basically their entire squad healthy. Sure, the Bucks are going to lose some games this year, even when they have the likes of Giannis Antetokounmpo and Khris Middleton playing at full health. But, when you make the Pistons look like a playoff contender, instead of a team ready to collect another top three draft pick—that's just frustrating.
He can dunk.
He can shoot.
He can be in the #NBAAllStar game as long as you vote for @Giannis_An34. pic.twitter.com/mK9YgpEMmV

— Milwaukee Bucks (@Bucks) January 4, 2022

Milwaukee will have a chance to put that loss behind them on Wednesday as they face off against the Toronto Raptors. Toronto is thrilled to have their starting five back after a season that's been pretty plagued with injuries and COVID issues. Now that they're seemingly all healthy, the team is ready to make a playoff run. So far, they're off to a good start, winning three in a row, including a 129-104 victory over the San Antonio Spurs last night, in which Fred VanVleet dropped 33 points. Now, they have a big matchup against Giannis and the Bucks, a team they've had some quality showdowns against in recent years. After the Bucks suffered a tough loss, I expect them to come back playing angry; at the same time, the Raptors seem to finally be playing their best basketball of the season. It's a tough pick, but I think I'll go with the Raptors to cover, as the safest bet.
Michael's NBA Pick: Toronto Raptors +8.5 (-110)
Well that's not what most of us saw coming. The defending champion Milwaukee Bucks just watched a six game winning streak snapped at the hands of the worst team in basketball, the Detroit Pistons. That would've been bad enough if it had happened when they were missing a combination of Giannis, Khris Middleton, and Jrue Holiday, but the problem is that this loss occurred worth all of them being active. I don't think this is a sign to worry if you're a Bucks fan, as I think it's just a random loss to a team that they looked over, but it's ugly nonetheless.
Now that same Milwaukee team gets set to host the team that has arguably had the biggest roller coaster season of anyone so far. The Toronto Raptors have looked really good much of the time when they're healthy, but have also looked a little shaky as well (when healthy and when missing players). In the end for this one, I have serious doubts about whether Fred VanVleet can keep up his hot streak, as he's scored 30+ in three straight, against a Milwaukee team that is sure to be looking for blood following the embarrassing loss to Detroit. Give me the Bucks, and the points, at home.
Noah's NBA Pick: Milwaukee Bucks -8.5 (-110)
The Utah Jazz are in the middle of a five game road trip, and on Wednesday night they will play the Denver Nuggets. The Jazz have won seven of their last eight games, with their only loss coming at the hands of the Warriors, 116-123. The Nuggets have won three of their last four games, which is good enough to put them in second place in the Northwest Division (behind the Jazz).
The Utah Jazz and the Denver Nuggets have been some of the most compelling matchups in recent years in the West. Both teams have built fantastic rosters throughout the years that are worthy enough to fight for an NBA title. However, luck has avoided them as both squads have missed on really great opportunities, losing in the decisive game 7. The Jazz are quite ahead of the Nuggets this season as they are much closer to 1st place than they are to the rest of the field. Utah holds a 27-10 record ahead of this game and they will be looking to keep up with the Warriors and the Suns. On top of that, they don't have any big names that are missing, so they will be at nearly full strength for this encounter.
The Nuggets are still waiting for Jamal Murray as he is slowly recovering from his knee injury suffered in April, 2021. Michael Porter is another big name that has been missing from the Nuggets for a while, since he last played for them against the Houston Rockets on November 6th. The team relies much on their superstar, Nikola Jokic, who racks up incredible numbers this season. He averages 25.7 points, 14 rebounds, and 6.9 assists for 32:30 minutes of play in a game. Monte Morris and Jeff Green might end up missing the game against the Jazz which will further limit the options ahead of Michael Malone. I think that the Jazz are huge favorites to close out the match and I will trust them to do so. On top of that, I will suggest picking their spread as Nikola Jokic will have a hard time against Rudy Gobert in the paint.
Denis' NBA Pick: Utah Jazz -4.5 (-110)
The Nuggets have somehow been able to stay afloat, despite the constant injuries they've suffered since, really, the end of last season when Jamal Murray went down. Denver currently sits in fifth place in the Western Conference; they recently won three straight, including an 89-86 victory over the Golden State Warriors. A lot of this can be attributed to Nikola Jokic, who once again is putting up MVP-like numbers. Unfortunately the good times came to an end on Monday as the Nuggets were flattened by the Dallas Mavericks 89-103. Things won't lighten up for them on Wednesday, as they face one of basketball's best teams, the Utah Jazz.

Despite a disappointing loss to the Golden State Warriors to start the new year, Utah was able to battle back on Monday, beating the New Orleans Pelicans 115-104. Now they'll play a Denver team that's down some of their key supporting players due to COVID and long-term injuries. Still, Utah might not be in such good shape themselves. Joe Ingles is in COVID protocol, and Wednesday's injury report has almost every player on the Jazz listed as questionable. Odds are everyone plays, but that doesn't mean they aren't ailing a bit. I think the Jazz still have the right to be favored in this one, but I think it'll be another close battle between two teams that have had a lot of fun playing each other over the last couple of years. I'll take the Nuggets to cover.
Michael's NBA Pick: Denver Nuggets +4.5 (-110)
Despite this Utah Jazz team being on a lengthy road trip, and this being a game against what's supposed to be a solid team, it continues to look like just about everything is set to fall Utah's way, as the Denver Nuggets are still without Jamal Murray and Michael Porter Jr, and it also looks as if they could be without Jeff Green and Monte Morris as well. They do still have last year's league MVP Nikola Jokic healthy, but eventually even he wears down, and his ability to carry a team single-handedly slows down.
With Utah boasting one of the most balanced rosters in the NBA, behind the likes of Rudy Gobert, Donovan Mitchell, and Mike Conley, this is one of the best teams in the league, and even better if you're a Jazz fan is the fact that they've remained the only team in the league not to have to put anyone in health and safety protocols so far this season, at least up until this one, as it's been reported that Joe Ingles is now in protocols. Even with Ingles out, I like a majority-healthy Jazz team to be able to go on the road to the Mile High City and get a win over a depleted Denver lineup.
Noah's NBA Pick: Utah Jazz -4.5 (-110)
One of the final games on Wednesday night's slate will see the Miami Heat face off against the Portland Trail Blazers. The Heat will be looking to snap their two game losing streak, after going down to the Kings and Warriors in consecutive games. The Trail Blazers managed to snap their four game losing streak last time out, with a win over the Hawks, 136-131.
The Portland Trail Blazers take on the Miami Heat in a pretty interesting contest in Moda Center on Wednesday night. The hosts are in shambles this season as Damian Lillard and CJ McCollum are going through some tough periods. The rest of the squad is available for Chauncey Billups. The Blazers stopped Trae Young and his Atlanta Hawks in their last match in the NBA. Even though the Hawks' point guard went for a career-high 56 points, Anfernee Simons and Normal Powell didn't let him get through Portland. Simons finished off with 43 points, while Powell added 26 points, 6 rebounds, and 4 steals. This win cut their 4-game losing streak and slightly improved their record to 14 wins and 22 losses.
The Heat, on the other hand, suffered a huge loss on Monday. Not only were they defeated by the Warriors in Chase Center, but Jimmy Butler left the court early with an ankle injury. It's unlikely that he will play against the Blazers, but there has been no official confirmation yet. Bam Adebayo and Dewayne Dedmon remain out for the Heat, while Gabe Vincent and Duncan Robinson are still under health and safety protocols. These recent issues affected their performance as well, making them lose two games in a row. They will look to overcome the Blazers who are without their leaders and are quite inconsistent this season. In my opinion, the Miami Heat won't be able to break Portland in their home as I will go with a confident win for the hosts here.
Denis' NBA Pick: Portland Trail Blazers (-116)
The Miami Heat have been one of the NBA's most resilient teams this season. Despite what seems like a new injury happening every day since about the second or third week of the season, they've continued to find ways to win. But, just a few games after Jimmy Butler returned from being hurt, the star player is now out again, with a right ankle injury. The team doesn't seem to be worried about it being long-term, but Butler will definitely be out against the Portland Trail Blazers. The Heat will also be without Bam Adebayo (who's still recovering from injury) and likely Duncan Robinson. So, it'll be up to Kyle Lowry and Tyler Herro to make a little magic happen for the Heat.
These photos make us happy 🙂@bruceely: https://t.co/tLvd750q4n pic.twitter.com/8e5eEeYIGe

— Portland Trail Blazers (@trailblazers) January 4, 2022

They just might be able to: the Portland Trail Blazers are once again an embarrassment on defense. Despite having so many able scorers on the team, they sit in 12th place due to their continued inability to make anything happen when the opponent has the ball. It won't help on Wednesday as Damian Lillard will miss the game with a persisting abdomen injury. Also, CJ McCollum is still recovering from a collapsed lung, so the team will rely heavily on Norman Powell, Jusef Nurkic and youngster Anfernee Simons to get the job done on offense. Simons, in particular, will be one to watch, as the 22-year-old scored 43 points on Monday against the Hawks. Still, without their two dominant scorers, and with the Heat showing time and time again they can continue to compete without their respective stars—I'll go with Miami.
Michael's NBA Pick: Miami Heat (-102)
This has the chance to be an extremely intriguing matchup, due to the fact that the Miami Heat will be without Bam Adebayo, Jimmy Butler, or Duncan Robinson. If the team from South Beach were fully healthy, even with this one being 3,000 miles away from home in Portland, I'd take Miami with no hesitation, as I think they have the potential to win the Eastern Conference if they can get everyone back healthy and actually remain that way for the rest of the year.
Where this one gets weird though, is the fact that Portland will still be without CJ McCollum, who is still recovering from a collapsed lung suffered roughly a month ago. Damian Lillard is playing much better in his absence, as is this Trail Blazers offense, but the defense remains just as awful as we're used to, if not worse. This horrendous defense is why, even with Miami missing potentially three starters, and coming in on a brief two-game losing streak, I'm still going to ride with the Heat to sneak out of Portland with a close win.
Noah's NBA Pick: Miami Heat (-102)
If you are looking for more news, information and predictions, head over to our NBA hub page for all your basketball needs!
*Odds and spreads correct at time of publication, courtesy of FanDuel.