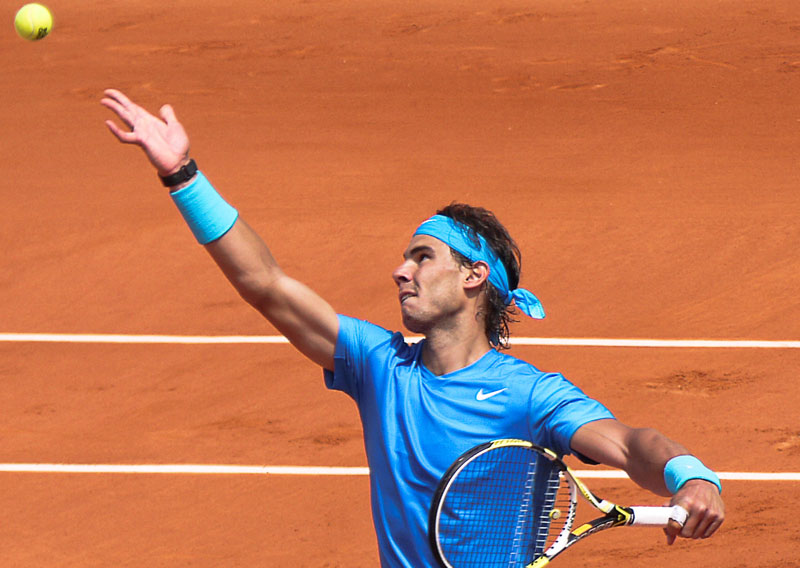 If you were told at the beginning of 2020 that Rafael Nadal would once again be crowned champion of the French Open, you would think that this year of tennis has played out like any other.
If only it were that simple.
In a historic year that saw one of the four major tournaments cancelled, the conclusion of the French Open marks the end of the Grand Slam circuit in 2020.
Rafael Nadal cemented himself as the King of Clay claiming his 13th title in Paris while an unseeded 19-year-old shocked the world winning her first major title.
Here's how they did it…
Men's Singles Champion: Rafael Nadal
Longest Odds: +145
After winning his 12th title at Roland Garros in 2019, Rafael Nadal opened as the +100 favourite to take out his 4th consecutive and 13th career French Open title in 2020.
Despite Covid-19 delaying the tournament until October, Nadal remained the short favourite to win his 20th major title in much colder weather conditions than we have ever seen at the French Open.
On the eve of the tournament Nadal was the -143 favourite to take out the French Open. Leading Novak Djokovic (+250) and Dominic Thiem (+300).
After an impressive first two rounds from Djokovic, the world number one shortened to +144. This was the first time that Nadal (+145) was not the favourite to win the 2020 French Open.
Following a convincing 6-1, 6-4, 6-0 round three victory against Stefano Travagila, the 12 time clay court champion regained +125 favouritism.
Having not dropped a set in his first five matches of the tournament, Nadal progressed to a semi-final matchup against Argentinian Diego Schwartzman. The Spaniard was a staggering -700 favourite to beat Schwartzman (+450) and advance to another French Open final.
After defeating Schwartzman in three sets Nadal advanced to a French Open final matchup against world number one, Novak Djokovic.
As the result of a five set semi-final against Stefanos Tsitsipa and growing speculation over a neck / left arm injury, Djokovic was named the +113 underdog, with Nadal unsurprisingly the -135 favourite to win yet another Grand Slam in Paris.
Nadal claimed the first set 6-0 on his way to a dominant straight sets victory which saw him capture his 13th French Open title and 20th major overall, equalling Roger Federer.
Women's Singles Champion: Iga Swiatek
Longest Odds: +3650
With the 'Big Three' of Federer, Djokovic and Nadal still dominating the men's side of the draw, we are still waiting for the next generation of young male talent to take over from the ageing champions. However, on the women's side of the draw, 2020 has proved to be a breakthrough year for the next generation of female tennis stars, none more so than 19-year-old Iga Swiatek.
Coming into the 2020 French Open, Swiatek was ranked 54th in the world, she had never been as far as a Grand Slam quarter-final and had never beaten a top 10 ranked player. The 19-year-old has since left Paris having accomplished all these things and in doing so claimed her first ever Grand Slam singles title.
Swiatek, who had never won a tour level event prior to the French Open, entered the tournament unseeded with odds of +3650 to win the title.
After winning her first three matches without dropping a set, Swiatek began to shorten in favouritism as the number of players dwindled.
In the fourth round, Swiatek faced off against number one seed and 2018 French Open Champion, Simona Halep. Prior to the match, Halep was the +105 favourite to win the tournament, with Swiatek still considered an outsider at +1800.
Following the 6-1, 6-2 upset from the young Polish star, Swiatek plunged into +250 favouritism to win the 2020 French Open. Leading Elina Svitolina (+260) and Petra Kvitova (+333).
Swiatek shortened further to +128 after her straight sets quarter-final victory over Martina Trevisan, and further again after defeating Nadia Podoroska two sets to love in the semi-final, advancing to her first ever Grand Slam final as the -160 favourite.
Iga Swiatek defeated 2020 Australian Open champion Sofia Kenin 6-4, 6-1 to become the lowest-ranked woman to win Roland Garros in the Open Era, and the first Polish player, male or female, to win a Grand Slam singles title.
Are you interested in finding out more on the latest tennis news? Then make sure you visit our tennis hub page, we've got all the details you need!
Image by: Yann Caradec