While some of football's biggest names (Le'Veon Bell, Nick Foles, Earl Thomas etc.) were picked up in the first wave of free agency back in March, the second wave of NFL free agency began late Tuesday night.
This is thanks to a weird quirk in the way NFL compensation picks work. After the free agency period ends, the NFL (using a bizarre formula which no one can seem to decipher) figures out which teams lost the most talent and apportions out compensatory 2020 draft picks based on that determination.
If a team that lost players in free agency signs some other players in free agency, those signed players count against the team's chances of receiving draft picks as compensation from the league.
Consequently, teams are more than happy to sign the best available players early in the period and cop the loss of a pick or two, but are less willing to sign mid-level veterans given the future cost of doing so and the unlikelihood of really making a difference to their success next season.
From Tuesday 7 May at 11:59PM onwards, those restrictions ceased to apply and free-agent signings no longer have an effect on whether or not a team will receive compensatory draft picks.
The resultant free-for-all will likely ensure that all remaining free agents with something still to offer on the gridiron find new homes. You're about to hear a lot of old-school NFL names thrown around in the media that you haven't heard in quite some time.
So, who are the top 5 free agents still on the market, and where are they likely to end up? Let's find out!
5. DE Muhammad Wilkerson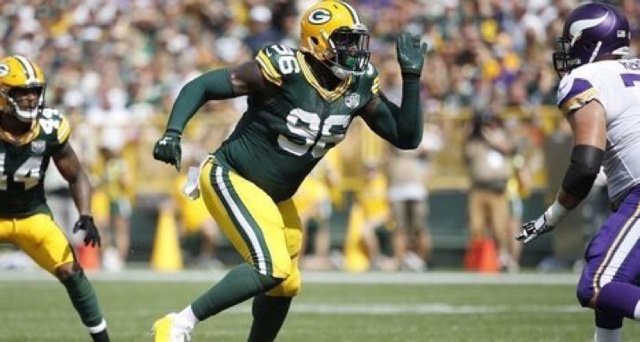 It wasn't that long ago that Wilkerson was one of the best defensive linemen in the NFL.
In 2015 he made the Pro Bowl after recording 64 tackles, 12 sacks, 28 quarterback hits and 2 forced fumbles for the New York Jets.
2016 and 2017 were disappointing seasons marred by disciplinary issues, but the Packers gave Wilkerson a chance with a 1-year, $5 million deal that screamed for the 29-year old to prove himself again as an NFL star in 2018.
Unfortunately, despite posting 5 total tackles over the opening two rounds of last year, Wilkerson suffered a gruesome, season-ending compound fracture of the ankle in round 3 against the Redskins.
Understandably, despite all indications being that his recovery is progressing well, Wilkerson remains unsigned in this year's free agency.
Where will he end up?
Last year was the first year of Wilkerson's college/NFL career that he played more than 90 minutes away from his home in North Jersey.
By all accounts he loved playing in Green Bay, and the world-renowned ankle surgeon who operated on that awful ankle injury is a part of the Packers' staff.
At 6'4″ and weighing 315 pounds, with wicked agility (assuming that ankle heals properly), Wilkerson has the ability to play anywhere on the defensive line. He can be an asset for any team, but the likelihood is that another one-year deal with the Packers is the best result for all parties.
4. WR Michael Crabtree
Despite a gravely below-par 2018 season, Michael Crabtree still has something to offer in the NFL for a team looking for a red-zone receiver.
The 31-year old was released by the Baltimore Ravens one year in to a three-year $21 million deal, after falling below 40 receiving yards per game for the first time in his career. Worryingly, as he was released rather than taking the typical path to free agency, Crabtree would not have counted against a team receiving compensation picks had they picked him up. Consequently that means there must be some league-wide reservations about his game given the former 49er remains unsigned to this date.
The encouraging news though is that Crabtree had caught 38 balls for 440 yards and two touchdowns prior to the run-first offense installed with Lamar Jackson under centre, and also reeled in two TDs in their lone playoff appearance.
Where will he end up?
The Patriots, as they often are, will be in the market for an experienced WR.
Currently their two starters on the outside are looking likely to be the rookie N'Keal Harry and the relatively unproven Phillip Dorsett, with Julian Edelman in the slot and Demaryius Thomas as the 3rd outside option. An old-school big body to compete with in training camp would be exactly what those guys need to develop.
That all depends whether the former number 1 option on a Superbowl roster, who's earned more than $60 million in his career, is willing to compete for a starting role and/or a roster position.
At this stage there's a better than 50/50 chance that Crabtree retires rather than put himself through the ignominy.
3. DE Ezekiel 'Ziggy' Ansah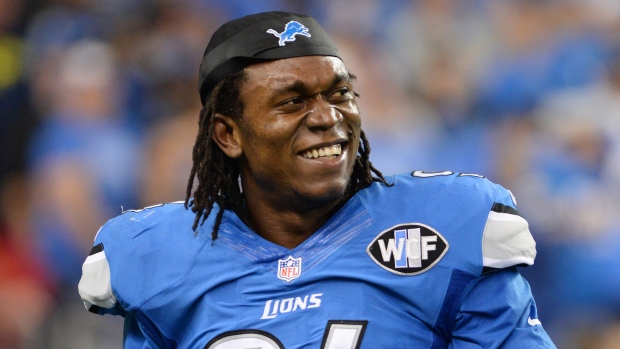 The 29-year old Ghanaian-born defensive end is as injury prone as they come, but on this free agent market he's going to be hot property.
Ansah has only played more than 600 snaps in a season twice in his career, which is a worry. Last year he was franchise-tagged for $17.5 million by the Detroit Lions, but was only able to play just over six games thanks to a shoulder injury.
That shoulder is the explanation for Ansah's current free agent status. He's made clear throughout the offseason that he would not be signing anywhere before seeing a shoulder specialist.
That happened a couple of weeks ago, and it's been widely reported that Ansah will be available and fully-cleared by the middle of August.
The former top 5 draft pick made the Pro Bowl in 2015, and was also named as a second-team All Pro in that year after making 47 combined tackles, 14.5 sacks, 4 forced fumbles, and a pass deflection in 16 games.
He has always been productive as a pass-rusher, which makes him a bit of a rarity at this time in the offseason. At 29 he undoubtedly has more to offer in the NFL, whether that's on a one-year deal with the hope of one more big contract next offseason or something more long term.
Where will he end up?
Ansah has visited with a number of teams – the Bills, Saints, Ravens and Seahawks. He's also reportedly being looked at by the Raiders (who had a league-low 13 sacks in 2018).
Out of all those teams, the Seahawks look like the best fit. They're desperate for a pass-rusher, are clearly in Superbowl contention, traded their top pass rusher in Frank Clark and are likely to have the cap space to make a favourable deal.
2. S Eric Berry
When fit, Berry is one of the best defensive players in the league, but fitness is no guarantee at this point in his career.
The 30-year old, 5-time Pro Bowler, 3x First-Team All-Pro ruptured his Achilles tendon in Week 1 of 2017. He did not return until the Chiefs' final three games of last year, which included the AFC Championship game against the Patriots.
Berry was released by the Chiefs earlier this offseason after they signed Tyrann Mathieu. Again, like Crabtree, this makes his failure to find another team particularly concerning – that Achilles is likely to remain an issue for the remainder of his career after Berry was also diagnosed with Haglund's deformity; a bone spur that digs into the Achilles tendon.
The football ability is clearly still there. The Chiefs' coaching staff entrusted him with the job on Rob Gronkowski last year, which alone tells you the high regard he's held in. Last time he was fully fit, back in 2016, Berry made the Pro Bowl, and if that Achilles can hold up there's no reason it can't happen again.
Where will he end up?
Berry is a Kansas City legend. Despite being the most expensive safety in football up until this offseason, there's a chance the Chiefs bring him back on a cheaper deal.
Otherwise, the Chargers, with two promising young safeties in Nasir Adderley and Derwin James, could be a perfect playing/coaching fit as he transitions in to a post-football career.
The Browns, at this point though seem the most likely. John Dorsey (who employed Berry for years in Kansas City) now runs the show, Cleveland were openly in the market for Earl Thomas earlier this offseason, and have plenty of cap room to make a deal happen.
1. DT Ndamukong Suh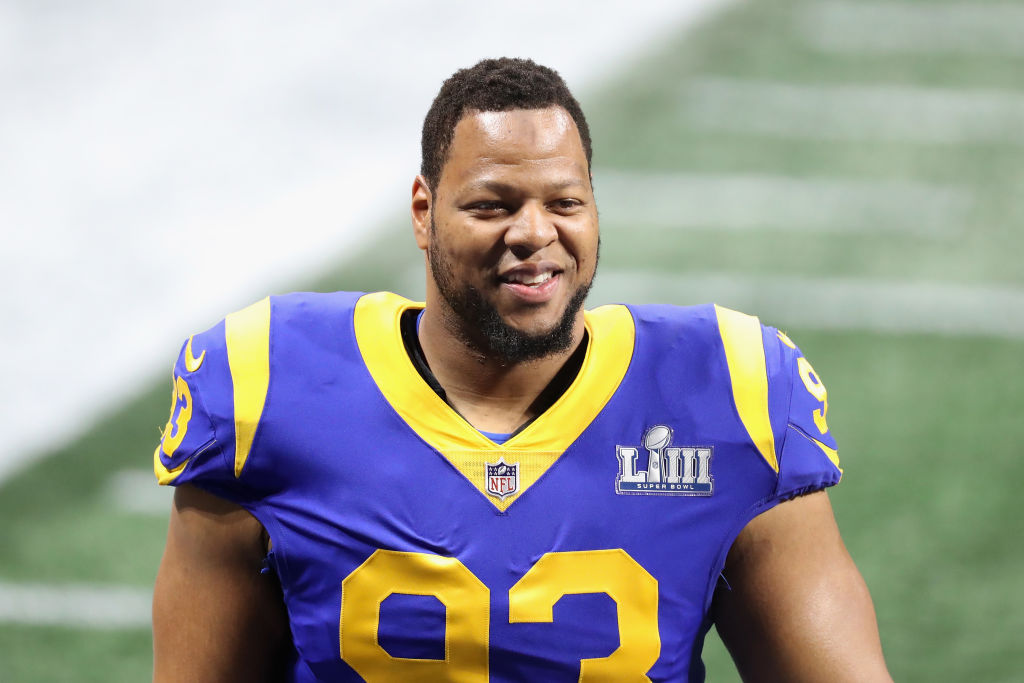 He's one of the more polarising players in the NFL, but Suh's postseason performances for the Rams last season showed he has all the tools needed to still be a force in the NFL.
The 32-year old had a pretty underwhelming regular season (59 tackles and 4.5 sacks) but was an unstoppable force in the Playoffs, recording 10 tackles and 1.5 sacks in the Rams' three appearances.
Suh has made 5 Pro Bowls, 3 First-team and 2 Second-team All Pros over his illustrious career with the Lions, Dolphins and Rams. Disciplinary problems have always plagued him, but when locked in there's almost no one in the league who can stop him.
Suh was signed to a one-year, $14 million deal by the Rams last year and was worth every cent of it in that playoff run. A cynic would argue that he coasted through the regular season, knowing a good playoff performance would guarantee a big offseason payday, but a for a lot of teams in contention that wouldn't be a concern.
Where will he end up?
The Chiefs traded for Frank Clark and paid him through the nose, so clearly they're in the market for pass rush help. They're also in the perfect win-now frame of mind, where Suh could afford to slack off for the regular season so long as he shows up in the playoffs. Suh would draw a double team inside, giving Clark and Chris Jones a little breathing space.
The Broncos under John Elway have also shown a propensity for taking questionable risks on veterans, and Suh would fit in well with Von Miller and Bradley Chubb, while the Cowboys also need to bolster their defensive tackle set.
The Chiefs currently sit in the box seat.
Written and produced for Sportstips.com by Eddie Dadds
Make sure you follow us on Instagram here, give us a like on our Facebook here and check us out on Twitter here to get the best highlights and updates sent straight to your socials!