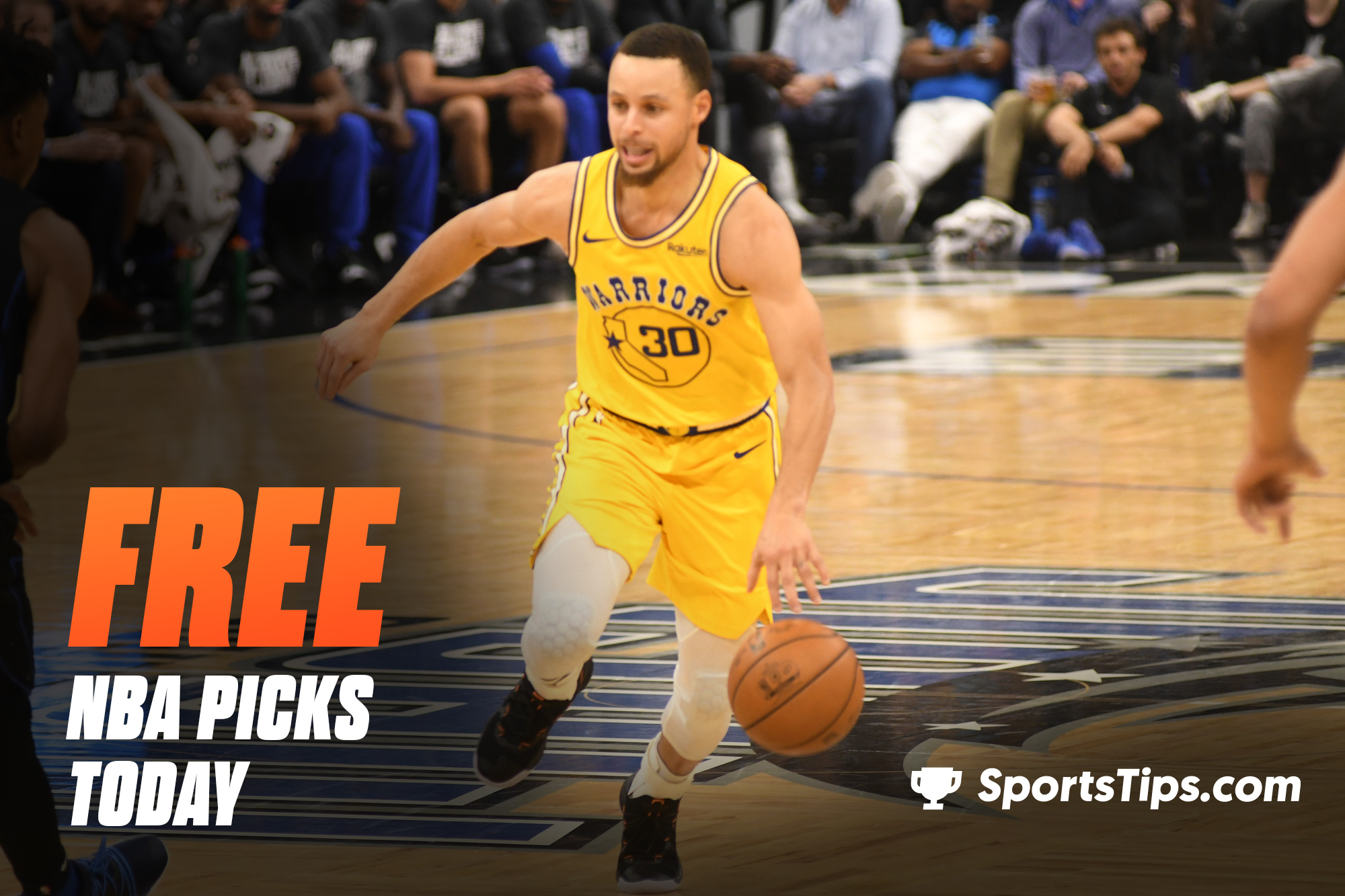 Our free NBA Picks are out for Tuesday, November 16th, 2021! Make sure you check our NBA Picks before the action kicks off.
Look below to find our free NBA Picks for the three games on today's schedule!
We kick off the night with what looks to be one of the best games of the early stages of the season as the league-leading Golden State Warriors continue their road trip against the Brooklyn Nets. This matchup puts former teammates and the two leading scorers in the league, Kevin Durant and Steph Curry, up against each other in what should be an exciting matchup.
This looks to be a fantastic matchup between the Eastern and Western Conference Players of the Week, Kevin Durant and Steph Curry. Both players are at the top of their games right now, but this game will come down to one question.
Can the Warriors' offense return to what saw them pull off seven straight wins and an 11-1 start to the season? Against Charlotte on Sunday, they could only manage 102 points on 42.2% shooting from the field and just 23.1% shooting from deep, by far their worst performances of the season so far. Things don't get any easier against a Brooklyn side that ranks sixth in scoring defense and second in three-point percentage defense.
In saying that, Golden State is still the best scoring offense in the league and has Steph Curry coming in off a week where he dropped 50 and 40 points in two of his four games. The Warriors also have the third best scoring defense in the league, facing a Brooklyn offense that has stumbled out of the gates and will be without Joe Harris for this clash. They do still have Durant, James Harden and a red-hot Patty Mills, but can they keep it up against one of the best defenses they will have faced so far this season?
Looking at the odds, Golden State is getting two and a half points in the spread. While Brooklyn is coming off a patch where they have won eight of their last nine games, I don't think they should be laying points to the Warriors. Brooklyn's last three opponents have been the Magic, Pelicans and Thunder, meaning this is a massive step up in competition and they may get a shock here.
Tim's NBA Pick: Golden State Warriors +2.5 (-108)
This will be the main event in the NBA on Tuesday. The long-awaited game between the Brooklyn Nets and the Golden State Warriors promises to be one of the most unforgettable clashes between two of the best players the League has ever seen – Kevin Durant and Steph Curry. The Golden State Warriors enjoyed an amazing start to their 2021/22 NBA campaign as they were up 11-1 before their match against the Charlotte Hornets on Sunday. The Hornets outplayed them 102-106 which was mainly due to the performance from their bench players. Although Steph Curry and Andrew Wiggins combined for 52 points, the consistency from Charlotte remained unmatched.
The Brooklyn Nets are on a 7-1 run in November, losing only to the Chicago Bulls in a road game. An interesting fact about this match was that Kevin Durant dropped 38 points, but just two players from the Nets passed the 10-point mark. It's obvious that he is doing half the work for the team so far and with time passing he will need some more help from players like Blake Griffin, James Harden, and LaMarcus Aldridge. I think precisely this inconsistency will cost them the game against the Warriors tomorrow. Steph might as well be alone many times, but he still gets some help from the likes of Jordan Poole and Andrew Wiggins. I am picking the Warriors in this one.
Denis' NBA Pick: Golden State Warriors (+126)
GAME DAY pic.twitter.com/dSVgoxr8aI

— Golden State Warriors (@warriors) November 16, 2021
This one is going to steal the headlines. It's a matchup between last week's two "Players of the Week" (Kevin Durant and Steph Curry), who are also former teammates and champions together, former MVPs, and could meet in the NBA Finals come June. Golden State vs. Brooklyn will be must-watch T.V. on Tuesday night.
The Brooklyn Nets started off a bit rusty, but now they sit 1/2 a game behind the Washington Wizards for the top spot in the Eastern Conference. This has been without Kyrie Irving playing and with James Harden not being terribly consistent. They've got some great bench help, particularly from LaMarcus Aldridge, but we all know who's running things for Brooklyn: Kevin Durant. KD is scoring just under 30 points per game while shooting almost 60% from the field, in what is looking like one of his best seasons in an already prolific career. That being said, how will he react to a team that knows his moves so well, and are leading the league in defensive rating, most steals per game, and are top three in least amount of points allowed per game?
That team is the Golden State Warriors, who we've always known for their exceptional offense (oh yeah, they're also leading the league in points per game too). This team once known for "The Splash Brothers", have now turned into a defensive juggernaut as well. Steph Curry has of course been magnificent, but he's getting some big help from Jordan Poole and Andrew Wiggins, who has really developed into a trusty sidekick player. All of that being said, the Warriors did struggle against the second best offense in the NBA on Sunday night as they lost to the Charlotte Hornets in North Carolina. LaMelo Ball, Miles Bridges, and Terry Rozier all put up at least 20 points as the Hornets prevailed 106-102. The Nets, with all their offensive talent, should take one out of Charlotte's book if they want to take out this Warriors defense, but I just don't see the Dubs losing two-in-a-row, no matter how much offense they have to endure in a 48-hour period. So, I'll pick Golden State to steal one at Barclays.
Michael's NBA Pick: Golden State Warriors (+126)
Golden State has consistently been the best team in basketball this season, despite dropping a close one to Charlotte on Sunday. Steph Curry continues to dominate virtually anyone in his path, and he's got serious help from Andrew Wiggins and Jordan Poole, especially offensively, while Draymond Green just does what he does on the defensive end, which is to be a major obstacle for anyone in the paint. Doing all of this without Klay Thompson is impressive enough, but the Warriors are almost certainly going to be better once Klay returns from injury.
As for this matchup, however, it's sure to be fun, as Brooklyn is one of seemingly only a few teams that has the ability to score with Golden State, but that is dependent upon James Harden actually performing up to his capabilities. So far this season, Harden has struggled, along with quite a few members of the Nets supporting cast, which has given Kevin Durant the unfortunate job of carrying the team solely on his shoulders, which he's done a surprisingly decent job of so far. However, I think that comes to an end against a Warriors team that is extremely balanced, and without help, KD can't get his team over this hurdle by himself. I'm still hesitant to assume that he gets help in this one, as we've seen little evidence to assume that is about to change, so take Golden State to go ahead and get the win on the road, even though I do think it's a close game all the way through.
Noah's NBA Pick: Golden State Warriors (+126)
While this was supposed to be a marquee matchup between the top teams of the two conferences from last season, COVID-19 protocols have meant that the Philadelphia 76ers will go into this matchup with the Utah Jazz shorthanded. Can they overcome their adversity for an upset win on the road or will the Jazz bounce back from two disappointing home losses?
The Philadelphia 76rs are 0-4 since losing Joel Embiid to COVID-19 protocols and I see no reason why their fortune will turn here. The Utah Jazz may be a bit out of form of late, but they still have a full strength squad and are ranked seventh for both scoring and scoring defense so far this season. They rank seventh offensively despite being 27th for three-point shooting and given they were one of the best three-point shooting teams from last season, I expect them to return to the norm sometime soon.
Perhaps tonight is the night, given that the Sixers will be without their best player, Embiid, and best defender, Matisse Thybulle. Tobias Harris has been massive for them since returning from his own COVID-19 protocols absence while it has allowed Tyrese Maxey to show how good he really is, but ultimately it isn't enough to compete with some of the league's best, which Utah are.
Tim's NBA Pick: Utah Jazz -10 (-110)
Two of the best teams in the NBA, yet two of the worst ones the past week, face each other on Monday in Utah. The Philadelphia 76ers have battled with COVID-19 issues as first Tobias Harris tested positive for the virus, while Joel Embiid was also put under the Protocol a week later. They were off to a great start to this campaign winning 6 games in a row, before Joel Embiid had to be sidelined for a couple of matches. Without him, they are 0-4 losing consecutively to some of their direct opponents for the Playoffs like the Knicks, the Bucks, the Raptors, and the Pacers.
The Utah Jazz was the best team for the first two weeks in the NBA. They went on a 7-1 run defeating strong teams like the Nuggets, the Bucks, and the Hawks. Then, the Jazz had to play an away game against the Miami Heat which they lost 115-118 and then things started going south for them. They suffered losses to the Orlando Magic, the Indiana Pacers, and the Miami Heat once again. Donovan Mitchell and Jordan Clarkson began missing shot after shot which led to the whole team's sharp decline. In my opinion, the game against the 76ers will be tough to watch as both teams have some internal issues to deal with first and I expect to have at least one low-scoring quarter which will reflect the current situation in both squads. That's why I will go with the option for "under points" here.
Denis' NBA Pick: Under 217 (-110)

Never underestimate Joel Embiid's value: the rest of the Sixers can be in shambles, but if they have Embiid there's hope—without him, there's a hole. The Sixers have gone 0-4 since Embiid was sidelined with COVID and now they'll face a Utah Jazz team that was on top of the Western Conference not too long ago.
After starting the season 7-1, the Utah Jazz have been hit with some hard times. They've lost four of their five against teams including the pitiful Orlando Magic, and a Jimmy Butler-less Miami Heat (for one of the two times they played). At this point, the Jazz are playing so bad, that I wouldn't even put an Embiid-less Sixers squad as an automatic win. The Jazz have pretty much been at full-strength during this run, there's really no excuse—it's mental and if they want any chance at making it to the NBA Finals, they're going to have to play with a little more toughness. Teams go on slumps, and Utah needs to hope they're getting theirs out of the way early. An injured Sixers team won't convince anyone that the Jazz are fully back, but sometimes it's about baby steps. They just need to get this win to get out of their head. I think they will, but I can't guarantee it'll be pretty for them, or Philly—I'm going to go for the under.
Michael's NBA Pick: Under 217 (-110)
The Utah Jazz should take care of this one relatively easy, as they enter this matchup at full strength, yet they have been out of sorts lately. The problem is that even being out of sorts, I like their chances against a Covid-riddled Sixers squad. The Jazz are still one of the best teams in basketball, and one of the most balanced teams behind the paint play of Rudy Gobert, and perimeter play of Donovan Mitchell, Joe Ingles, and Jordan Clarkson, and I expect them to come out and show that tonight.
For Philadelphia, they've dropped four straight without Joel Embiid in the lineup due to Covid protocols, and despite the fact that all of those losses have been to teams that are probable to make the playoffs, the Jazz are certain to make the postseason this year, so I don't see the Sixers luck changing in this one. They've shown that Seth Curry and Tobias Harris can't be trusted to take the team and lead them in Embiid's absence, which is why I lean easily on Utah in this one, quite possibly by a pretty wide margin.
Noah's NBA Pick: Utah Jazz -10 (-110)
We round out the night with the Los Angeles Clippers hosting the San Antonio Spurs. The Clippers had their seven-game winning streak ended by the Bulls on Sunday night while the Spurs couldn't quite keep up with the Lakers. With both sides coming off losses on Sunday, who will be able to return to the winner's list tonight?
While both sides are coming off a loss, the Clippers' form is much better than San Antonio's right now. LA had won their seven games prior to their loss to Chicago, who came out and had their way with the Lakers one night later. The same Lakers side that beat the Spurs on Sunday. San Antonio on the other hand have now lost three of their last four, including to the Thunder on the road.
The Spurs now sit at 2-5 on the road for the season and have the fifth worst record in the league so far. Surprisingly, they average the 9th most points per game across the league, but also give up the 9th most points. When you compare that to LA, who ranks 5th for opponent's points per game, it isn't hard to see why there is a big difference in records for the season and odds for this game.
Looking at this matchup, the Clippers have more depth and more top end talent, which is a common theme for the Spurs' opponents this season. Based on this, and the defensive reasons mentioned above, I like the Clippers to win and cover.
Tim's NBA Pick: Los Angeles Clippers -7.5 (-110)
The San Antonio Spurs and the Los Angeles Clippers will wrap up Tuesday night in the NBA in Staples Centre. In their last match, the Chicago Bulls stopped the Clippers' winning streak at 7 games as Paul George and Reggie Jackson combined for just 40 points on 11-42 shooting from the field. They are definitely the Clippers' driving force in moments when Kawhi Leonard is missing. However, the good performance for the team doesn't end with PG and Reggie, as Luke Kennard and Terrance Mann are included in top 3 NBA trios by net rating.
On the other hand, the San Antonio Spurs played a fantastic match against the Lakers as they almost managed to make a comeback in the last quarter after being down 14 points at one point. Keldon Johnson, Devin Vassell, and Dejounte Murray bring some hope to their fans in a way that it's possible to see them fighting for the title once again in just a couple of years. Until then, they will need more playing time in order to develop themselves as players and to get the much-needed experience to play under immense pressure. Such games against top-tier teams will be a perfect benchmark for them. However, I think it will take some time before they can frequently play like equals with teams like the LA Clippers. I will give my preference to PG, Reggie, and the rest of the California-based team.
Denis' NBA Pick: Los Angeles Clippers -7.5 (-110)
📊 27 PTS / 11 REB / 4 AST @yg_trece applied the pressure. pic.twitter.com/PPtBxQBr78

— LA Clippers (@LAClippers) November 15, 2021
The Spurs may be 4-9, but I still enjoy watching them quite a bit. This is mainly because I see great potential in both Keldon Johnson and Dejounte Murray. Johnson has continued to improve his points per game in each of his three seasons; while his field goal percentage has dipped a bit, it should be noted he's also averaging more shot attempts per game than his previous two seasons. In addition to scoring, Johnson is also seeing upward trajectories in assists, rebounds, and steals in both his per game and per 36. Most importantly he's seen a big drop in his personal fouls, as he's playing more disciplined ball. Murray also continues to look more and more like an all-star talent as he has had major jumps in both points per game and assists per game. These two continue to be a blast to watch and one can only imagine the damage they'll do if this team nabs one more star.
That being said, the Spurs will have a tough night on Tuesday against the L.A. Clippers. The Clippers were winners of seven-in-a-row before losing to Chicago Sunday night 90-100. Chicago is a tough defense, and some of the Clippers players that have stepped up in recent times struggled to find their shooting touch. Don't expect that to be a repeat issue—even though San Antonio has some great young talent, they tend to be a bit more offensive focused. San Antonio sits in the bottom half of points allowed per game and opposition field goal percentage. Expect the Clippers to take advantage of this and bounce back at home.
Michael's NBA Pick: Los Angeles Clippers -7.5 (-110)
San Antonio is a team that by the numbers quite simply makes no sense this year. According to virtually every offensive metric, they should be much better than they currently are, as despite having a top-10 offense, they currently sit at 4-9 on the year. This is due to the fact that the defense has been just as bad as the offense has been good. Going up against an LA Clippers team that has one of the better defenses in the league, and I'm just not sure I like the Spurs to be able to put up the points they will need to in order to hang around with the Clips, who are likely to be able to score at will in this one.
This LA team was on a seven game winning streak before dropping a pretty close contest to Chicago, which is certainly an excusable loss, as Chicago has been one of the best teams in basketball throughout the first month or so of the season. Paul George has looked like a borderline MVP candidate, and against a Spurs defense that has been abysmal to start the year, I like him to be able to rack up at least a double-double, if not a triple-double, and get enough help from guys like Reggie Jackson and Terrance Mann to help them cruise to an easy win over a team that, by record, has been one of the worst in the NBA so far this season.
Noah's NBA Pick: Los Angeles Clippers -7.5 (-110)
If you need more news, information and predictions, head over to our NBA hub page for all your basketball needs!
*Odds and spreads correct at time of publication, courtesy of FanDuel.