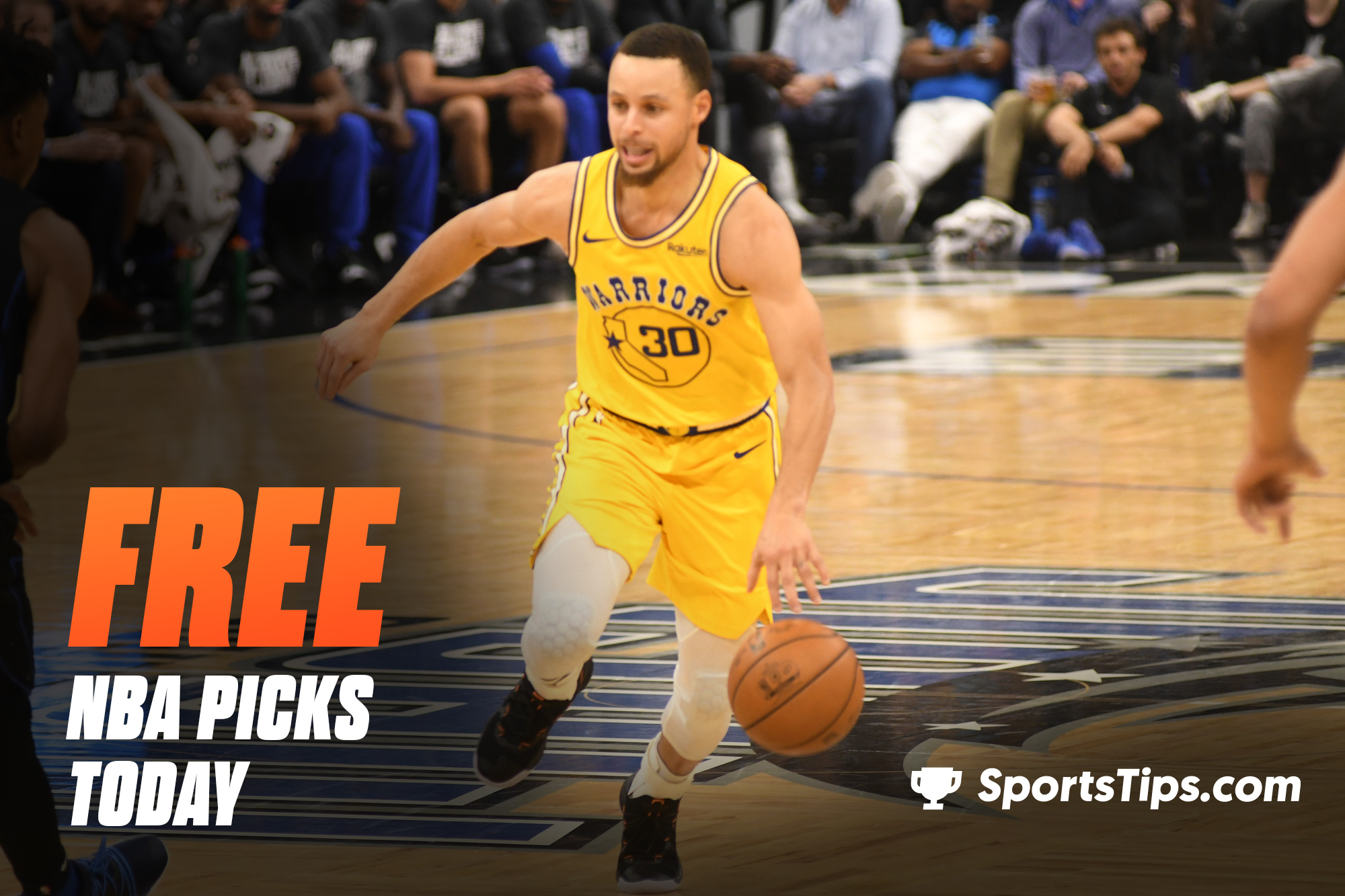 There is a massive Tuesday night of action across the association and our NBA picks have the winners of the best five games of the night!
Will the Blazers loss a sixth straight? Can the Raptors sweep the season series with Brooklyn? Does Luka Doncic or Steph Curry lead their team to victory as the Mavs visit the Warriors?
Before you place all of your bets, we have all of the information, answers and picks you need! So don't miss out on tonight's NBA picks.
The streaking Charlotte Hornets host the Milwaukee Bucks to kick off the evening and will be coming in full of confidence. Not only did Charlotte win the last matchup between the two sides, in Milwaukee two weeks ago, but they have won two straight games and are playing incredibly on offense. Milwaukee on the other hand lost their last game and are having some defensive issues, especially in the clutch.
Milwaukee have the worst fourth quarter defense for the month of April so far and it cost them against Atlanta on Sunday. Heading into the final 12 minutes with an eight point lead, the Bucks gave up a 26-41 last quarter to give up their lead, losing 104-111. Giannis Antetokounmpo had 31 points and 14 rebounds while Jrue Holiday had 19 points and 11 assists but they crumbled late and it cost them.
Four @hornets score 20+ points in their home win!

🐝 @Devonte4Graham: 24 PTS, 9 AST
🐝 @PJWashington: 22 PTS, 12 REB
🐝 @T_Rozzay3: 21 PTS, 11 AST
🐝 @MilesBridges: 20 PTS pic.twitter.com/gTwOI80seR

— NBA (@NBA) April 26, 2021
Their opponents are having no issues at all lately, moving PJ Washington to center and allowing their offense to thrive. In their 125-104 win over Boston, four different players scored 20+ points with Devonte' Graham top scoring with 24 while Washington had 22 points, 12 rebounds and five assists.
Charlotte is scoring at every level, shooting 50.5% from the floor, 48.8% from deep and 90.9% from the stripe in that win. This level of offense has to be worrisome for the Bucks, especially given they are on the road for this one, where they are just 17-13 for the season. While Milwaukee is the class team in this matchup, Charlotte is in form and could give the Bucks a run for their money. The Bucks should still win behind back to back MVP, Antetokounmpo, but it will be a lot closer than the nine point spread on offer.
NBA Pick – Milwaukee Bucks (-430)
NBA Spread – Unlock Premium Picks
Total Points Pick – Unlock Premium Picks
Will the Indiana Pacers be the next team to add a loss to the Portland Trail Blazers. After five straight losses, Portland gets on the road to start a six game road trip against an Indiana side that has won three straight despite missing their best player.
Domantas Sabonis has been sidelined for the last four games and has already been ruled out for this clash, but over their last three, the Pacers haven't needed him. Sunday's 131-112 win in Orlando saw Malcolm Brogdon lead the way with 24 points, nine assists and eight boards as the team couldn't miss.
Indiana shot 54.9% from the field, 46.9% from deep and now face Portland, who has the second worst defensive rating in the league. Over their last two losses the Blazers are giving up an average of 125 points per game and have struggled at that end of the floor all season.



After falling two points short of them on Friday, many thought that Portland would bounce back against the Grizzlies on Sunday but the result got even worse. A 113-120 loss saw CJ McCollum score 27 points and Damian Lillard score 23, but Lillard's shooting woes continued, managing just 29.6% for the game.
Jusuf Nurkic turned it on against the Grizzlies, averaging 20 points, 18 rebounds and five assists across the two games and should be licking his lips for a matchup with an Indiana side that is missing Sabonis and Myles Turner. That lack of frontcourt protection may seem costly for Indiana and with Portland being a better road team, 16-12, than at home, 16-16, the change of scenery might help them out.
NBA Pick – Portland Trail Blazers (-174)
NBA Spread – Unlock Premium Picks
Total Points Pick – Unlock Premium Picks
The Toronto Raptors are hosting the Brooklyn Nets tonight and are looking to sweep the season series after taking the previous two matchups between the sides. A six point win in Brooklyn at the start of February was followed by an 11 point win last Wednesday and now the 12th placed Raptors could legitimately sweep the 1st placed Nets.
Brooklyn have since come out and defeated both Boston and Phoenix, welcoming back Kevin Durant to the lineup for the latter. In just 28 minutes off the bench, Durant finished with 33 points on 57.1% shooting while Kyrie Irving led the team to their 128-119 victory with 34 points, 12 assists and six boards.
Kevin Durant has scored 687 points with the Nets this season.

That is the 4th-most through a player's first 25 games with a team over the last 40 seasons.

He is behind Dominique Wilkins (727), LeBron James (717) and Orlando Woolridge (703). pic.twitter.com/742CgRnF5d

— ESPN Stats & Info (@ESPNStatsInfo) April 26, 2021
With both All Stars firing on all cylinders, albeit in just one game since Durant returned from a three game absence, things are different for this clash than they were last week when he missed. Toronto does finally have their core four of Kyle Lowry, Fred VanVleet, Pascal Siakam and OG Anunoby back on the floor together, but none of those players are up to the calibre of Durant or Irving.
After a disappointing loss in New York on Saturday, Toronto hosted Cleveland last night, winning comfortably to the tune of 112-96. Siakam led all scorers with 25 points while Lowry and VanVleet combined for 16 assists and just two turnovers for the game.
You can't ignore form and the fact that Brooklyn are still winless from two tries against the Raptors obviously means something, but Durant back in the mix changes everything. Toronto are a league worst 2-11 on the second night of a back to back and while their clash with the Cavs was a blowout, their core four all played over 31 minutes and that has to take a toll on their bodies heading into this clash.
NBA Pick – Brooklyn Nets (-260)
NBA Spread – Unlock Premium Picks
Total Points Pick – Unlock Premium Picks
The Minnesota Timberwolves are one of the hottest teams in the league, winning two straight and four of their last six games. Their last two contests were against the team with the best record in the league, the Jazz, and they escaped with two wins. They now face the team with the worst record in the league, the Houston Rockets.
Houston have dropped four straight games and nine of their last 10, losing John Wall for the season with a hamstring injury. The positive for the Rockets is that it allows them to play their promising young players and they have also had two nights off to prepare for this one. Saturday night saw them go down 116-129 in Denver despite 25 points, eight rebounds and three steals from D.J. Wilson and 21 points 11 assists and eight rebounds from their center, Kelly Olynyk.
Obviously defense is an issue for the Rockets, keeping just one team under 110 points in their last 10 contests. That isn't a good thing against an in-form Minnesota team that has the 13th best offensive rating since the All Star break, after being 28th before that.



Karl-Anthony Towns and D'Angelo Russell returning to full health as well as the breakout of Anthony Edwards has seen the Timberwolves' offense come into its own in the second half of the season. In their whirlwind 105-104 win over Utah last night, Russell dominated the floor with 27 points and 12 assists off the bench while Towns had 21 points and 11 boards.
After falling into a 17-33 hole after the first, Minnesota dialed things up a notch or two in the second quarter. A 32-14 period saw Minnesota break the game open and despite faltering late, a Russell layup with four seconds left gave them the win.
The wins saw Minnesota sweep the three-game season series with Utah and should give them a bunch of confidence heading into this one against the Rockets. They are just 3-11 on the second night of back to backs, unable to win in such situations in over six weeks. They even lost to the Rockets, when the sides played a back-to-back set a month ago, despite beating them the night before. Minnesota is a class outfit but the young side may struggle to back up against tonight after such a massive last few days of action.
NBA Pick – Houston Rockets (+108)
NBA Spread – Unlock Premium Picks
Total Points Pick – Unlock Premium Picks
The Dallas Mavericks and Golden State Warriors are set to face off for the third and final time this season with the series currently split 1-1 after two explosive games in Dallas 11 weeks ago. Golden State took the first 147-116 before the Mavs bounced back to take the second 134-132, with Luka Doncic and Steph Curry combining for 154 points across the two contests.
Curry's scoring, and shooting, never seems to slow down, breaking the record for most threes in a calendar month with 85, and he still has two games to go. On Sunday night, against the Kings, he added 37 points, seven rebounds and seven threes while Draymond Green had just eight points but also 14 rebounds and 13 assists.
In two games, Dray has dished out THIRTY-TWO dimes — the most he's ever had in a two game span 🤯 pic.twitter.com/6eCsgpgomo

— Golden State Warriors (@warriors) April 27, 2021
Dallas then played that same Sacramento side last night but were unable to get over the top, losing 106-113. Doncic had 24 points, eight assists and seven rebounds but the Mavs were flat footed from the jump. A 17-31 first quarter put the game on ice, never leading by more than two points for the contest. Kristaps Porzingis missed last night's loss, his second straight game out of the lineup, and there is no guarantee that he, or Josh Richardson and JJ Redick who also sat out last night, will return to the lineup for this one.
Even with them in, Golden State seems to be in some really good form at the moment and will be too much for the Mavs to handle. Over the last three weeks, the Warriors have the best defense in the league and if the Mavs can't score against the Kings, then they will struggle mightily in this one.
NBA Pick – Golden State Warriors (-102)
NBA Spread – Unlock Premium Picks
Total Points Pick – Unlock Premium Picks
If you need more news, information and predictions, head over to our NBA hub page for all your basketball needs.
*Odds and spreads correct at time of publication, courtesy of FanDuel.
Want more picks? We have just launched our Premium Picks service, and for a limited time only, it is free! *T&Cs Apply.