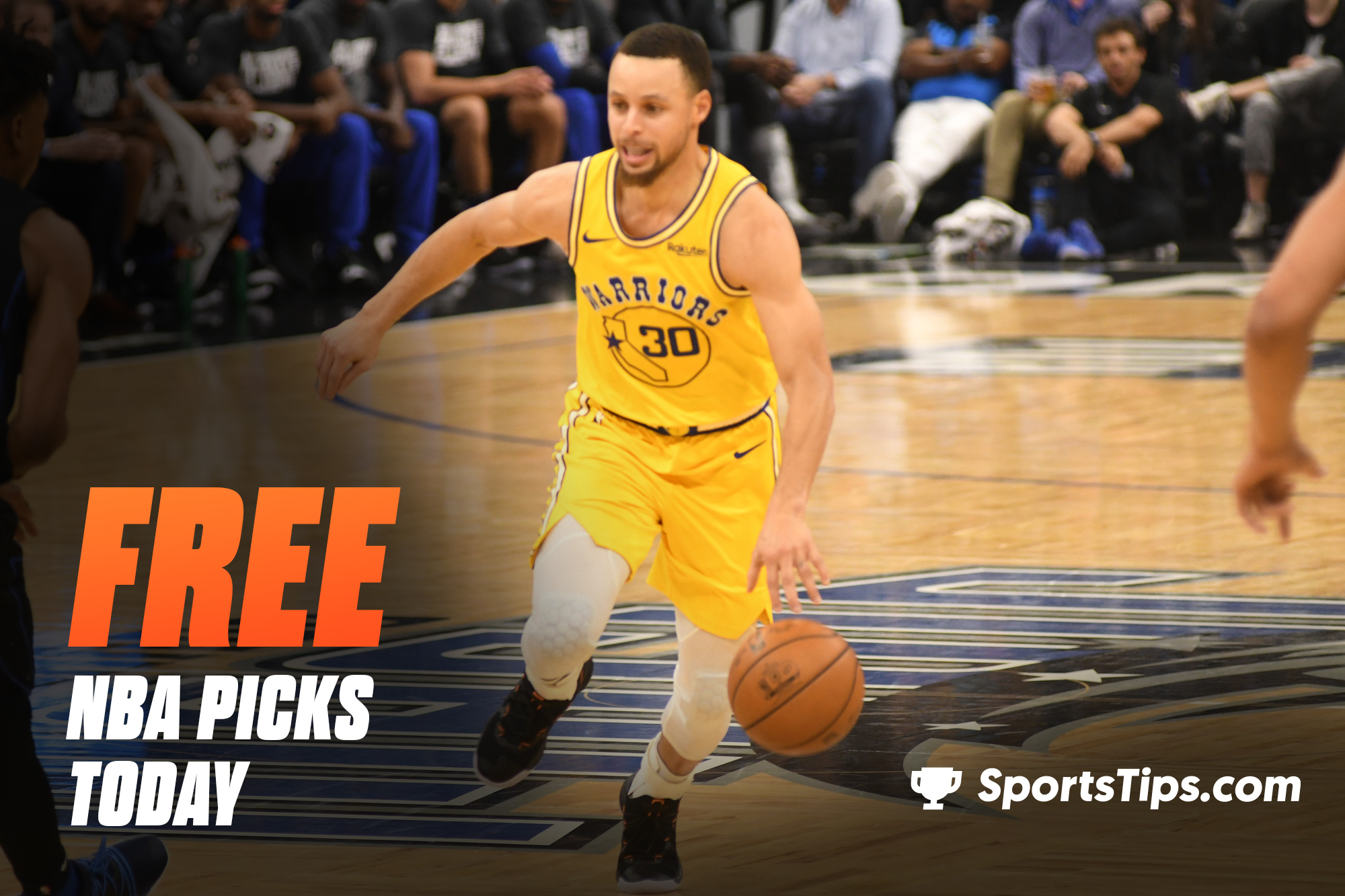 Our free NBA Picks are out for Sunday, November 28th, 2021! Make sure you check our NBA Picks before the action kicks off.
Look below to find our free NBA Picks for the five best games on today's schedule!
Two of the top four teams in the Western Conference square off as the Los Angeles Clippers host the Golden State Warriors on Sunday afternoon. The Clippers have surprised many by their play without Kawhi Leonard while the Warriors have been the clear best team in the league, with just two losses this season.
In one of the most interesting matchups for Sunday, the Los Angeles Clippers will face the Golden State Warriors in Staples Center. Although both teams are in the top 4, there is a huge gap between them. The Warriors are 1st with 17 wins and just 2 losses, while the Clippers lead one of the chasing groups of teams in 4th place with an 11-8 record. Alongside Phoenix, Golden State is the other team that dominates the NBA the way they want to. They are in a 6-game winning streak in which they defeated the likes of the Brooklyn Nets, the Philadelphia 76ers, and the Portland Trail Blazers by around 15-20 points.
The Los Angeles Clippers had a tough adaptation to this season as it took them some time before starting dominating. They achieved a 7-game winning streak in the first half of November, but later on, they lost 4 out of their next 7 games. The Clippers lost to teams like the Chicago Bulls, the Memphis Grizzlies, the New Orleans Pelicans, and the Dallas Mavericks. Paul George versus Stephen Curry will be a treat to watch as there will also be a battle between players like Reggie Jackson and Andrew Wiggins, and fantastic prospects like Terrance Mann and Jordan Poole. This is going to be tough to call, but I will go with the Warriors who seem to be a lot more consistent than their opponents from California. I will also suggest picking "over 215.5 points".
Denis' NBA Pick: Golden State Warriors (-126)
Denis' Bonus NBA Pick: Over 215.5 (-110)
Defend #WarriorsGround ✔️ pic.twitter.com/WQM7UXAX6J

— Golden State Warriors (@warriors) November 27, 2021
The Golden State Warriors continue to roll, as they've gone 17-2 after picking up a big win Friday against the Portland Trail Blazers. The Blazers were another playoff team that the Warriors were able to take care of with ease. They'll look to continue this trend on Sunday as they face off against the 11-8 L.A. Clippers.
The Clippers have found ways to hang on, as they;ve looked to Reggie Jackson to step up in the absence of Kawhi Leonard. The guard has shown "Most Improved Player" ambitions as he continues to put up big stats on a consistent basis. He led the team in scoring over their last two games as he looks to take the pressure off Paul George a bit. The Clippers will need both Jackson and George to be electric on Sunday as they face the league's best squad in the Warriors—a team they lost to earlier in the season. In that game Steph Curry erupted for 45 points. I expect Curry to have another big game, but I like the Clippers to pull an upset here. Even in their last meeting where Curry was unstoppable, the Clippers found a way to get back in the game and only lose by two. I think they'll give the Warriors loss number three in a revenge game.
Michael's NBA Pick: Los Angeles Clippers (+126)
This has the potential to be a really good basketball game between two solid teams. The Golden State Warriors are the best team in basketball (and have been all year long) and show no signs of slowing up, as it looks like they're mere weeks away from getting Klay Thompson back, as he returns from injury. Steph is playing like an MVP, and Jordan Poole and Andrew Wiggins are both playing like tremendous role players, and until that continues, I don't see this Warriors team struggling all that much.
For LA, everything depends on Paul George. They're still without Kawhi Leonard, which means George has virtually every bit of pressure on his shoulders. He's shown a bit of inconsistency at times this year, which means trouble for the Clips. If he plays well, and they get help from guys like Reggie Jackson and Terrance Mann, they're tough to beat, but that's asking a lot night in and night out for this squad. Give me the Warriors in this one, on the road, by double-digits.
Noah's NBA Pick: Golden State Warriors -2 (-110)
The Milwaukee Bucks and Indiana Pacers square off in a Central Division showdown, as the former looks to win their seventh straight game while the latter is looking to claim a big name scalp. Can the Bucks keep rolling or will the Pacers pull off the upset at home?
This will be an exciting meeting on Sunday in the NBA. The high-flying Milwaukee Bucks will face an Indiana team that shows some decent progress recently compared to what they were in the beginning of the season. The Pacers managed to outclass the Chicago Bulls by 32 points the previous week. They also defeated the Raptors by 17 points and took the game against the Lakers into overtime. One thing is almost certain for the Pacers and that's Domantas Sabonis' double-double. So far, he averages 18 points and 11.5 rebounds, while Malcolm Brogdon leads the way for the team with his 20.7 points and 6.2 assists per game.
The Milwaukee Bucks are finally back at what they did best in recent years – demolishing teams. After the return of Khris Middleton, the Bucks are in a 6-game winning streak where they didn't face any real problems against teams like the LA Lakers and the Denver Nuggets. Giannis Antetokounmpo got so used to playing with Middleton throughout these years and we all saw what happened when he was not around. In the last 6 games, Giannis' performance took a huge lead upwards and he is simply unstoppable at the moment. For me, this duo will break even more records and rewrite the entire history of the Milwaukee Bucks. I think they will find a way past the Indiana Pacers on Sunday as I don't really see who will be able to stop them.
Denis' NBA Pick: Milwaukee Bucks -3 (-106)


For the second time this season, the Milwaukee Bucks will travel to Indiana to take on the Pacers. Their last meeting resulted in a 119-109 win for Milwaukee, and while Indiana has all the offense to provide some payback, they've constantly proved they're unreliable.
Meanwhile the Bucks are getting back in championship form as they've gotten back Khris Middleton after he battled COVID. Middleton makes life a whole lot easier for Giannis Antetokounmpo, as he is a legitimate scoring threat from across the floor. With Middleton back in the fold and Jrue Holiday feeling fully recovered from an early season ankle injury, the Bucks are now rolling, winning six straight games. They'll look to make it seven against an 8-12 Pacers team that should be better than what their record shows. The Bucks will have to be on high alert,as this team has players who can score from all-star Domantas Sobanis to underrated guard Caris LeVert. While the Pacers may be deep in their scoring attack, I'm more concerned with the defense, which is defense, but not great at defending the three. That's unfortunate, because the Bucks are one of the five best three point shooting teams in basketball. If you factor that in with the play of Giannis, I think the Bucks should cruise in this one.
Michael's NBA Pick: Milwaukee Bucks -3 (-106)
This Bucks team is going to be a ton of trouble for nearly everyone in the Eastern Conference by the end of the year if they can stay healthy. With virtually the same roster that won the title last year back, they struggled early on with Covid and injury issues, but now that nearly everyone is back and healthy, they're starting to resemble the team that won the title last season.
For Indiana, they've been hit or miss so far this season. They've shown flashes of being a solid team with postseason potential when they're playing well, especially on the defensive side of the ball, but they've also shown a bad habit of completely disappearing as well. That doesn't bode well against a team that is as balanced and consistent as Milwaukee is, so I like the Bucks in this one, with relative ease.
Noah's NBA Pick: Milwaukee Bucks (-142)
The Boston Celtics and Toronto Raptors face off yet again in the early stages of the season and they will be looking for a return to form. Both sides are 0.500 or worse and have split the previous two matchups already this season, meaning there is a lot on the line here.
The Boston Celtics and the Toronto Raptors will produce yet another fantastic show on Sunday night in Scotiabank Arena. Both teams have bounced back from their struggling period in the early 2010s as the Raptors won the NBA Championship in 2019, while the Celtics reached three Conference Finals lost to the Cavaliers and the Heat. Right now, Boston and Toronto are hoping to continue this momentum and hoping that they can achieve even more things before they will need to rebuild their team once again. However, the current campaign is not successful for both rosters as the Celtics are 9th in the East with 10 wins and 10 losses, while the Raptors are struggling a bit back, in 12th place, with a 9-11 record.
Boston has been quite inconsistent throughout the early stage of this season as they managed to pull off great performances against the Miami Heat and the Los Angeles Lakers, and, at the same time, lost to some of their direct opponents in the likes of the Atlanta Hawks, the Washington Wizards, and the Toronto Raptors. Their first match of the season brought up the first real concerns for Boston as they were really struggling at making threes. However, both Jaylen Brown and Jayson Tatum found their rhythm and started sinking these shots from beyond the arc. On the other hand, the Raptors suffered a decline in their performance as OG Anunoby and Scottie Barnes are a bit underperforming at the moment. For me, this will be a payback for the loss earlier this season and the Celtics will come up victorious in the end.
Denis' NBA Pick: Boston Celtics (+118)
Celtics did not score in the final 3 minutes versus Spurs.

These are the shots they've got: Horford open, Tatum at the rim, Brown at the rim and Tatum open. All missed. pic.twitter.com/37YUbSFMUM

— Tomek Kordylewski (@Timi_093) November 27, 2021
After winning four of five in November, the Boston Celtics looked back and ready to gunning for a top spot in the Eastern Conference playoff race. Things were looking even better as Jaylen Brown returned to action after a brief injury battle. The Celtics had a chance to get a confidence builde ronWednesday night as they faced off against the Brooklyn Nets, the team that sent them home last season. Unfortunately for the Celtics, the Nets continued their dominant play against them, winning 123-104. Matter got worse on Friday as the Celtics fell to the (at the time ) 4-13 San Antonio Spurs. They were unable to get more than 88 points against a Spurs team that's near the bottom of the league in most major defensive categories. Their poor shooting continues to be an issue, despite having multiple all-star players.
On Sunday, they'll have a chance to rebound from the last two games, as they head north to face the Toronto Raptors. Toronto looked dangerous early on, as they were playing great defense and having players such as Fred VanVleet and OG Anunoby step up in big ways. Unfortunately, after a 6-3 start the team has been wildly inconsistent, including going on multiple three-game losing streaks. The Raptors even got star Pascal Siakim back during that time, but they've been unable to turn things around. Much like the Celtics, they sit just outside the heart of the Eastern Conference race. At 9-11 they'll home to gain a game on the 10-10 Celtics at home. I'll take them to win, earlier in the year the Raptors showed how great they can play on both sides of the ball. A home game against the Celtics could be an excellent time to bring that early-season identity back. I'm gonna go with Toronto at home.
Michael's NBA Pick: Toronto Raptors (-138)
Boston is in a situation much like the Indiana Pacers, as they've shown the ability to be a really solid team, but they've also shown a tendency, especially early in the season, to disappear, especially on the offensive end with absolutely horrendous shooting. They look to slowly be improving, and it's well known that they have a roster that can cause damage, with guys like Jayson Tatum and Jaylen Brown.
Toronto comes into this one as a mediocre basketball team, and one that is extremely difficult trying to predict. They have a few losses this season that are completely inexcusable, but they also have a few wins that are head-scratchers in terms of how they manage to sneak away with a victory. In the end though, I think talent ends up taking over in this one, and Boston just has a more talented roster. It's going to be a tight one, but I think the C's sneak out of Toronto with a close win.
Noah's NBA Pick: Boston Celtics (+118)
The Memphis Grizzlies will see how they measure up with their star on the sidelines, as they host the Sacramento Kings with Ja Morant looking on from the sidelines. Will the Grizzlies be able to survive or can the Kings win a third straight game?
The Sacramento Kings and the Memphis Grizzlies are one of the teams with a lot of hidden potential. Unfortunately for the Grizzlies, their superstar in the making, Ja Morant, suffered a left knee sprain in their last match against the Atlanta Hawks. He left the court after just 8 minutes of play and his projected return remains uncertain. At least, Morant avoided a serious injury that could have ended his season and threatened his whole career. However, without him, Memphis lost by 32 points as none of them managed to get past the 20-point mark.
Both teams are neck and neck in the current standings with the Grizzlies holding the 10th place with a 9-10 record, while the Kings are 11th with 8 wins and 12 losses. The Kings, themselves, showed some real progress this year as they were one of the three teams that have beaten the Suns throughout this campaign. They also punished a disorientated Lakers' team after triple overtime in their last match, while before that they outclassed the Blazers in an electrifying match that went all the way down to the wire. De'Aaron Fox and Buddy Hield might be really dangerous for the opponents if they have a good day on the court. On top of that, Harrison Barnes and Tyrese Haliburton also play a significant role in the team. The biggest concern for the Kings is the potential absence of Harrison Barnes and Richaun Holmes who are recovering from a foot and an eye injury respectively. However, I personally think the Kings will be able to grab the win against a weakened Grizzlies' squad without its main player.
Denis' NBA Pick: Sacramento Kings (+108)


This showdown consists of two of the NBA's speediest young teams, that are led by explosive guards in the Kings' De'Aaron Fox and the Grizzlies Ja Morant. Unfortunately, Morant suffered a bad knee injury on Friday night against the Hawks. There's no immediate timetable for his return, which puts a damper on a season that had all-NBA potential. The Grizzlies will rely on players like Dillon Brooks and Jaren Jackson Jr. to pick up the scoring while Morant is sidelined. In addition to that, they'll have to buckle down and play much better defense now that they can't rely on Morant to be a part of their overpowering offense. They must improve upon being the league's worst defense.
Meanwhile, despite some messy management moves, the Sacramento Kings pulled off big back to back wins last week, beating the Portland Trail Blazers and L.A. Lakers last week, by doing what the Grizzlies have done and simply overpowering them. Sacramento has so many fun players to watch, they hope they can continue to win big games in this post-Luke Walton era. With a terrible Grizzlies defense in front of them, and no Ja Morant, I see the Kings getting that third straight in Memphis.
Michael's NBA Pick: Sacramento Kings (+108)
The Memphis Grizzlies have shown real potential this season, as they have a few wins against teams that they truthfully had no business beating. Unfortunately for them, they also have multiple losses by 30+ to teams they shouldn't have lost to. Now, they're also without superstar Ja Morant, who is out for an indefinite amount of time with a knee sprain. Without Ja in the lineup, this Memphis team is going to struggle, regardless of who they play.
Sacramento comes into this one with a lot of questions as well, as they're trying to put together a roster that can compete, but currently they just haven't managed to do that. The talent level throughout their lineup is lacking compared to most other teams in the West, however they are at least healthy with the talent they do have. That health plays a part in this one, and the Kings get a road win against a Memphis team that is about to have their character tested over the next month or so.
Noah's NBA Pick: Sacramento Kings (+108)
The Los Angeles Lakers have fallen back below 0.500 following their triple overtime loss to the Kings on Friday night, and now they turn their attention to the struggling Detroit Pistons. There were fireworks when these sides last played with an altercation between LeBron James and Isaiah Stewart, so it will be interesting to see how much chippiness there is on the court.
The first game between these two teams this season produced a very interesting and compelling outcome. LeBron James and Isaiah Stewart got into a verbal fight on the court and a bit of physical fight on the court. As a result, LeBron was ejected after elbowing his opponent in a free-throw situation, while Isaiah went after the Lakers' forward and also suffered his fate. Both of them were suspended by the NBA, but they will be eligible to play in the upcoming match. It will surely be a very exciting matchup following these events over the last weekend. The Lakers are without a doubt the greatest disappointment of the season so far. They stand in 8th place with 10 wins and 11 losses, but their 2 wins in their last 7 games suggest that the situation is getting from bad to worse.
The Lakers have not defeated a team this season by more than 12 points. They have done that twice against the Cleveland Cavaliers and the Houston Rockets. The Pistons are performing even worse than their upcoming opponents as they are 14th in the East with 4 wins and 15 losses, standing only above the Orlando Magic. However, they aren't really that bad as they seem. Although they lost their last 5 games in the NBA, there have been a lot of positive things, one of which is the fact that they stayed close to their opponents throughout the whole game. They lost to the Warriors by just 3 points, to the Lakers by 5 points, and to the Heat by 8 points. For me, they have some hidden potential, but I think it will be a miracle if this team manages to somehow get into the top 10 in the end. As for this game, I believe the trend will continue and the Lakers might take this one home, but not by a huge margin. I will go with the Pistons covering their spread.
Denis' NBA Pick: Detroit Pistons +10.5 (-110)
ISAIAH STEWART WANTS LEBRON pic.twitter.com/gw6u84Pqr6

— Rob Perez (@WorldWideWob) November 22, 2021
Prior to last week's showdown between these two teams, no one would even bat an eye at this game. On paper it's a young team that's relying on draft picks, versus an old team that's looking for an NBA championship. But, in the last game the altercation of the year erupted as the Pistons Isaiah Stewart and Lakers Lebron James got into it, in an event that caused both benches to clear. Both players were ejected and suspended for their respective terms. Now, these teams will face each other again, and you better believe blood will be boiling on high.
Back to Basketball: this young Pistons squad sits at 4-15 and after they got three wins in five games earlier in the month, they went back to their old way and are now in the midst of a five-game losing streak. They'll look to use a little fuel from last game to propel them over a Lakers team coming off a tiring 3OT loss to the Kings on friday, after blowing a 13-point lead. This came just 48 hours after an overtime victory against the Pacers. The Lakers are likely quite tired, so this would be the perfect opportunity for a young Pistons team to attack. That being said, the Lakers can't be satisfied with being 10-11. They've had their share of excuses, but they need to pick it up soon in a dangerous Western Conference. They can't just phone it in against the Pistons, who have nothing to lose right now. I think the Lakers still pull it off, but I expect the Pistons to play with a bit of heart. They've had some close games against playoff-caliber opponents this year and they'll look to have the same result against the Lakers.
Michael's NBA Pick: Detroit Pistons +10.5 (-110)
This is one that's going to get entertaining, if not for the basketball, at least for the storyline. The last time these two teams met, we had a full on brawl break out after LeBron hit Isaiah Stewart in the face off of a rebound. It's guaranteed that a team as bad as Detroit doesn't have much to lose, so I honestly wouldn't be surprised if they come out and try to do something in retaliation for the situation from last week.
For the Lakers, they're looking to actually turn their season around, as currently their lineup of rag-tag All-Stars (past and present) hasn't been able to find any consistent play, with or without LeBron in the lineup. It doesn't matter in this one, as even playing mediocre basketball they're still a much better team than Detroit, so they take this one easily, but eventually it's a problem that is going to end up plaguing this Lakers squad.
Noah's NBA Pick: Los Angeles Lakers -10.5 (-110)
If you need more news, information and predictions, head over to our NBA hub page for all your basketball needs!
*Odds and spreads correct at time of publication, courtesy of FanDuel.