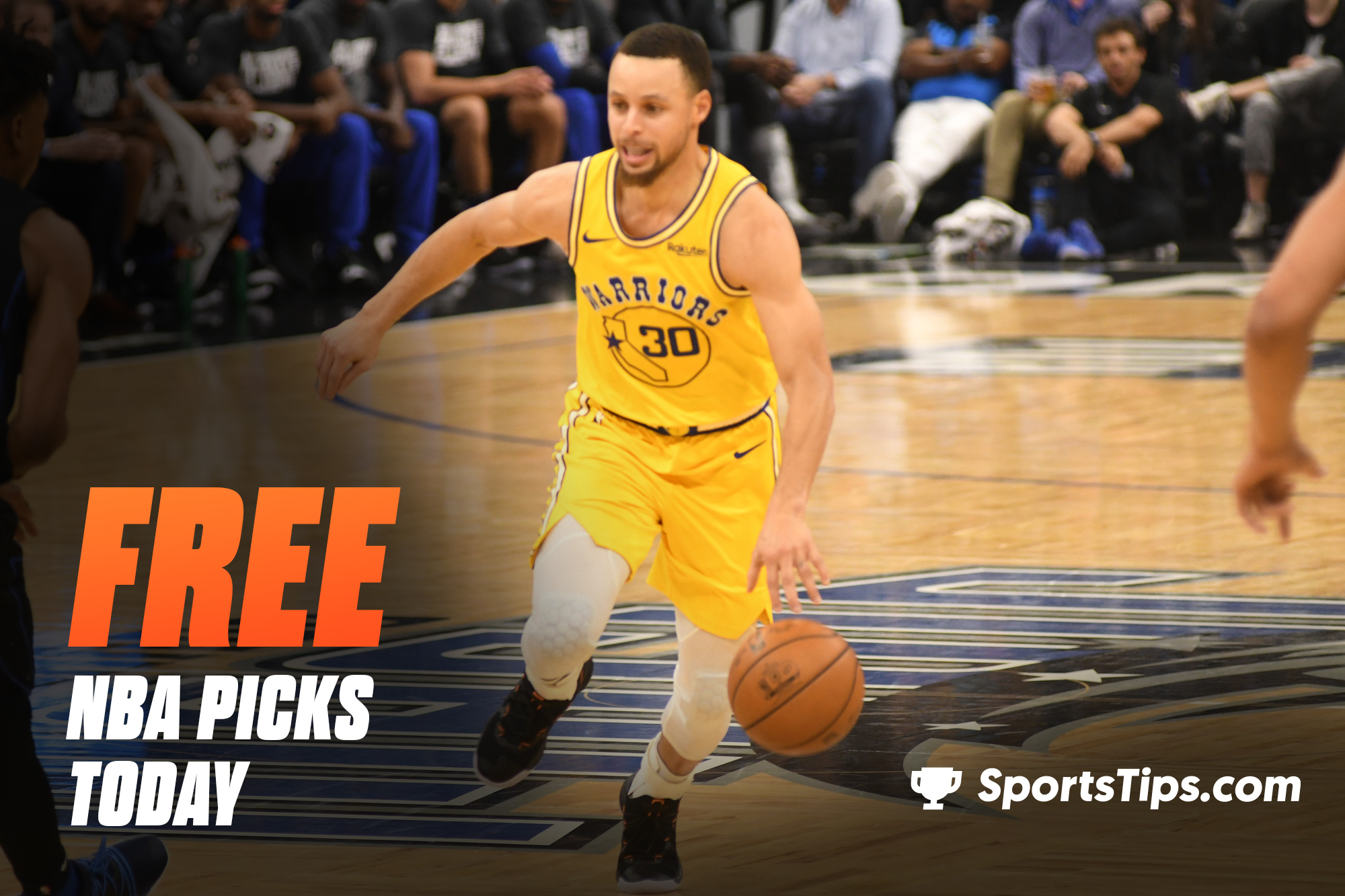 It's Christmas Day, and for your gift, there are five awesome NBA games on. Our free NBA picks are out for Saturday, December 25th, 2021! Make sure you check our NBA picks before the action kicks off.
Look below to find our free NBA picks for the five games on today's schedule!
The Atlanta Hawks hit the road and on Christmas Day they take on the New York Knicks. The Heat are currently four games behind the Heat in their Southeast Division, and their record currently stands at 15-16. The Knicks' record at home leaves something to be desired, currently sitting at 6-11, and they are in last place in their Atlantic Division.
The first game on Christmas Day will be between the Atlanta Hawks and the New York Knicks at the iconic Madison Square Garden. Both teams have been struggling in the first part of the season as they are in the bottom half of the standings in the Eastern Conference. The Hawks are 10th with 15 wins and 16 losses, while the Knicks hold a 14-18 record which puts them in 12th place. It's quite uncommon to see both rosters being that low in the rankings, but this was mainly due to the increased competition in the East this year. There have been teams like the Cavaliers, the Hornets, and the Wizards who made some great deals during the summer and it paid off for them.
Although Trae Young performs quite well and shows sheer consistency, his team fails to deliver. He averages 27.3 points and 9.3 assists for 29 appearances on 46% field goal shots which is better than his career performance. On the other hand, the Knicks consist of incredible ballers like Julius Randle, Kemba Walker, RJ Barrett, Evan Fournier, and Derrick Rose. In their last match, Kemba Walker dropped 44 points in their loss to the Washington Wizards, 117-124. However, their offense has been underperforming so far as the team struggled to go past 100 points on many occasions. Both teams will be without some of their key players for this match. Trae Young will most likely miss the game due to an ankle injury, while Barrett, Noel, Quickley, and Rose might be sidelined for the Knicks. However, I think the game should be much closer than forecasted. Hence, I will go with Hawks covering their spread.
Denis' NBA Pick: Atlanta Hawks +7 (-110)
The early game for the NBA's Christmas Day slate is a showdown between one of the NBA's budding rivalries: the Atlanta Hawks and New York Knicks. Unfortunately, Trae Young—the man who made this rivalry possible—will likely be out due to COVID protocols. Young absolutely torched the Knicks in last season's playoffs and seemed to embrace a villain role with the Madison Square Garden faithful. Along with Young, the team will likely be without Kevin Huerter, Clint Capela, and more as the team was hit hard by the virus in the past week.
Took over when it mattered most 🔥🔥@LeaderOfHorde x @UPS pic.twitter.com/0anPbjzulX

— Atlanta Hawks (@ATLHawks) December 24, 2021

Meanwhile, the Knicks are coming off a 107-114 loss to the Washington Wizards, but a silver lining was that Kemba Walker looked like his old self, as he dropped 44 points, 9 rebounds, and 8 assists. The Knicks hope they can get a little more of the Kemba action as the season continues, especially with Derrick Rose out for the foreseeable future. Still the Knicks have been a huge disappointment this season: one year after capturing the fourth-seed in the Eastern Conference, they're back in a prime lottery pick position. They're currently 14-18, and 12th in the Eastern Conference. Only being four games under .500 gives them plenty of time to get back in the playoff race, but they'll have to start picking it up soon. A Christmas Day game against a hobbled Hawks team, in front of a national audience would be the perfect way to start. Even though they've constantly failed me when I picked them this year, I'll hope for a Christmas miracle and pick the Knicks to win.
Michael's NBA Pick: New York Knicks (-290)
These are two of the most disappointing teams in the NBA up to this point this season, as both are currently out of the playoffs as we reach Christmas Day. Seeing as the Atlanta Hawks made a run to the Eastern Conference Finals last year, their play as of this point in the season has been atrocious, and it isn't due to Trae Young. Young is doing everything he can to lead his team much like he did last year, but right now the supporting cast has been awful, and we're learning that Young doesn't have the capabilities to lead a team like some other stars in the NBA can.
For the New York Knicks, they were also a playoff team last year, and this season, apart from the first two weeks or so, they've looked like anything but. After a lightning hot start to the season, they've fallen on extremely hard times, and can't seem to win games at a consistent level at all. While the Knicks do have scorers on the team, they're likely to be without most of them not named Julius Randle. Give me the Knicks to win a tight one at home as they try to get back in the playoff race.
Noah's NBA Pick: New York Knicks (-290)
The Celtics are on the road for two games, and the first stop is Milwaukee when they take on the Bucks. The Celtics have gone win-loss-win-loss-win in their last five games, and this takes their season record to 16-16. The Bucks are currently on a two game winning streak, with wins against the Rockets and Mavericks.
The match between the Boston Celtics and the Milwaukee Bucks will be the second Eastern Conference game on Christmas Day. Both teams are considered to be top favorites to reach the Playoffs this year, but the Bucks are slightly ahead of their opponents. The reigning champions are 3rd with 21 wins and 13 losses, while the Celtics are in 7th place, holding an even record, 16-16. Most of the losses of the Bucks came as a result of the absence of some of their key players. They have been without Giannis Antetokounmpo, Khris Middleton, and Jrue Holiday on quite a few occasions. Brook Lopez is yet to play his first game after the opener of the 2021/22 season against the Brooklyn Nets when he suffered a bad back injury.
The Celtics, however, don't really share the same story as they have been only missing Jaylen Brown for a couple of games. Both Jayson Tatum and Dennis Schroder took part in almost all games, while Al Horford, Marcus Smart, and Robert Williams appeared quite frequently. It seems that the Celtics are yet to reach their peak this season, but I am not sure whether this peak will be enough for them to be competitive against the top contenders. In my opinion, we can see a surprise in this match, however, I will play it a bit safer, choosing Boston's spread in this one.
Denis' NBA Pick: Boston Celtics +7 (-110)
In this always fun matchup, the Boston Celtics head to Wisconsin to take on the MIlwaukee Bucks, in the second NBA game of the day. The Milwaukke Bucks received some big news on Friday as superstar forward Giannis Antetokounmpo cleared COVID protocols and can return to play. Being cleared so close to game day after missing some time might make it tough for Giannis to return or at least return at 100%. Still the Bucks know how good they are when they have Giannis, Khris Middleton, and Jrue Holiday all on the court. So they'll have their fingers crossed that the training staff gives him the go ahead for this showdown.

For all the talk of how good those three are when they play together, the Celtics aren't shuttering. On December 13th, the Celtics beat a Bucks team that had all three of those individuals playing. They'll be confident in their abilities to do it again, as both Jayson Tatum and Jaylen Brown will be good to go in this one. Unfortunately, the same can't be said for their depth as they're missing a lot of key role players to COVID protocols. In fact, it seems like Brown and Tatum are the only two that are for certain. Boston still expects to have the necessary eight, but I think missing key role players will take a toll on them. I'll go with this Bucks team at home, even if Giannis isn't 100%.
Michael's NBA Pick: Milwaukee Bucks -7 (-110)
The Milwaukee Bucks have been one of the best teams in the league, when healthy. Their record is good, not great, at 21-13, but a large part of that is due to the fact that they've spent a decent chunk of the season missing one or more of the pieces that allowed them to become world champions last year, due to Covid and just injuries in general. They now expect to get Giannis back for this one, who has been out for roughly a week due to Health and Safety Protocols, which is sure to give this Milwaukee team a boost.
Boston comes into this one at 16-16, and having ridden a true roller coaster of a season so far. The talent is there for this to be a team that can make a legitimate run come March, with Jaylen Brown and Jayson Tatum leading the way, but right now the talent just isn't playing well, and more importantly, the shooting from this Celtics team has been truly abysmal virtually all season. The fact that they've managed to hold onto .500 through Christmas Day is impressive in and of itself, as there have been times that they look totally lost and honestly look like one of the worst teams in the league. I think part of that is due to Ime Udoka's defensive philosophy, which has allowed them to play decent defense even when the offense struggles. As for this one, I just think a healthy Bucks team has too much for a C's squad that goes back and forth in terms of whether they want to play solid basketball or not. I'm taking Milwaukee and the points here, as the line sits at an average -7.
Noah's NBA Pick: Milwaukee Bucks -7 (-110)
If this game doesn't get you excited, then nothing will! The Golden State Warriors are on the road for one game when they take on the Phoenix Suns. The Warriors are currently on a two game winning streak, with wins against the Kings and Grizzlies. The Suns are currently on a five game winning streak, and this takes their season record to 26-5.
That's surely the match we have all been waiting for. The best teams in the NBA at the moment play each other on Christmas Day in Footprint Center. The Phoenix Suns lead the Western Conference with 26 wins and 5 losses, while the Warriors are just 1 loss behind them. Steph Curry will try to take on an entire Phoenix Suns' team as Golden State will most likely be without Andrew Wiggins and Jordan Poole for this game. The hosts are at full strength as Devin Booker, Chris Paul, and Deandre Ayton are playing on a very high level so far. Cam Johnson also comes into this match after a perfect 7-7 shooting and 21 points against the Oklahoma City Thunder.
On the other hand, Steph Curry is keeping the hope of yet another NBA Championship for the Warriors alive. He single-handedly destroyed the Memphis Grizzlies, scoring 46 points on 13-22 performance from the field. After finding his way to the 1st place with most 3-pointers made in the NBA, he has even managed to elevate his game. However, Klay Thompson is still out for the Warriors, but is expected to make his return in January. I believe that they will be quite deadly when this happens, but until then, they still have plenty of weaknesses. In my opinion, the Suns are a good enough team to take advantage of this and get the victory on Christmas Day. Apart from taking their spread in the game, I will also suggest picking the option for "under points" for Steph Curry as he has a tendency to underperform around this time of the year.
Denis' NBA Pick: Phoenix Suns -6.5 (-110)
Denis' NBA Bonus Pick: Steph Curry – Under 30.5 (-118)
Big thanks to the NBA for making this one a Christmas Day game before anyone would've predicted these two would be the best teams in the league. Unfortunately it won't be the colossal matchup we saw between these two a couple of weeks back, as the Warriors are missing a few of their best supporting players to COVID (Damion Lee, Jordan Poole, and Andrew Wiggins). Still, the Warriors were able to prevail without those three on Thursday against the Grizzlies. Steph Curry did Steph Curry things, scoring 46 points as they were able to beat a very good Grizzlies. But, the Suns are a different story: at 26-5 they've dominated teams left and right, as they're hungry to return to the Finals and this time, walk away victorious.
Gritty dub.@Verizon || Game Rewind pic.twitter.com/EnlA7cIADC

— Golden State Warriors (@warriors) December 24, 2021

The Suns lethal trio of Deandre Ayton, Devin Booker, and Chris Paul have been keeping teams on edge the entire season. But, a lot of credit needs to be given to their role players and bench, with guys like Mikal Bridges, Cam Johnson, and Cam Payne showing constant improvement. The Suns will enjoy some home-court advantage in this one: last time they played Golden State in Phoenix, the Suns won by double digits. They'll hope to repeat that, against a Warriors team that's coming in with quite a few guys sidelined. Never doubt Steph Curry—unless it's against the team with the best record in the league. I'll go with the Suns at home.
Michael's NBA Pick: Phoenix Suns -6.5 (-110)
To no one's surprise, I'm going to go ahead and call it now: This is a preview of this year's Western Conference Finals. These two have been the two best teams in the year all year long, and I'm not expecting that to change as we continue to progress past Christmas and into the Spring. The Phoenix Suns have arguably been the most balanced team in the NBA so far, as they have an offense led by Deandre Ayton and Devin Booker that can score in bunches, and a defense that has shown to be difficult to handle when they actually put their mind to it.
Golden State comes in as the one team that I've seen so far (apart from potentially a healthy Brooklyn team) that has the potential to beat a healthy Suns team. They've run neck and neck in the Western Conference standings all year, and with Steph Curry playing at the MVP level he's been at all season long, there's not a game that I think you can count them out in, even when they're dealing with Covid issues, as they are now. They're expected to be without Andrew Wiggins and Jordan Poole in this one, and I think that has the potential to be the difference maker. I'm taking the Suns to win because of Golden State's absences, but I like Curry to have a huge outing, nearly single-handedly keeping this one within the spread, so give me Warriors to cover.
Noah's NBA Pick: Golden State Warriors +6.5 (-110)
The Brooklyn Nets hit the road and on Christmas Day they take on the Los Angeles Lakers. The Nets lost their game last time out, but they are still atop of their Atlantic Division, six games clear of the next best, the 76ers and Celtics. The Lakers are looking to snap a four game losing streak on Christmas Day, which has dropped their season record to 16-17.
The long-anticipated game between the Brooklyn Nets and the Los Angeles Lakers will take place in Crypto.com Arena on Christmas Day. Both teams haven't played against each other this season as the Lakers have lost their last 3 games against this opponent in the NBA. This time however, the Nets will be without their superstar, Kevin Durant. They were one of the most affected teams by the Covid-19 outbreak. Lamarcus Aldridge, Bembry, Harris, and Johnson are just a small list of all the players who are missing for the game against the Lakers. They were forced to postpone a couple of their matches which let them keep 1st place in the Eastern Conference. They won 21 out of 30 games so far and are looking to further build on this high-level performance.
The Lakers, on the other side, are in a lot of trouble, losing their last 4 games. This led them to go below 0.500 as they now hold a 16-17 record. The team is currently 6th in the West, but is getting further away from the top 3. LeBron James and Russell Westbrook couldn't find the correct path recently as they lost to the Timberwolves, the Bulls, the Suns, and the Spurs. Their last match against San Antonio raised a lot of concerns as the team from the "City of Angels" conceded 138 points to a low-tier opponent. James and Westbrook combined for 66 points, but the rest of the team went quiet throughout the match. I think that this will change on Christmas as they will put up a huge performance against one of the top contenders for the title. My pick here goes in favor of the Lakers as it's high-time they showed what they are capable of.
Denis' NBA Pick: Los Angeles Lakers -1.5 (-110)
Under the newly named Crypto.com Arena (fka Staples Center), the Brooklyn Nets face off against the Los Angeles Lakers in a game that many in the preseason thought would be an NBA Finals preview. But, not so fast. The Los Angeles Lakers have continued to struggle throughout the season. Yes, they've been hit with a lot of injuries and COVID protocols, but even when they're near 100%, their chemistry is awful. Things didn't help when Anthony Davis went down for four weeks with an MCL sprain against the Minnesota Timberwolves on December 17th. The Lakers have gone 0-4 since Davis went down, including the game he was injured in. They'll hope a new arena name brings in some new luck, as they face a Nets team that's missing quite a few players themselves.

The Nets maybe haven't had the Lakers bad luck (they're 21-9 and first in the Eastern Conference), but they are still coming into this one without MVP front runner Kevin Durant and their designated road player Kyrie Irving (both are in COVID protocols). Luckily the Nets get back James Harden, to prevent this game from being a complete dud. Even though James Harden has been putting up good numbers, they haven't been "James Harden numbers". The Nets star has been recovering from a hamstring injury he obtained in last season's playoffs. He's had moments of brilliance, but hasn't been consistent. He'll be heavily depended on in this one, as the Nets are still missing quite a few guys. This one is tough for me to pick a winner for: even though the Lakers have better players healthy, the Nets have a sneaky good defense this year. Los Angeles has had a hard time filling that scoring void with Davis out. I think my safest pick here is an under for this 224.5 line.
Michael's NBA Pick: Under 224.5 (-110)
The Brooklyn Nets, when healthy, are the third best team in the NBA. They've recently activated Kyrie Irving for road games, as he's been out for the entire season due to personal reasons. While he's yet to play yet, I do think he adds another dimension to this Nets roster that also features Kevin Durant and James Harden. It has also been announced that KD is out for this one due to Health and Safety protocols, which means that this has become a game in which James Harden and LaMarcus Aldredge are going to have to lead this Brooklyn team.
On the other side, the Los Angeles Lakers have been absolutely abysmal virtually all year long. They made numerous moves this offseason that were designed to get them back to a championship level, but up to this point virtually every move they made looks as if it has failed miserably. The only reason they're continuing to hang in the postseason standings is the phenomenal play of LeBron in his 19th year. This play from James is going to have to continue if they plan on making a run, as they're without Anthony Davis for a few weeks as he's once again injured. The fact that Brooklyn is without KD and Kyrie in this one ends up being the difference maker for me, as in the end, I'm going to go LeBron by a nose in a game that should primarily end up being James Harden vs LeBron. With the Lakers actually being favored by a small -1.5 in this one, and with that featuring better value, my play is Los Angeles -1.5, as should yours.
Noah's NBA Pick: Los Angeles Lakers -1.5 (-110)
The Dallas Mavericks are on the road on Saturday when they take on the Utah Jazz. The Mavericks lost their game last time out, which takes their season record to 15-16. The Jazz are currently on a two game winning streak, with wins against the Hornets and Timberwolves.
The Dallas Mavericks and the Utah Jazz will wrap up Christmas Day this year. Both teams were considered to be among the title contenders this year as Doncic and Mitchell are fantastic players who are yet to win something big for their teams. However, the Mavs have been out of rhythm throughout the biggest part of the season, while the Jazz have been dominating most of the time. Utah is 3rd in the West with 22 wins and 9 losses, while Dallas sits in 7th place, right in the mix, with a 15-16 record. Their performance came as a result of the fact that Porzingis and Doncic didn't really get much time on the court together. It was either the Latvian or the Slovenian who was having some issues.
The Jazz, on the other side, look quite like the Phoenix Suns. They have fantastic players in every single position. Rudy Gobert regularly goes for huge double-doubles, while Bojan Bogdanovic has been striking it from deep range. Donovan Mitchell has once again proved to be clinical throughout the most important games, while Jordan Clarkson seems to be picking up his form. However, the team suffered two unpleasant losses at home against the Spurs and the Wizards, but quickly managed to make up for that with victories over the Hornets and the Timberwolves. Rudy Gobert came up huge in both games averaging more than 21.5 points and 19 rebounds. I think that the outcome is quite predetermined here since Doncic, Hardaway, Kleber, Bullock, and Porzingis will miss this game. That's why I will go with the option for over 214 points as I believe that this will be a perfect way to wrap up Christmas Day in the NBA.
Denis' NBA Pick: Over 215 (-110)
I'll be honest, I can't see this one being much of a contest. The Mavericks are missing players up and down the board, from superstar Luka Doncic to numerous supporting players. While this Mavericks "replacement team" was able to hold their own the other night against the Milwaukee Bucks, it should be mentioned the Bucks were without a certain Giannis Antetokounmpo. Now they go up against the 22-9 Utah Jazz, who are near the top of the Western Conference and, even more importantly, fully healthy.
Easy Rudy double-double tbh #PerformanceLeader | @UofUHealth pic.twitter.com/015McgIr0X

— Utah Jazz (@utahjazz) December 24, 2021

Utah were almost neck and neck with the Golden State Warriors and Phoenix Suns for the best record in the NBA, before they took two hard losses to the San Antonio Spurs and Washington Wizards last week. Luckily, they were able to bounce back, as they won big games earlier in the week against the Charlotte Hornets and the Minnesota Timberwolves. They'll look to continue that streak against this Mavericks team that's shorthanded on Christmas Day. With this one being in Utah and the Jazz's complete team ready to play, I think Utah is a no-brainer here.
Michael's NBA Pick: Utah Jazz -12.5 (-110)
If both of these teams were fully healthy, I think this would have the ability to be a great game. However, Dallas is going to be without their three best players in this one, as Luka Doncic, Kristaps Porzingis, and Tim Hardaway Jr. will all be out for this matchup. The Mavs have already struggled a bit this season, and I'm not sure how we're supposed to expect anything but disaster in this one as they're without virtually every key player on the roster.
On top of that, they get the Utah Jazz, who have been one of the best, most balanced teams in the NBA this season. With Rudy Gobert suring up the paint, and Donovan Mitchell being the leader around the perimeter, as well as the entire roster playing pretty good defense, I think this is a huge matchup disparity that could end up being exploited pretty early on. It also doesn't hurt that Utah comes into this Christmas matchup virtually 100% healthy, after already being the better team between these two. While weird things are known to happen in the NBA, I just don't see a real way that the lineup Dallas is going to be able to compete with the balance and talent on this Jazz roster. Even with the line sitting at a decently high at 12.5, I think the play in this one is Utah and the points.
Noah's NBA Pick: Utah Jazz -12.5 (-110)
If you are looking for more news, information and predictions, head over to our NBA hub page for all your basketball needs!
*Odds and spreads correct at time of publication, courtesy of FanDuel.