With all due respect to basketball administrators, it's usually (sorry, Magic) the players and coaches in the NBA who attract the most media and fan attention.
After all, they're ubiquitous on the court and in the locker-room in a sport with a daily, all-encompassing news-cycle.
A disproportionately small amount of scrutiny falls upon the front office gurus; the men and women sitting behind the scenes who are entrusted with the future of each franchise.
The moves made in front offices can control the destiny of a team years in to the future, and it's long been a feature of the NBA (thanks to the salary cap) that signing one or two quality players to value contracts can mean the difference between winning a championship and ending up as a lottery team.
The Warriors successfully signing Steph Curry in 2012 to a 4-year, $44 million contract, for example, is arguably the perfect illustration of single decision (made off the court) which led to one of the greatest dynasties in NBA history.
Conversely, sometimes, franchises will desperately overpay mediocre basketball players in the hope they can provide the missing piece to championship success.
Contracts like these have always existed in the NBA and will always exist, and it's safe to say a team with a poor front office (the 2015-16 Cleveland Cavaliers excluded) will never win a championship.
The poor use of a franchise's money is usually the clearest indicator of a front office's competence (or lack thereof), and it is thus essential that we are able to recognise which teams are frivolously wasting their money. How else can we keep front offices in line?
It's also important to be aware that while some contracts look bad on paper, they're a necessary evil because the player really is (or may be) the final piece on a championship-calibre team.
With that in mind, here are Sportstips.com's top 10 worst contracts in the NBA:
Dishonourable mentions:
Chris Paul
In July 2018, the Houston Rockets signed Paul to a four-year, fully-guaranteed $159,730,592 contract.
On paper this one looks really, really bad. Paul is guaranteed to make $41,358,814 in 2020-21 at the age of 35. He also has a $44,211,146 player option for the final year of the contract in 2021-22, which we think it's fairly safe to assume he'll be exercising. In fact you can pretty much put your house on him exercising it.
Paul is notoriously injury-prone, has been known to go missing in certain playoff series, and is already noticeably deteriorating from his 2016 all-NBA second-team form.
With all that said, we're prepared to give this contract a pass on the basis that CP3 currently looks like the perfect foil for James Harden, and the Rockets are every chance of winning a championship with him on the roster. No money is too much money to spend if it brings a city an NBA title.
Though, if Houston don't win one this year or next, you can rocket this contract right up to the top echelon of worst in the NBA.
Gordon Hayward
In July 2017, Hayward signed a 4 year, fully guaranteed $127.8 million contract with the Boston Celtics.
At the time, this looked like a bargain, with the 26-year-old Hayward coming off a season with Utah in which he averaged 21.9 points, 5 rebounds and 3.5 assists per game. Of course, 5 minutes in to the opening game of the 2017 season, Hayward snapped his leg in half, and has barely a shadow of himself since.
Like Paul though, we're prepared to give this contract a conditional pass. Hayward is averaging 18 points and 31 minutes per game in April 2019. He's clearly been hampered to this point by that horrific leg injury, but if his current form spike continues, the Celtics are every chance of making an unlikely playoff run. Watch this space.
Andrew Wiggins
In July 2017, Wiggins signed a five-year, $148 million contract with the Minnesota Timberwolves.
Wiggins averaged 18.1 points and 5 rebounds this year for the Timberwolves. Minnesota missed the playoffs, and on paper, paying Wiggins $25,467,250 this season looks ridiculous.
His potential is clearly evident though. As a 21 year-old he averaged 23 points per game in 2016-17 and played all 82 games. The Wolves are building around he and Karl Anthony-Towns, and we appreciate the need for star-power in a smaller market franchise.
This also gets a conditional pass.
10. Tyler Johnson
In July 2016, Johnson signed a four-year, fully guaranteed $50 million contract with the Miami Heat. He was traded to the Phoenix Suns in February 2019.
The summer of 2016 was a weird time in the NBA. The salary cap jumped from $70 million in 2015-16 to $94.143 million in 2016-17. A lot of teams had a stupid amount of money to spend, and boy did they spend it stupidly.
Johnson found himself in the almost unbelievable position of being probably the best available shooting guard (in a field of not many) and was able to cash in to the extreme.
The Heat (smartly) avoided the worst of his contract by trading him to Phoenix in February this year in exchange for another member of our top 10 (see below). Johnson is averaging just 11 points, 3 assists and 3 rebounds in 26.8 minutes in 2018-19.
The Suns' shooting guard is currently on Phoenix's books for $19,245,370 this season, and has a player option for the same amount next season. It's safe to say he'll be exercising that one.
Johnson is the perfect example of being in the right place at the right time. He's not a terrible NBA player, but his contract is an abomination thanks to Miami having cash to burn and there being a severe dearth in free-agent shooting guards. The Heat took a gamble, it didn't pay off, and thankfully Phoenix (as they often do) inexplicably decided to clean up the mess.
9. Ian Mahinmi
In July 2016, Mahinmi signed a 4-year, fully-guaranteed $64 million contract with the Washington Wizards.
If you're paying attention, you'll notice something about the date this contract was signed.
Yep. That fateful 2016 offseason. The Wizards had decided to put all their eggs in the John Wall/Bradley Beal basket. After signing Beal to a five-year $128 million deal, they needed a veteran centre to act as backup to Marcin Gortat.
Mahinmi was coming off a season starting at centre for the Indiana Pacers where he had career-highs in points, rebounds, assists, steals and blocks. The Pacers had in part made the playoffs due to his defence and at 29 years old it looked like he was entering his prime.
The rest is history. The Wizards are paying Mahinmi $15,944,154 in 2018-19, and $15,450,051 next year. He has played in just 34 games this season, has played less than 500 minutes, and is averaging 4.1 points and 3.8 rebounds. Yeesh.
The Wizards fired GM Ernie Grunfeld earlier this week, and it's not hard to see why with contracts like this. Unfortunately, it's also not their last appearance on this list.
8. Ryan Anderson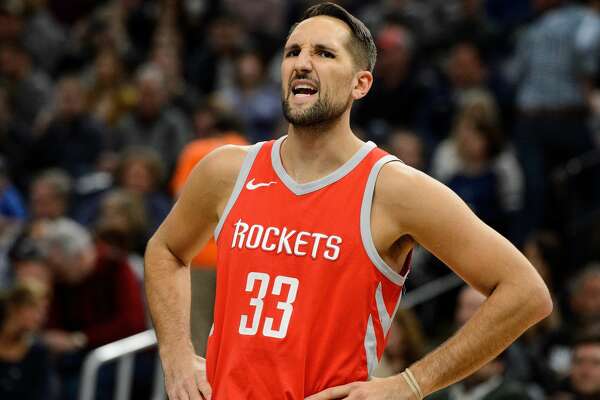 In July 2016, Anderson signed a 4 year, fully-guaranteed $80 million contract with Houston. He was traded to the Phoenix Suns in August 2018, and to the Miami Heat in February 2019.
Noticing a theme? Oh, to be a middling NBA player in the summer of 2016.
Anderson had a magnificent 2015-16 season in which he averaged 17 points and 6 rebounds per game and shot 36% from three for the New Orleans Pelicans. Houston at this point were firmly in the phase of building shooters around James Harden, and, in a sense, this was an understandable move.
Anderson at the age of 29 played 72 games the following season, took 7 threes a game (shooting 40.6%) and averaged 13.6 points. He looked like a bargain; the perfect foil for Harden as a stretch 4 in a team approaching never-before-seen three point shooting levels.
In 2017-18, as ageing stretch power-forwards often do, Anderson fell off a cliff. His defence became a liability and the shots stopped dropping with regularity. In August 2018 he was traded (again, notice the theme) to the Phoenix Suns). The Suns paid him $20,421,546 this year to do effectively nothing. He's now on the Miami Heat (as part of the Johnson trade) and will cost them $15,643,750 next year.
7. Timofey Mozgov
In July 2016, Mozgov signed a 4 year $64M contract with the Los Angeles Lakers. He was traded to the Brooklyn Nets in June 2017, to the Charlotte Hornets in July 2018, and the Orlando Magic in July 2018.
No need to highlight the date. Of all the 2016 contracts, though, this one might be the most baffling.
Mozgov came off a year with the 2015-16 championship-winning Cavaliers in which he averaged just 6 points and 4 rebounds in 17 minutes a game. The Lakers (under much-maligned GM Mitch Kupchek) decided he fit their long-term, post-Kobe terms perfectly, and put this insane contract offer in front of him.
We imagine Mozgov nearly tore the paper up in his desperation to sign it. In an attempt to clear the Kupchek house, Mozgov was traded (along with D'Angelo Russell) to Brooklyn in a salary-dump. He's since bounced around a couple of teams, but will cost the Orlando Magic $16 million this year (despite not appearing in a single game thanks to a knee injury) and $16.72 million next year.
It's a miracle they've made the playoffs this season despite carrying the Mozgov burden.
6. Joakim Noah
In July 2016, Noah signed a 4 year $72.59 million contract with the New York Knicks. He was waived in October 2018, and signed with the Memphis Grizzlies in December 2018.
This is one of the more infamous contracts in NBA history, and for good reason. No team in basketball was going to go close to this offer from the Knicks, and yet for some reason they thought Noah was good enough to outbid themselves for.
Going in to 2018 summer camp Noah had played just 53 games with the Knicks. At his best (in 2016-17) he played 46 games, averaging 5 points and 8.8 rebounds.
At this point Noah still had two years and $37.8 million in guaranteed money left in his contract. New York couldn't handle the thought of that, so they waived him. That meant they ate the remainder of the contract and stretched it over four years.
Joakim Noah did not play a single game for the Knicks in 2018-19, and yet cost them $18,530,000. Next year he'll cost $6,431,667. In 2020-21 he'll cost $6,431,667, and 2021-22 he will STILL BE COSTING THE KNICKS $6,431,666.
Noah recently signed a one year deal with the Grizzlies worth $1,731,173. The Knicks are paying him 4 times that amount next year NOT to be on their roster.
Let that sink in, it's quite remarkable.
5. Chandler Parsons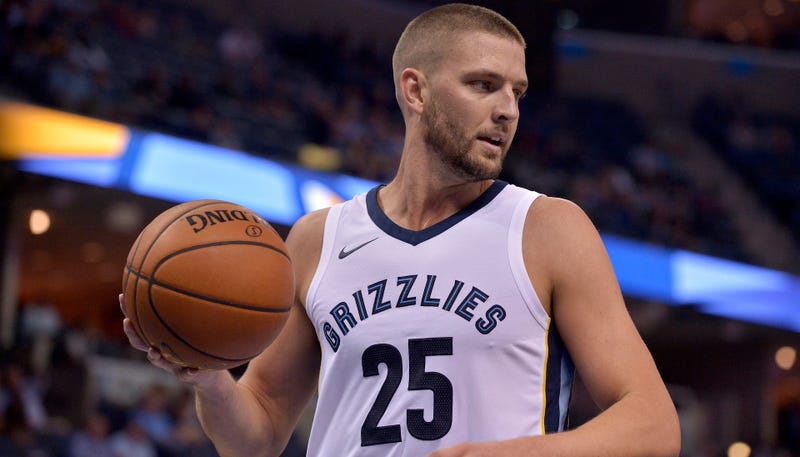 In July 2016, Parsons signed a four-year, fully-guaranteed $94 million contract with the Memphis Grizzlies.
The reasoning as at July 2016 kinda made sense for Parsons and the Grizzles. Despite coming off dual-season-ending knee injuries in prior seasons, Parsons was an excellent defender and averaged 13.7 points per game for the Dallas Mavericks in the 2015-16 season while shooting 41.4% from three.
He's appeared in just 45 games for the Grizzlies in the three seasons since signing, and has been an abject disaster. Parsons can't get on the floor anymore, and even when he can he looks horrendous. He's scored over 20 points just once as a member of the Grizzlies.
He'll cost Memphis $25,102,511 next year, and surely at this point both parties will be looking for a buy-out.
4. Nicolas Batum
In July 2016, Batum signed a 5-year, fully-guaranteed $120 million contract with the Charlotte Hornets.
This is the last, and worst, of those 2016 debacles. The Hornets shelled out an enormous amount of money to re-sign Batum in free-agency, and would be regretting every cent of it.
His play was quite good in the first two seasons of the deal, but in 2018-19 Batum cost Charlotte $24 million. He averaged just 9 points and 5 rebounds in 31 minutes per game.
Batum has a player option in 2020-21 for $27,130,435. He will be exercising it.
Batum's presence on Charlotte's books has cost the Hornets any chance to build around Kemba Walker. They may end up losing Kemba in the 2019 free-agency period after yet another playoff-less season.
All because of a poor decision made all the way back in 2016.
3. Blake Griffin
In July 2017, Griffin signed a 5-year, fully-guaranteed $171.2 million contract with the Los Angeles Clippers, and in January 2018 was traded to the Detroit Pistons.
All those 2016 contracts were bad, but at least in the context there was some (albeit weak) justification for the amounts of money floating around. We're now reaching some truly bad, indefensible contracts.
At the age of 29, Griffin cost the Pistons $34,234,964 this season. He will cost them around $110 million over the next three seasons, assuming he exercises a $38,957,028 player option in 2021-22. At the age of 32, we're betting he will.
Griffin has played 75 games this year and is averaging a career-best 24.5 points a game to go along with 7.5 rebounds and 5 assists. He's been fantastic. He'll make an All-NBA team.
The problem is his body. This is the first year since 2013-14 that Griffin has played more than 70 games, and the strain of doing so is showing. He's had a sore left knee in the last two weeks of the regular season, which kept him out of several crucial games. His status going in to playoffs is unclear. Without him, Detroit will definitely lose round 1 to the Milwaukee Bucks.
It's a pretty safe bet that by the age of 31, playing in the bruising way that he does, Griffin will be a shell of the player he once was. He'll still be on Detroit's books for $36,595,996 at that point in his career.
No team will take this contract in a trade, and it is likely to hamstring the Pistons for years to come. We can't believe Detroit took Griffin off the Clippers, it makes no sense.
2. Kevin Love
In July 2018, Love signed a four-year, fully-guaranteed $120 million contract with the Cleveland Cavaliers.
Perhaps the most remarkable thing about this decision by the Cavaliers is that it came after Lebron James had already left. At that point the rest of the league and all of the fans knew the Cavs were well and truly [email protected]*ked. Apparently, the Cavs front office didn't.
In an effort to remain competitive, Cleveland locked up the 30-year-old Love to an enormous extension. The hilarious part? The extension hasn't even kicked in yet.
In 2021-22 the Cavs will be paying a 33 year-old Love $31,258,256, and a further $28,942,830 the year after.
All this despite Love managing just 22 games this year after undergoing toe surgery early in the season. He still managed to average 17 points and 11 rebounds, but whether he'll be physically capable of doing that in four years time is anyone's guess. It's fair to say we're sceptical.
1. John Wall
In July 2017, Wall signed a four-year, fully-guaranteed $170 million contract extension with the Washington Wizards.
Oh Washington, you never fail to make us smile.
John Wall will miss most of next season with an Achilles injury. As 2019-20 is the first year his contract extension kicks in, he'll be paid $37,800,000 by the Wizards for his trouble despite there being doubts he'll even be able to suit up for any games.
At this stage it's looking like Wall will be on the books in Washington until at least the end of 2022-23. He has a player option for that season of $46,872,000, and with his current injury woes it looks likely that will be cashed in.
Even despite the injuries, this contract still looks horrendous. Prior to his Achilles Wall was shooting barely 30% from three, was averaging his worst assist numbers since 2012-13 and was badly failing the eye-test.
The Wizards are likely to have negative cap room going in to this offseason, in large part due to the enormous amounts of money owed to Wall, Beal and Mahinmi. They're in a terrible position, and there's not a lot of light at the end of the tunnel.
Next week
What's the only way to escape a bad contract?
Creative trading.
Next week, we're going to take a look at the best trades in NBA history.
– Eddie Dadds