Let's
start with the positives.

2018-19
was a fantastically over-achieving season for the Portland Trailblazers. Making
the Conference Finals and losing to the Golden State Warriors will never be
considered a failure in today's NBA, unless you're the Houston Rockets and you're
paying Chris Paul $160 million for the trouble of doing so.


When
rapidly-improving passing/rebounding/scoring phenom Jusuf Nurkic went down in
late March there were legitimate questions as to whether Portland would even be
able to hold on to their position in the postseason. Their problems were even more
pronounced given star shooting guard CJ McCollum was also in the midst of a
10-game injury streak over late March / early April.
That the
team managed to eke out 53 wins and third spot in the West despite that
adversity is a testament to a) Damian Lillard's tenacity; b) the front office's
intelligence in the signing of Enes Kanter in late February; and c) the
coaching acumen and creativity of Terry Stotts.


Thanks
in part to the home-floor advantage that advantageous regular-season position
entitled them to, they were then able to defeat the Thunder in dramatic fashion
and the Nuggets in 7 games to advance to the franchise's first Conference
Finals in 19 years.
The less said about what happened next, the better.


In heartening
show of stability though (and in stark contrast to most other franchises in the
NBA), it is emerging as this goes to press that Lillard is set to sign a 4-year, $191 million super-max extension over the offseason, while it was also
announced on Tuesday that the organisation and Stotts had reached a multi-year agreementfor him to remain the franchise's head coach.


Here's
where the negatives start to rear their ugly head.


Despite
the brilliance of their regular season and two heartening, unexpected playoff
series wins, the lasting memory that will live out of this season is that the
Trailblazers were decimated 4 games to 0 in the Conference Finals by a team
built around two scoring guards, and an athletic, play-making big man.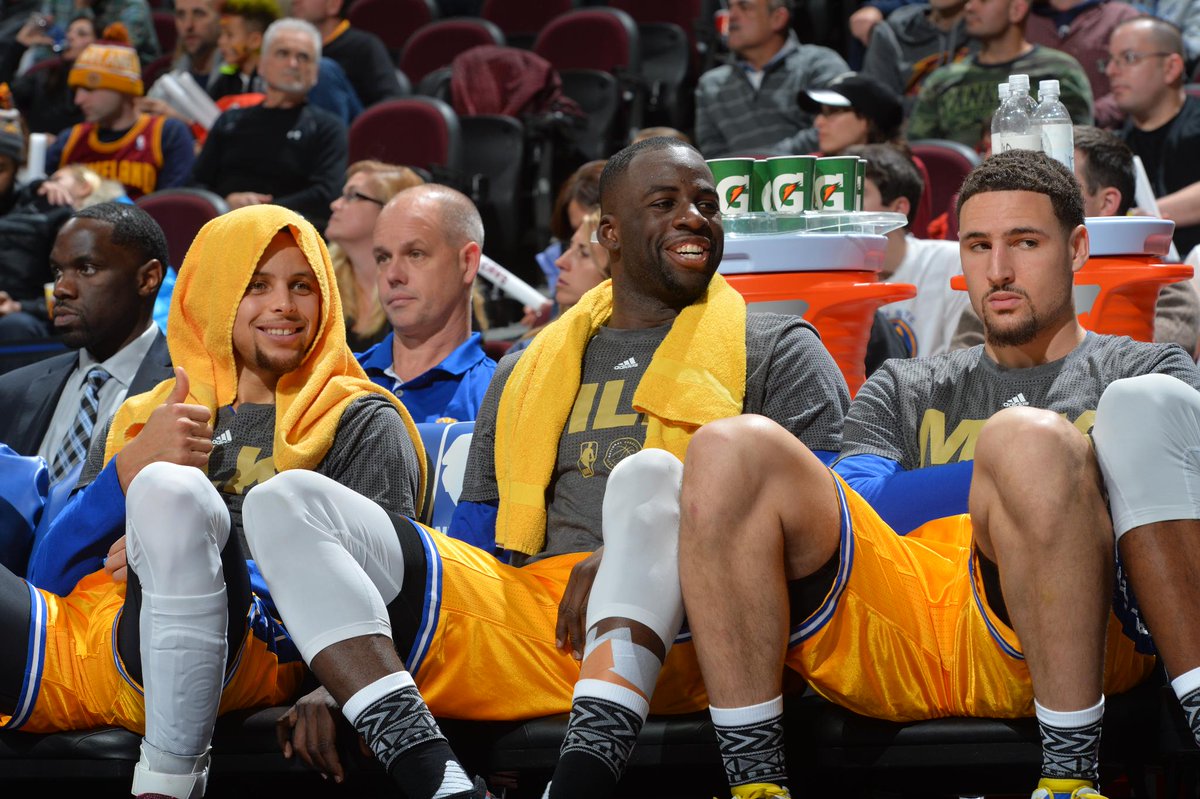 Sound
like a familiar formula?


Steph
Curry averaged 36.5 points in the series (the most ever in a 4 game sweep),
Klay Thompson 21.5 and Draymond Green 16.5 (to go along with a ridiculous average
stat line of 11.8 rebounds, 8.8 assists, 2.3 steals and 2.8 blocks).


Lillard (22.3
points per game) and McCollum (22 points) were comprehensively out-dueled by
their opposing back-court, while Green ran rampant against any big the
Trailblazers had in their arsenal to throw at him.


Being
able to play Nurkic instead of Kanter and/or Meyers Leonard may have stemmed the
flow, but it'd be a brave pundit who argues that the Big Bosnian's presence would
have done anything more than slightly prolong the inevitable. That's assuming Nurkic
can ever reach his pre-injury form again (far from a given; see Gordon Hayward).


The
inconvenient truth for the Trailblazers is that they've built themselves in the
image of the best team in basketball, but they're just not quite as good, and
they don't really have any capacity to improve.


100
series out of 100 from now until eternity, Curry and Thompson are going to be
too versatile and too explosive for Lillard and McCollum to keep up with.


Indications
at this stage are that both will be in Golden State for the foreseeable future.
Barring a godfather offer from elsewhere, Green will also reportedly re-sign with
the Warriors in free agency. Kevin Durant (and whether the Warriors even need
him) is another story.


Portland,
as their roster currently stands, cannot beat Golden State in a 7 game series.
Hell, they were lucky to beat Denver.


Their
best-case scenario is to continue to fall short at the final hurdle for the
next two seasons (before Curry's age becomes a debilitating factor), at which
point a team like the Kings or Nuggets will be ready to assume the mantle of Best
in the West.
So, where to from here?
The bad news for Portland is that they don't really have any options for revamping
the roster. They're stuck with what they have, and if anything are only going
to get worse this offseason.


Lillard's
contract (which will see him receive $52.8 million at the age of 34) will be a
necessary evil. He's one of the best 10 players in the league, and the perfect
fan-puller a small-market team needs.


McCollum
is eligible for what is ostensibly a max extension, and
will make $27,556,959 next year regardless of what happens in the coming months. His current contract isn't a
disaster, but a $30-35 million per year extension just might be.


Jusuf
Nurkic is on $12,000,000, which (assuming he returns to the court) is a
straight-up bargain. Zach Collins ($4,240,200) is improving every time he hits
the floor, while Skal Labissiere ($2,338,846) is also probably worth the punt
as a talented former high draft pick


Then it
gets really ugly, really quickly.


In
2019-20 the Trailblazers will have over $41 million tied up in money owed to
Meyers Leonard, Evan Turner and Mo Harkless. Those contracts are, for all
intents and purposes, untradeable. They suck. They stink.


As a
result, Portland are likely to only really have $5.7 million in cap space
(through the mid-level exception) to work with.


That's a
problem given key contributors at different points in the season in Jake Layman
(Restricted), Al-Farouq Aminu, Rodney Hood, Seth Curry and Enes Kanter are all
entering free agency in the summer.


All 5 of
those guys (except maybe Layman) are likely to command in excess of that $5.7
million on the open market. While they do have Bird Rights to Aminu, given they're
already so close to the luxury-tax "apron", they can't re-sign him and use the mid-level exception.
Signing
Aminu would effectively hamstring them; regardless, at 28 years old, he may be
looking for a big payday elsewhere, and has probably shown enough to warrant a
team throwing $8-10 million over 4 years his way.


With a
fit Nurkic and improving Collins, Kanter becomes sort of superfluous. He's also
probably worth in excess of $10 million (depending on who you ask), and
Portland don't have his Bird Rights. Hood (at just 26 years of age) showed in
the playoffs that he can play a key scoring role, while Curry's shooting and
his surname will probably lead to a team offering an inordinate amount of dosh.


There's
a strong chance the Traiblazers lose all 5 of those guys, leaving them to chase
the dregs of the free agency cup – think TJ McConnell, Ed Davis, Reggie Bullock
etc.


Given
their 2019 draft pick is in the mid-20s, their only option to improve the
roster thus becomes by trading McCollum. It's hard to see that happening; he's
a fan favourite, and at points during the playoffs was more impactful than even
Lillard.


By
re-signing Stotts and purportedly offering Lillard a super-max deal, the
Traiblazers have signalled their intentions to the league. They're happy with
where they are. They've got to 17 in Blackjack and they're going to hope
everyone else goes bust.


This
roster can't win a championship, and it can't bottom out enough to improve.


The
Portland Trailblazers are stuck in basketball purgatory.
Written and produced for Sportstips.com by Eddie Dadds
Make sure you follow us on Instagram here, give us a like on our Facebook here and check us out on Twitter here to get the best highlights and updates sent straight to your socials!