Just in case you've been living under a rock for the last two days, early Wednesday morning Team USA sensationally lost to France in the quarterfinals of the FIBA World Cup and then compounded the embarrassment by losing to Serbia less than 24 hours later.
These were the US's first two losses in international competition since a shock defeat to Greece back in 2006, and it broke a run of 58 straight wins – including two World Cup and three Olympic gold medals. Kemba Walker, Donovan Mitchell and co. now face the ignominy of playing off for 7th place; their worst result ever in FIBA World Cup play.
Perhaps the most galling thing about both matches were that they kind of played out exactly as expected.
France, right from the opening tip, were quite clearly the better basketball team. Mitchell was excellent for three quarters – and if it wasn't for Walker's hero-ball in the last would have cause to dispute this statement – but Rudy Gobert was also the best player on the floor over the entirety of the game against France. The same can be said for Bogdan Bogdanovic's performance for Serbia.
The patent disjointedness on offense and repeated unsuccessful attempts by Walker and/or Mitchell to take over both games individually were in stark contrast to France and Serbia's organisation and chemistry. The passing and movement of the French was so outstanding that at one point they even managed to make much-maligned New York Knick Frank Ntikilina look like a world-class baller.
Myles Turner, Brook Lopez and – bizarrely – Jaylen Brown had no answer for Gobert in the low-post – despite Turner's pre-game taunts to the contrary – and Evan Fournier's ability to slither in to space created by his teammates and find an open shot laid bare Team USA's inability to do the same for Walker and Mitchell at the other end.
Serbia didn't even need their generational talent Nikola Jokic to play well. In fact, he played pretty badly. The Serbs were still way too good. The final five-point margin flatters Team USA.
This has been a hugely disappointing display, but not an entirely unexpected one. This team was for the most part made up of bit-part NBA youngsters and/or veterans, with Walker, Mitchell and Tatum (sorry, Miles Plumlee) likely the only three worthy of being considered All-Star level talents.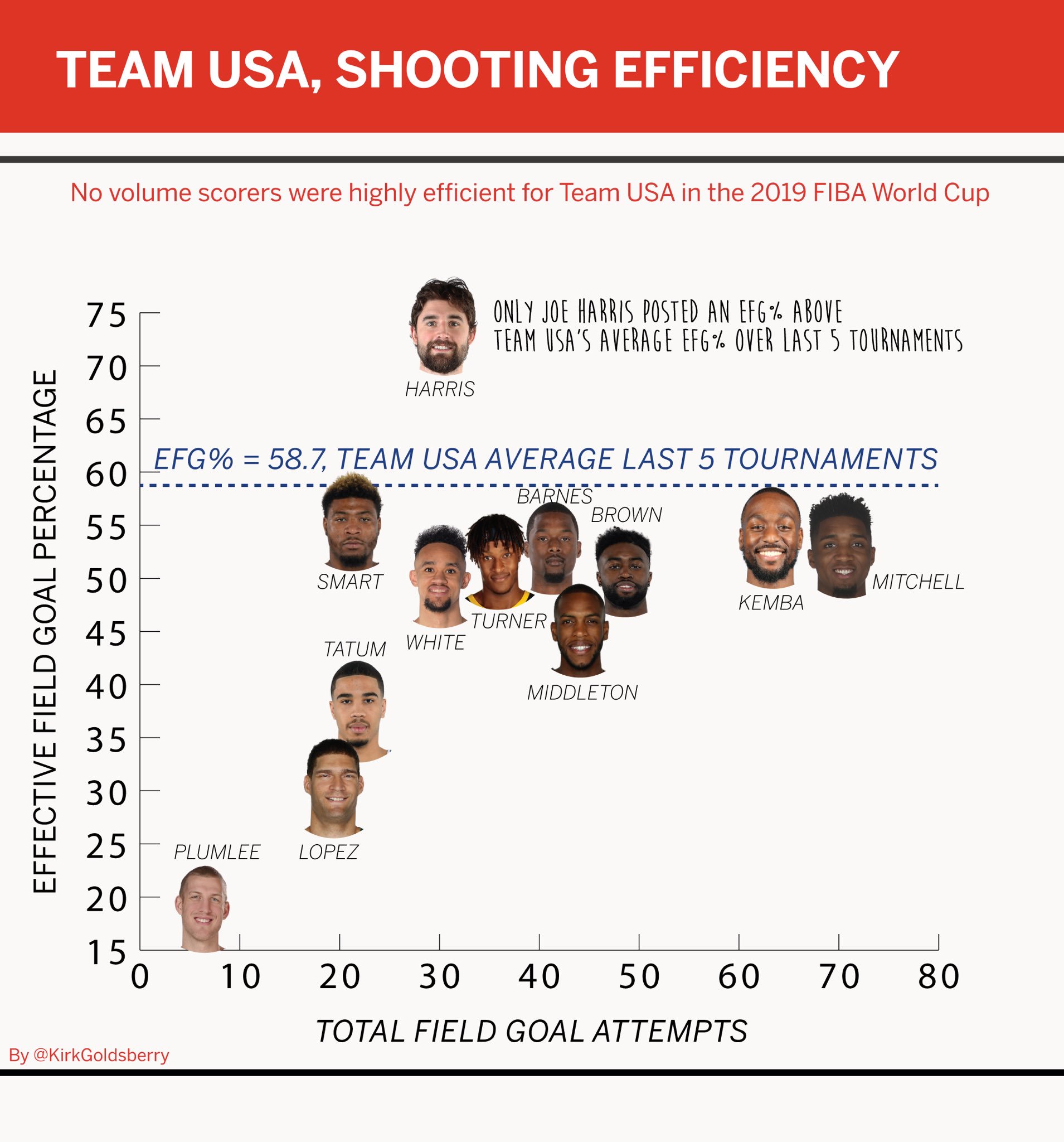 Graphic cred: Kirk Goldsberry
The French, Serbs – and indeed the Australians, who beat Team USA in a warm-up game – have been playing together for years, know each other's game styles inside out and have sophisticated, innovative offensive/defensive schemes. The US sent a team built on the fly, with little chemistry and – in the minds of many – very little to play for.
The reaction from NBA fans to the losses has been, well, muted, to say the least. A World Cup doesn't appear to carry anywhere close to the lustre of an Olympics to American fans, despite almost every other nation's supporters feeling otherwise.
The problem is that there is an inherent belief that if Team USA had its best players available, as it is widely expected ot for the Olympics, it will automatically sweep the floor with its opposition in the vein of the 2008 "Redeem Team".
That assumption fundamentally mistakes both the current quality of international basketball, and the current state of American basketball stocks.
As the Ringer's Zach Kram pointed out, in 1991-92 the NBA featured just 26 players born outside the U.S. This past season that number was 118, with that group including a handful of All-Stars and three players who received MVP votes.
International basketballers are no longer bit-part shooters coming off the bench, they're franchise stars. The likes of Ben Simmons, Giannis Antetokounmpo and Jokic each have the chance to become widely recognised as the best player in the world in the coming years, if they aren't there already.
Yes, obviously, if the likes of LeBron James, Kawhi Leonard, Anthony Davis, Steph Curry and James Harden were to have participated in the World Cup it's unlikely the U.S. would be playing off for 7th position. That's impossible to argue with. But, here's the thing: there's no guarantee those guys will ever play international basketball again.
James has been a mainstay of world basketball since the Athens Olympics in 2004, competing in a variety of international competitions over that time. He seems to have an interest in suiting up in the Olympics next year, but the practicality of doing so is hard to justify.
He will be 35 years old by the time the next Olympics rolls around and by the end of next NBA season likely well-entrenched in the the league's all-time top 10 for total minutes played. He may – assuming the Lakers get their act together – be coming off a 100+ game season which stretches well in to May. It is nigh-on impossible, as his career winds down and he chases one more elusive championship, to see him risking a chance at that for a shot at an Olympic gold (of which he already has two).
Curry has been associated with Team U.S.A. in the past, winning two World Cup gold medals in 2010 and 2014.
He's had well-documented injury problems, and will be 32 by the time of the Olympics. The Warriors – with (hopefully) a healthy Klay Thompson – will be looking to take a swing at one last title in the 2020-21 season. It is hard to see Curry risking his NBA legacy for a chance at a gold medal.
Leonard famously now caps his regular season games in an effort to limit his chance of serious injury, or aggravating pre-existing concerns. It is difficult to see him caring enough about Team USA to risk his health if he refused to play an entire NBA season with the Spurs for the same reason.
Davis – with one World Cup and one Olympic gold already – is likely to prioritise his quest for an NBA title. Harden seemingly cares almost solely about his NBA legacy. Paul George would be mad to return to the scene of the injury that almost cost him his career. Kevin Durant will be 31 years old and coming off a horrific Achilles tear. The list goes on.
The simple truth is that the NBA's most coveted players are unlikely to suit up for Team USA next year, or ever. The sheer size of contracts in the modern NBA makes it financial folly to take the risk of a career-altering injury – as happened to George – for a comparatively (in dollar terms anyway) meaningless tournament. The cons far outweigh the pros.
With that in mind, it's time for Team USA administrators to pivot towards the next wave of talent. If Davis turns down the invitation to be Team USA's centre, then turning to an ageing Kevin Love or DeAndre Jordan to replace him is short-sighted. Jaren Jackson Jnr, Zion Wiliamson or even Karl Anthony-Towns are the NBA's future at the position and should be recognised as such with an invitation to represent their country.
DeAaron Fox is set to become the NBA's next premier guard, and should be given the opportunity to show he can lead Team USA. Jayson Tatum, Jaylen Brown, Turner and Mitchell all chose – against the grain – to come to China and deserve second-chances to prove themselves. Devin Booker must be cajoled in to appearing. Aaron Gordon should've been on this team and should certainly be on the next.
The older generation is not going to be around for much longer. In fact, it might already be gone.
It's time for America's next wave of talent to step up and be counted.
Make sure you follow Sportstips.com on Instagram here, give us a like on our Facebook here and check us out on Twitter here to get the best highlights and updates sent straight to your socials, plus give us all the feedback you desire!