Describing this Celtics season as a rollercoaster doesn't do it justice.
Even the topsy-turviest, stomach-dropping-est rides at Disney World don't have this many wild highs and head-scratching lows.
Without addressing each bizarre moment this season brought, the wash-up is that a roster containing one of the top 5 guards on the planet in Kyrie Irving; a selfless, dependable, skilled big-man in Al Horford; a potential superstar in Jayson Tatum; a 29-year-old former All Star in Gordon Hayward and a variety of quality role-players in the likes of Marcus Smart, Jaylen Brown, Aron Baynes and Marcus Morris, failed to make it out of the second round.
That's despite falling just short of making the NBA Finals last year without the services of Irving and Hayward.
Unfortunately for GM Danny Ainge and head coach Brad Stephens there's no way of spinning that result to a proud fanbase which will make it sound like anything less than an unmitigated disaster.
The 4-1 loss to Milwaukee which finally ended the misery was bad, but even that score-line doesn't begin to tell the true story of exactly how underwhelming the Celtics were in their final four at-bats of 2019.
After winning Game 1 112-90 in Milwaukee, Boston were outscored 475 – 410 over the final four games of the series, losing two games at home in TD Garden on the way to an ignominious gentleman's sweep.
The Celtics' offense was atrocious. Its defense was porous. The body language, at times, was terrible. They couldn't find any way to slow down Giannis Antentokounmpo and Khris Middleton. Kyrie Irving's shooting was an abomination. Gordon Hayward was non-existent. George Hill torched them on both ends.
Everything that could possibly have gone wrong in the final four games of the series, did go wrong.
The questions about the future of this roster in the aftermath of Wednesday night's season-ending smashing have come thick and fast. The Boston Celtics have always been one of the most universally disliked franchises in sports (mostly because of their sustained level of success) and you get the sense that some parts of the NBA media have taken the opportunity to sink the boots in.
Whatever the truth of their situation, Ainge and his front office staff have some major, future-defining issues to address in this offseason.
1. The Kyrie Irving Paradox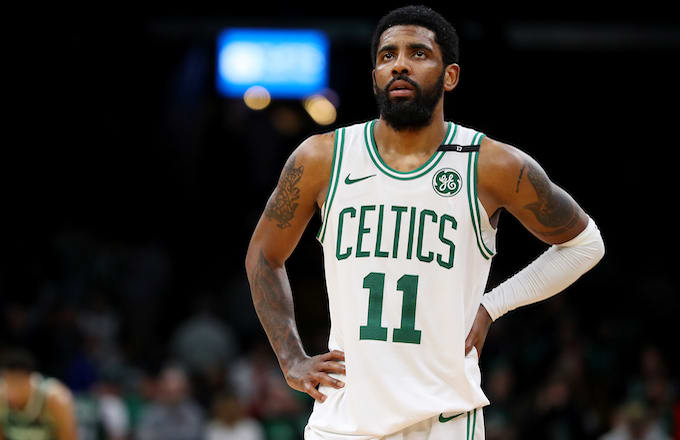 Even when you ignore his bizarre theories about the shape of the earth; his inane, at times mind-bendingly stupid post-game press-conferences and his horrendous on-floor body language, Kyrie Irving is one of the most confusing players in the NBA.
Can he be the leading man on a championship contender, or is he to be forever remembered as LeBron's sidekick on the 2016 Cavaliers? Is he an invaluable asset or a locker-room cancer? Can he work with a second star or does he need primary responsibility to be truly effective?
These are questions which face the entire NBA this offseason, but particularly the Boston Celtics.
Irving has a player option for the 2019-20 season, which he will assuredly opt-out of in order to enter unrestricted free agency. When he does so, the 6-time All Star immediately becomes one of the hottest items on the market.
Boston (with Irving's Bird rights in hand) would be able to offer him a five-year $188 million deal, whereas other teams can only offer four years and less money.
Much of the conversation concerning Irving has centred around whether he will stay in Boston. The real question, though, is should the Celtics want him back?
Irving's off-floor eccentricities have been well-documented. He's clearly an interesting (to say the least) character to accommodate in a locker room.
Up until the Milwaukee series, though, his on-floor play hadn't really been questioned.
Then he endured one of the all-time shooting slumps; going at 35.6% from the floor and 22% from beyond the arc in the 5-game series. The stats are concerning, but the way they played out on the floor was even more so.
Irving. Just. Kept. Shooting.
Despite his shot falling apart, Kyrie still took over 20 shots per game in the series. His seeming lack of introspection was remarkable.
If the Celtics were to bring Irving back, their cap space takes an enormous hit. They also would likely have to find a way to move on Terry Rozier, as his lack of playing time in the guard position is becoming unsustainable.
So, does Boston fight to keep their beleaguered star, or is it time to move on?
2. The Horford Necessity
Al Horford was probably the only Celtics starter who could hold his head high after the Milwaukee series, averaging 16 points, 8 rebounds, 4 assists, and providing his usual outstanding defense on Brook Lopez and Giannis Antentokounmpo.
Unfortunately for the Celtics, Horford is in the tricky position of having a $30.1 million player option for 2019-20.
That is far more than the yearly salary he'd get on the open market. The difficulty, though, is that Horford will be 33 years old by the start of next season.
There's every chance he opts out in the hope of pulling one more long-term deal, which could end up being as much as $100 million over 4 years.
If they retain Kyrie, and make a play at Anthony Davis, it'd be nearly impossible for Boston to fit that sort of contract within the cap.
The downside (apart from losing an All-Pro centre) is that Boston have a severe dearth of quality big men on the roster. Aron Baynes is likely to return on a $5.4 million player option and Daniel Theis is a restricted free agent, but from there the big man situation gets even uglier.
The unfortunate truth is that the Celtics cannot afford to lose Horford. He's too crucial to the way the set up on both ends of the floor. They need to hope against hope that he chooses to exercise the option, or that somehow his next contract can be squeezed within the cap.
Neither seems likely. That will mean Ainge and Co. are forced to try and attract someone like Nikola Vucevic, Brook Lopez, or maybe even Jonas Valancunias in free agency.
With centres of that age, the potential of being left on the hook for a disproportionate amount of money is always fraught with danger.
3. The Quest for AD
The rumours about Boston's presence in the AD sweepstakes have been present throughout 2019.
Realistically, any chance they have in a) attracting Davis to the franchise and b) being capable of doing a deal with the Pelicans relies on Irving remaining with the Celtics.
If he does, Boston remain in championship contention, and, crucially, would have the available trade assets to get a deal done.
As evidenced by large swathes of this season, Irving's presence in the back-court effectively renders Jaylen Brown, Jayson Tatum and Terry Rozier superfluous.
All three of those guys, plus role players like Marcus Smart, and maybe even the contracted Gordon Hayward, would be on the table in Davis negotiations.
Depending on what else is out there, that could be a pretty attractive proposition for the Pelicans.
If Irving leaves, however, the chances become slim. Boston could hardly mortgage all their future prospects for the injury-prone Davis when the loss of Irving (and maybe Horford) leaves them well outside championship contention.
Lots of questions and no answers for the Celtics at this point.
What will happen from here is an intriguing prospect.
Written and produced for Sportstips.com by Eddie Dadds
Make sure you follow us on Instagram here, give us a like on our Facebook here and check us out on Twitter here to get the best highlights and updates sent straight to your socials!