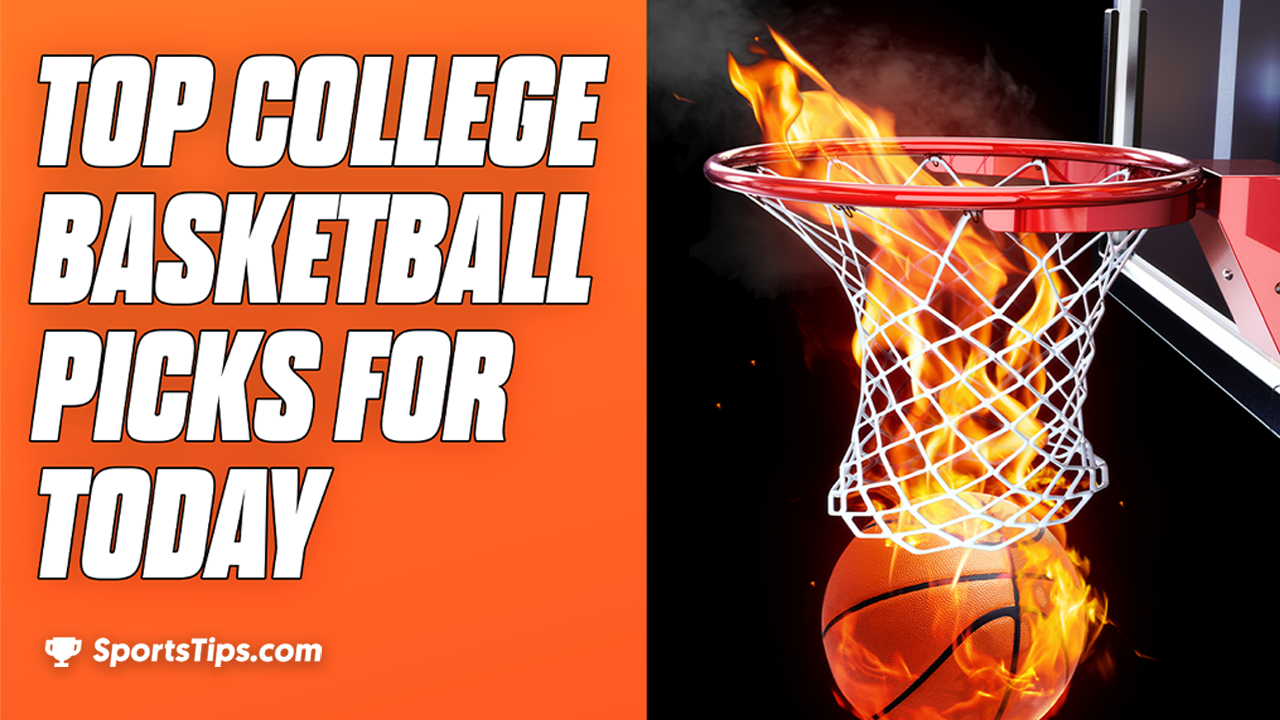 Northeastern vs West Virginia 
The 1-4 Huskies head to WVU Coliseum riding a three-game losing streak. Another defeat is on the horizon, as the West Virginia Mountaineers are #7 in the AP Top 25 Poll and one of the best teams in the country on both sides of the ball. 
The Mountaineers are 17th in the nation in points scored per 100 possessions (111.7) and 16th in points allowed per 100 possessions (90.1). They shouldn't have any problems beating a team that ranks 180th in adjusted offensive efficiency (99.8) and 174th in adjusted defensive efficiency (100.9).  
EVERYTHING is open for Sean McNeil right now… 🏦#HailWV | @SeanMcNeil22 pic.twitter.com/cY54rjikF2

— WVU Men's Basketball (@WVUhoops) December 23, 2020
However, covering a huge spread could be a problem for the Mountaineers. They prefer to play at a slow pace, as well as the Huskies, so this should be a low-scoring affair. West Virginia is only 1-4 ATS in its last five games and 0-3 ATS in its previous three showings as a double-digit fave. 
On the other side, the Huskies are 14-3 ATS in their last 17 outings as double-digit dogs. They have nothing to lose here and should be able to keep it close enough to cover an 18.5-point spread. 
College basketball pick – Northeastern by +10. 
Miami vs Virginia Tech 
The Hurricanes have won their last two encounters with the Hokies, but they'll have a mountain to climb Tuesday at Cassell Coliseum in Blacksburg. The Hokies are 7-1 on the season and rank among the top 40 teams in the country both offensively and defensively. 
On the other side, Miami has played solid defense thus far, but the Hurricanes have struggled offensively, scoring just 104.4 points per 100 possessions (99th in the country). They shoot only 41.6% from the field (261st) and 23.5% from beyond the arc (329th), going 4-2 through their first six games of the season. 
𝙈𝙞𝙠𝙚'𝙙 𝙐𝙥 🍿

The old guard (@Wabissa_B11, @Tyreceradford23) is finding their groove, while the young bucks are capitalizing on the moment during their limited playing time#StoneByStone | #Hokies 🦃 pic.twitter.com/dgU5P81f6n

— Virginia Tech Men's Basketball (@HokiesMBB) December 23, 2020
Hereof, we expect the Hokies to shut down the Hurricanes' offense. Virginia Tech lacks height which could be a problem against the Hurricanes who average 41.7 rebounds per game (41st). However, the Hokies love to be aggressive on the defensive end, and we should see a lot of double-teams and tactical changes. 
Virginia Tech is 8-3 ATS in its last 11 encounters with Miami and is 5-2 ATS in its last seven outings. Miami is 2-5 ATS in its previous seven contests, so don't hesitate to grab the Hokies. 
College basketball pick – Virginia Tech by 6. 
Central Arkansas vs Baylor 
The #2 Baylor Bears are 6-0 on the season and will undoubtedly improve on Tuesday afternoon when they welcome the 1-6 Central Arkansas Bears. The visitors are No. 247 in the KenPom rankings, allowing 105.3 points per 100 possessions (283rd), so they won't stand a chance even if the Bears play the first half with their eyes closed. 
Why is @BaylorMBB so good? What makes their culture so great?

A lot of the same things that make @ZagMBB great.@Spotify https://t.co/IbY6LrLJ8h@ApplePodcasts https://t.co/Q4ykC9h7WC pic.twitter.com/PZ2Yg2MIDX

— The Field of 68 (@TheFieldOf68) December 24, 2020
However, covering a spread in matchups like this one is always a tricky job. Central Arkansas loves to play at a very fast pace, recording a whopping 75.3 possessions per 40 minutes, so take the over if you like betting on the totals. 
Baylor is perfect against the spread this season. We don't like long streaks, but backing the Central Arkansas Bears would be a lunatic move. Baylor has the third-best offensive rating in the nation and will drop a bunch of baskets on their rivals. 
College basketball pick – Baylor by 33.  
Purdue vs Rutgers
The Big Ten action continues with the marquee matchup at Rutgers Athletic Center in Piscataway where the Scarlet Knights look for their third straight win over the Boilermakers. Rutgers already defeated Purdue twice in 2020, and the Scarlet Knights are 4-1 ATS in their previous five encounters with the Boilermakers. 
Both these teams are 2-1 in the conference play. The 7-3 Boilermakers are coming off a 73-70 win to Maryland, while the 6-1 Scarlet Knights suffered an 80-68 defeat at Ohio State this past Wednesday. 
🎁 @zach_edey out here delivering gifts to all the little boys & girls like Santa. 🎅🏼🎅🏼🎅🏼 pic.twitter.com/fswrXwVclz

— Purdue Mens Basketball (@BoilerBall) December 25, 2020
This should be a tight contest, so whoever you fancy here, buy a few points just in case of a dramatic finish. Both Purdue and Rutgers average 110.0 points per 100 possessions (tied-33rd), but the Scarlet Knights are a better defensive team, at least on paper. 
We are going with the Scarlet Knights who went 6-3-1 ATS through their last ten games overall. They've won 19 of their last 20 home contests, while the Boilermakers are 3-8 straight up and 2-8-1 ATS in their previous 11 road tilts. 
College basketball pick – Rutgers by 3.  
Incarnate Word vs Texas Tech 
The #13 Texas Tech Red Raiders are coming off a 69-67 victory at the Oklahoma Sooners, bouncing back from a painful 58-57 home loss to the #5 Kansas Jayhawks. They improved to 7-2 on the season while going 4-5 against the spread. 
The Red Raiders are 0-4 ATS in their last four showings, so the clash against the hapless Incarnate Word is a perfect opportunity for redemption. The hosts are listed as massive 33.5-point favorites, but we are still backing them to cover. 
Won a Ŧhriller. #4To1 | @lubbocknational pic.twitter.com/tQMvzYwNeV

— Texas Tech Basketball (@TexasTechMBB) December 24, 2020
Texas Tech has the best defensive rating in the country, surrendering only 85.3 points per 100 possessions. Their offensive rating of 107.9 points is 59th-best in the nation, but the Raiders should easily dismantle the Cardinals' D that ranks 350th in the country. 
Incarnate Word hasn't taken the floor since December 5 and a 72-64 defeat at Texas State. The Cardinals are 1-3 on the season, covering twice in the process, but we wouldn't be surprised if they fail to surpass a 40-point mark against the Raiders' stout defense. 
College basketball pick – Texas Tech by 34. 
Florida State vs Clemson 
The Atlantic Coast Conference showdown between the Florida State Seminoles and Clemson Tigers is one of Tuesday's headliners, no doubt. The 5-1 Seminoles are #18 in the AP Top 25 Poll and No. 26 in the KenPom rankings, while the 6-1 Tigers sit at the 20th spot of the KenPom rankings. 
Clemson possesses the second-best defensive rating in the nation, yielding just 86.5 points per 100 possessions. The Tigers' opponents make only 37.0% of their field goals (20th) and 27.8% of their 3-pointers (47th). 
😤💪 𝘿𝙚𝙛𝙚𝙣𝙨𝙚, 𝙙𝙚𝙛𝙚𝙣𝙨𝙚, 𝙙𝙚𝙛𝙚𝙣𝙨𝙚 #ClemsonGRIT pic.twitter.com/bzOIpgqGdV

— Clemson Basketball (@ClemsonMBB) December 28, 2020
Through their last eight contests, the Tigers went 7-1 SU and 6-2 ATS. They are 2-5 SU and 4-3 ATS in the last seven encounters with Florida State, so it's no strange that Clemson opened as a slight fave in this clash. 
We are backing the Tigers to satisfy the odds, leaning on their terrific defense. Clemson limited its opponents below 67 points in each of its last five outings, so betting on the under is another interesting option. 
College basketball pick – Clemson by 3.
Pittsburgh vs Duke 
*Note: This game has been postponed due to COVID-19.
The Pittsburgh Panthers head to Cameron Indoor Stadium in Durham as 11.5-point underdogs. They've lost five straight matchups with the Duke Blue Devils but have covered three times in that stretch. 
Over the last three weeks, the Blue Devils played just once, outlasting the Notre Dame Fighting Irish 75-65 as 2-point road underdogs on December 16. Duke is now 3-2 on the season, so the home victory over the 5-2 Panthers seems like a must. 
DJ showed out at ND‼️ @swipasnipa

➡️ 16 points, 5 boards, 6-11 FG (3-4 3pt)

➡️ 2nd Blue Devil to earn ACC FOW on the year (along with @Jalen_J23) pic.twitter.com/pZ1UoizyEo

— Duke Men's Basketball (@DukeMBB) December 21, 2020
Although the Blue Devils are just 1-4 ATS this term, we are betting on them to cover Tuesday night. Duke has enormous defensive potential, allowing 89.6 points per 100 possessions (14th). On the other side, Pittsburgh scores only 103.0 points per 100 possessions (130th). 
The Panthers lean exclusively on three players. Pittsburgh shoots just 43.7% from the field (197th) and 31.3% from downtown (236th), so we expect them to struggle mightily against Duke.  
College basketball pick – Duke by 12. 
Dixie State vs Gonzaga 
We are not going to talk a lot about the clash between the Trailblazers and Bulldogs. Dixie State is No. 307 in the latest KenPom rankings, so you'll be lucky if you find the sportsbook that will offer a pointspread for this matchup. 
The Bulldogs are the No. 1 team in the country. They are 7-0 on the season, beating some heavyweights along the way. The Zags outlasted #6 Kansas Jayhawks 102-90, #11 West Virginia Mountaineers 87-82, #3 Iowa Hawkeyes 99-88, and #16 Virginia Cavaliers 98-75. 
The third @WCChoops Freshman of the Week honor for @JalenSuggs2020 this season
📰Press Release➡️ https://t.co/xODXjLLcE8 pic.twitter.com/JeDExKIgbK

— Gonzaga Basketball (@ZagMBB) December 28, 2020
You should know that Gonzaga will play back-to-back after meeting Northern Arizona on Monday night. They could decide to rest some players, giving the chance to the Trailblazers to avoid humiliation. 
Also, keep in mind that 19 of the Zags' last 22 games went in the over. Dixie State loves to play at a fast pace, so this should be a high-scoring affair. 
College basketball pick – Gonzaga by 20.
Northwestern vs Iowa
Here's another super exciting matchup for Tuesday night, as #19 Northwestern Wildcats face off against #10 Iowa Hawkeyes in the Big Ten Conference showdown from Carver-Hawkeye Center in Iowa City. 
The Wildcats are topping the Big Ten standings with a 3-0 record in the conference play and 6-1 overall. Over their last three showings, the Wildcats defeated #4 Michigan State 79-65, #23 Ohio State 71-70, and Indiana 74-67. 
Now, the Wildcats are facing their toughest challenge of the season. Iowa is 7-2 on the season and 1-1 in the conference play, ranking 10th in the AP Top 25 Poll and fifth in the KenPom rankings. 
The Hawkeyes have struggled defensively, allowing 96.3 points per 100 possessions (92nd), but they've tallied 120.6 points in a return, making their offensive rating the second-best in the nation. 
Holiday Helpers.

Iowa assisted on 21 of 24 made field goals last night vs. Purdue. #Hawkeyes pic.twitter.com/CY9tstyOBa

— Iowa Basketball (@IowaHoops) December 24, 2020
The Wildcats will probably have huge problems slowing down Luka Garza, as the Hawkeyes' senior center is posting 28.8 points and 10.0 rebounds per game. Iowa is coming off a 102-95 overtime loss at Minnesota, and the Hawkeyes will be keen to bounce back against Northwestern at home. 
The Wildcats are only 3-11 SU and 4-10 ATS in their last 14 encounters with Iowa. 
College basketball pick – Iowa by 11. 
Houston vs Tulsa 
Finally, here's the American Athletic Conference contest between the #5 Houston Cougars and Tulsa Golden Hurricane. The Cougars lost their previous game at Donald W. Reynolds Center in Tulsa, but Houston is 5-1 SU and ATS in its last six meetings with the Golden Hurricane. 
We expect this trend to continue, as the Cougars are a top-15 team in the country both offensively and defensively, while Tulsa ranks 39th in defensive efficiency and 152nd in offensive efficiency. 
.@qdotgrimes named to #AmericanHoops Honor Roll for 3rd time this season

In two wins last week, averaged…

1️⃣5️⃣.5️⃣ ppg
6️⃣.0️⃣ rpg
2️⃣.0️⃣ apg
2️⃣.0️⃣ spg#ForTheCity x #GoCoogs pic.twitter.com/pI4YSBWAim

— Houston Men's Hoops 🏀 🐾 (@UHCougarMBK) December 28, 2020
If they continue with a strong defensive performance, the Cougars will easily see off Tulsa's challenge. The Golden Hurricane is 4-3 on the season, riding a three-game win streak, but handing the Cougars their first loss of the season will be a tall task. 
Houston has recorded some nice wins thus far. The Cougars have outlasted Texas Tech by 11 points, while their previous three opponents couldn't surpass a 55-point mark. 
College basketball pick – Houston by 5. 
Are you interested in finding out more on the latest season of college basketball? Then make sure you visit our college basketball hub page, we've got all the details you need!