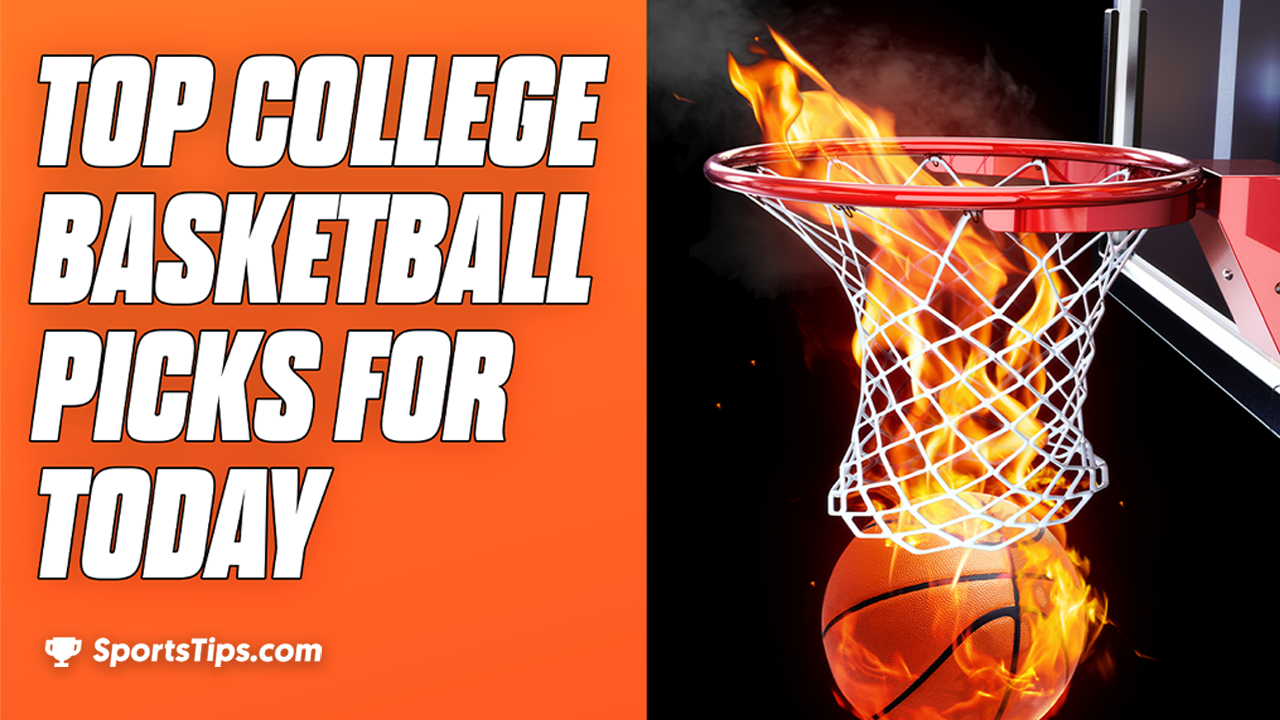 St. John's vs Creighton 
These two Big East foes already met each other once this season and the #7 Creighton Bluejays dismantled the St. John's Red Storm 94-76 as 7-point road favorites. We expect to see more of the same at CHI Health Center in Omaha, as the Bluejays are a much better team than the Red Storm at the moment. 
Creighton shot 56.7% from the field and 56.5% from beyond the arc in that comfortable win over St. John's in December. The Bluejays have the eighth-best offensive rating in the country, scoring 115.4 points per 100 possessions, while the Red Storm rank 114th in defensive efficiency, allowing 98.7 points per 100 possessions. 
🔵 Went 𝑜𝒻𝒻 last night ⚪️#GoJays pic.twitter.com/qDRZA1hyne

— Creighton Men's Basketball (@BluejayMBB) January 7, 2021

St. John's has dropped four of its last five games overall including that defeat to Creighton, going 1-4 ATS in that span. The Red Storm are coming off a 69-61 defeat at Xavier as 6.5-point road underdogs.
On the other side, the Bluejays are riding a five-game win streak following an 89-53 thrashing off the Seton Hall Pirates. Creighton is 12-7 ATS in its last 19 contests and 13-6 ATS in its previous 19 outings at home. 
College basketball pick – Creighton by 14. 
Ohio State vs Rutgers 
The Ohio State Buckeyes lost two of their previous three games, easily smashing Nebraska 90-54 at home and losing at Northwestern 71-70 and Minnesota 77-60. They are winless in three consecutive showings on the road, so the Buckeyes fell out of the AP Top 25 Poll. 
On the other side, the #15 Rutgers Scarlet Knights are coming off a heavy 68-45 defeat at Michigan State, tallying their second straight loss and third in their last four outings. Rutgers is 6-1 straight up at home this season, suffering a 77-75 defeat to #10 Iowa in their last outing on the home court. 
Ron Harper Jr. now into double figure scoring – he has scored in double figures in every game this season

🛡⚔️ #GardenStatement pic.twitter.com/52FyRJ7jJr

— Rutgers Basketball 🏀 (@RutgersMBB) January 6, 2021

The Buckeyes have dominated the Scarlet Knights over the last few years, winning nine of their last 11 encounters and covering seven times in the process. However, the Buckeyes got beaten in their previous visit to Rutgers Athletic Center, 64-61 as 5.5-point road favorites. 
Ohio State has the 10th-highest-scoring offense in college basketball, averaging 114.6 points per 100 possessions, but the Buckeyes are 57th in defensive efficiency (94.7). Rutgers mostly lean on its defense, yielding 92.1 points per 100 possessions (30th in the country) while scoring 110.3 in a return (45th). 
This should be a very tight contest between two Big Ten foes. Both teams desperately need a win, but we are backing the hosts to cover. The Scarlet Knights are 18-2 SU and 14-5-1 ATS in their last 20 home games. 
College basketball pick – Rutgers by 3. 
Wake Forest vs Duke 
We are not going to overthink this ACC showdown at all, as the #21 Duke Blue Devils shouldn't have any problems beating the Wake Forest Demon Deacons. Both teams have had some serious problems with the COVID-19, so Wake Forest is 3-2 on the season and 0-2 in the conference play, while Duke is 4-2 overall, winning both its ACC contests this term. 
Got The Goat's thoughts on things via ZOOM, but we can't wait to get him back when it's safe to do so! pic.twitter.com/nCNZHl1n5O

— Duke Men's Basketball (@DukeMBB) January 8, 2021

Duke head coach Mike Krzyzewski is quarantined, but that won't stop Duke from thrashing off the Demon Deacons. In its last two showings, Wake Forest didn't stand a chance against Virginia 70-61 and Georgia Tech 70-54. The Demon Deacons are 124th in offensive efficiency (103.5) and 132nd in defensive efficiency (99.8). 
The Blue Devils have won 11 of their last 12 matchups with Wake Forest. They are 4-2 ATS in the previous six encounters with Demon Deacons, so take the hosts to cover. Duke is 17th in the country in points scored per 100 possessions (112.4) and 23rd in points allowed per 100 possessions (91.8). 
College basketball pick – Duke by 11. 
Texas vs West Virginia 
Here's one of the most intriguing matchups of Saturday's schedule, as the #4 Texas Longhorns visit the #14 West Virginia Mountaineers for the Big 12 showdown at WVU Coliseum in Morgantown. Last season, they split a two-game set, and the Mountaineers humiliated the Longhorns at home, 97-59, as 9-point favorites. 
The 9-1 Longhorns are certainly playing in a better form than the 9-3 Mountaineers at the moment. Texas is undefeated in five straight games including a terrific 84-59 victory at the #3 Kansas Jayhawks. West Virginia is 2-2 in its last four showings, outlasting Northeastern 73-51 and Oklahoma State 87-84 in the process and losing at #3 Kansas 79-65 and Oklahoma 75-71. 
That's 5️⃣ straight dubs. 🤘#HookEm pic.twitter.com/PbaZ3lhSVD

— Texas Men's Basketball (@TexasMBB) January 6, 2021

Texas yields only 87.9 points per 100 possessions (3rd) while scoring 112.9 (13th). West Virginia allows 91.3 points per 100 possessions (19th) and tallies 112.8 in a return (14th). Hereof, we have to lean on Texas' excellent form and back the visitors to cover. 
The Longhorns are 12-4-1 ATS in their last 17 meetings with the Mountaineers. They will be fired up to get revenge for last season's humiliation. 
College basketball pick – Texas by 2. 
Tennessee vs Texas A&M 
The 9-1 Volunteers are No. 9 in the latest AP Top 25 Poll and KenPom rankings. They bounced back from a tough home loss to Alabama 71-63, outlasting Arkansas 79-74 as 8.5-point favorites last time out. The Vols dropped to 6-3 ATS on the season, but they still have the second-best defensive rating in the country of 86.9 points allowed per 100 possessions. 
"Josiah was terrific from start to finish."

17 PTS / 9 REB / 3 STL vs. Arkansas pic.twitter.com/lZlqvAP9FX

— Tennessee Basketball (@Vol_Hoops) January 8, 2021

On the other side of the ball, the Vols tally 110.6 points per 100 possessions (38th), and three players average points in double figures. Tennessee certainly possesses more depth than the Aggies who mostly lean on sophomore F Emanuel Miller (18.5 PPG, 8.3 RPG). 
Texas A&M is 6-3 on the season, ranking 159th in offensive efficiency (101.7) and 53rd in defensive efficiency. The Aggies average a whopping 17.0 turnovers per game, while the Volunteers take good care of the ball, committing only 9.9 turnovers per contest. 
We are looking for the Vols to shut down the Aggies' offense and win this clash easily even though they play on the road. Tennessee is 3-1 straight up and ATS in its last four matchups with Texas A&M. 
College basketball pick – Tennessee by 10. 
Virginia vs Boston College 
The Eagles upset the Cavaliers as 10-point home dogs in their previous meeting at Silvio O. Conte Forum, and we are backing #22 Virginia to get revenge in this one. The Cavaliers have won four of their last five games, losing only to #1 Gonzaga 98-75 at the neutral site, while the Eagles are riding a three-game losing streak. 
ℙ𝕚𝕝𝕝𝕒𝕣 ℙ𝕝𝕒𝕪𝕖𝕣 𝕠𝕗 𝕥𝕙𝕖 𝔾𝕒𝕞𝕖
🏀 @reece_beekman
1⃣2⃣ points
5⃣ steals
3⃣ assists
🔶⚔️🔷 #GoHoos pic.twitter.com/oKZJbhwIao

— Virginia Men's Basketball (@UVAMensHoops) January 7, 2021

Boston College is coming off an 83-82 defeat at Duke, falling to 0-4 in the ACC play. The Eagles blew a 16-point lead despite shooting 56.1% from the field and 56.3% from beyond the 3-point line.
Now, we are looking for some regression, especially because the Cavaliers allow only 90.6 points per 40 minutes (16th) while playing at the slowest pace in the country (59.9 possessions per 40 minutes). 
Virginia limited Boston College below 61 points in six of their last seven head-to-head duels. The Cavaliers are 6-1 SU and 4-3 ATS in that stretch. The Eagles prefer to play at a very fast pace (72.5), so we don't think they'll know how to cope with the Cavs. 
College basketball pick – Virginia by 7. 
Baylor vs TCU 
The #2 Baylor Bears are 10-0 on the season and 3-0 in the Big 12 play following a 76-61 home win over Oklahoma. They look unstoppable at the moment, posting the third-best offensive rating in the country (119.8) and the fifth-best defensive rating (88.5). 
We have mentioned a few times that Baylor will have to have a bad day in the office eventually, but we will continue to back them to cover night in and night out. The Bears are 8-2 ATS this term, playing like a legitimate championship contender. 
𝙋𝙞𝙘𝙠 𝙮𝙤𝙪𝙧 𝙥𝙤𝙞𝙨𝙤𝙣 🤢

6⃣ Bears are shooting at least 40% from downtown and averaging at least one 👌 per game. 💦💦💦#SicEm 🐻 | #TimeIsNow 🏀 pic.twitter.com/ii3X6dSJ1Y

— Baylor Basketball (@BaylorMBB) January 8, 2021

Baylor shoots 51.3% from the field (14th) and 43.6% from beyond the arc (2nd). TCU is a solid team, ranking 74th in offensive efficiency (107.1) and 91st in defensive efficiency (97.1), but the 9-3 Horned Frogs will have a mountain to climb at home this weekend. TCU just snapped a five-game win streak with a heavy 93-64 home loss to #6 Kansas. 
The Bears have dropped four of their last six matchups with TCU, but they are 12-4 SU and ATS over the previous 16 encounters with the Horned Frogs. 
College basketball pick – Baylor by 11. 
Tulane vs Houston 
The Tulane Green Wave are 6-2 on the season but rank 164th in the NCAA NET Rankings and 192nd in the KenPom rankings. They score only 96.5 points per 100 possessions (267th) while yielding 99.6 in a return (131st). 
Therefore, don't hesitate to take the #11 Houston Cougars in this one. The hosts are 9-1 on the season, posting 112.4 points per 100 possessions (16th) and allowing just 89.0 in a return (6th). Houston is a much better team than Tulane and should dominate this clash, especially on the defensive end. 
Scenes from Win #️⃣9️⃣#ForTheCity x #GoCoogs pic.twitter.com/H7W9b9rX4P

— Houston Men's Hoops 🏀 🐾 (@UHCougarMBK) January 8, 2021

The Cougars allow their rivals to make only 37.3% of their field goals (14th) and 25.4% of their 3-pointers (12th). Houston is 9-2 SU and 7-4 ATS in its last 11 matchups with Tulane and is 16-0 SU and 10-6 ATS in its previous 16 outings on the home court. 
College basketball pick – Houston by 14. 
Texas Tech vs Iowa State 
The Iowa State Cyclones lost all their four Big 12 games this season and are 2-6 overall. They are a terrible 2-10 SU and 4-7-1 ATS in the last 12 games overall and 2-4 SU and 1-4-1 ATS in the previous six showings at home. 
On the other side, the #18 Texas Tech is 9-3 overall and 2-2 in the conference play, going 5-2 SU and 0-7 ATS over its last seven contests. The Red Raiders' stout defense should be a key factor on Saturday, as they surrender just 88.3 points per 100 possessions (4th) while playing at a very slow pace of 66.9 possessions per 40 minutes (303rd). 
🎥 | Protected home court. Now on to Ames.
#4To1 | @lubbocknational pic.twitter.com/X2xNSckYCp

— Texas Tech Basketball (@TexasTechMBB) January 7, 2021

We are looking for the Red Raiders to finally snap their ATS skid and torture the Cyclones with their defense. Texas Tech lacks height, but the Raiders switch almost everything.
Iowa State is far away from an elite team, scoring 69.0 points per game (250th) and allowing 72.8 in a return (241st) while recording 70.0 possessions per 40 minutes (159th). 
The Red Raiders are 4-1 SU and ATS in their last five games against the Cyclones. They beat Iowa State three times in a row, covering the spread on all three occasions. 
College basketball pick – Texas Tech by 5. 
Oklahoma vs Kansas 
Here's another Big 12 Conference clash on Saturday, and the #6 Kansas Jayhawks shouldn't have too many problems defeating the Oklahoma Sooners. The visitors have been a top-15 offensive team all season, but their defense is a big issue, and the Jayhawks will know how to take full advantage of it. 
Kansas ranks 11th in the country in both offensive and defensive efficiency. The Jayhawks suffered a heavy 84-59 defeat to Texas on January 2, but they bounced back with a nice 93-64 road victory over TCU this past Tuesday. 
Play fast, play loose…

And good things happen 🤙 pic.twitter.com/o8GKmX8SMi

— Kansas Basketball (@KUHoops) January 8, 2021

Last season, these two schools met each other twice, and the Jayhawks were victorious on both occasions, covering a 4.5-point spread on the road (66-52) and an 11.5-point spread at home (87-70). The Sooners can keep it close only if they start making everything from the field, but they will still struggle to defend. 
College basketball pick – Kansas by 7. 
Clemson vs North Carolina 
The #19 Clemson Tigers are one of the most pleasant surprises of the 2020-21 college basketball season. They are No. 15 in the KenPom rankings with the best defensive rating in the country (86.7). Still, the Tigers score only 107.4 points per 100 possessions (71st), so they will have a tall task at Dean E. Smith Center in Chapel Hill. 
The North Carolina Tar Heels allow 90.3 points per 100 possessions (13th) while scoring 108.4 (60th). Unlike the Tigers, who prefer a slow pace, the Tar Heels love to push the ball in transition, averaging 4.4 possessions per 40 minutes more than Clemson. 
Tar Heels Host Clemson Looking For Third Straight Win https://t.co/arhcnmSBdP

— Carolina Basketball (@UNC_Basketball) January 8, 2021

The Tigers are undefeated in four straight outings, coming off a 74-70 overtime win to the NC State Wolfpack. On the other side, the Tar Heels will search for their third straight win after barely outlasting Notre Dame 66-65 and Miami 67-65. 
Clemson has won two of its last three matchups with North Carolina. However, the Tigers are only 3-17 SU and 6-13-1 ATS over the last 20 games against the Tar Heels. It's a tough wager, as this clash could easily go either way, but we are going with the hosts to put an end to Clemson's win streak. 
College basketball pick – North Carolina by 2. 
Gonzaga vs Portland 
The Bulldogs are massive 33.5-point favorites for Saturday's West Coast Conference clash against the Portland Pilots. We don't like to bet on games like this one, but going against the top-ranked team in the country would be a ridiculous move despite that huge spread. 
⚖️ #UnitedWeZag pic.twitter.com/0BE0LoXkP0

— Gonzaga Basketball (@ZagMBB) January 8, 2021

The Zags are undefeated in 12 straight games against Portland, but they covered only three times in that span. Anyway, the Zags are 12-0 SU and 7-4-1 ATS over their last 12 outings. They score the second-most points per 100 possessions (122.3), while the Pilots rank 315th in offensive efficiency (93.8). 
Both teams love to play at a furious pace, so we expect the Zags to cover. Portland has lost three of its last four games including an 80-41 defeat at Oregon. They failed to score more than 68 points during that stretch. 
College basketball pick – Gonzaga by 34. 
Oregon vs Utah 
The #17 Oregon Ducks visit the Utah Utes to close down Saturday's slate, and we suggest you follow the betting trends. Oregon is 17-2 straight up and 14-4-1 ATS in its last 19 games against Utah. Also, the Ducks are 5-0 SU and 4-0-1 ATS over their previous five meetings with the Utes and 4-0 SU and ATS in their last five visits to Jon M. Huntsman Center. 
Ducks kept battling. #GoDucks #AlwaysUs pic.twitter.com/Laj3hffgyK

— Oregon Men's Basketball (@OregonMBB) January 8, 2021

The Ducks just put an end to an eight-game win streak, falling to 8-2 on the season following a 79-72 defeat at Colorado. On the other side, the Utes are 4-3 overall, losing two straight games at UCLA 72-70 and USC 64-46. 
Oregon has the 25th-best defensive rating of 92.3 points per 100 possessions. The Ducks struggled to cope with Colorado's top-15 offense, but they will have a nice chance to bounce back against the Utes who are 64th in offensive efficiency (108.0). 
College basketball pick – Oregon by 4.
Are you interested in finding out more on the latest season of college basketball? Then make sure you visit our college basketball hub page, we've got all the details you need!