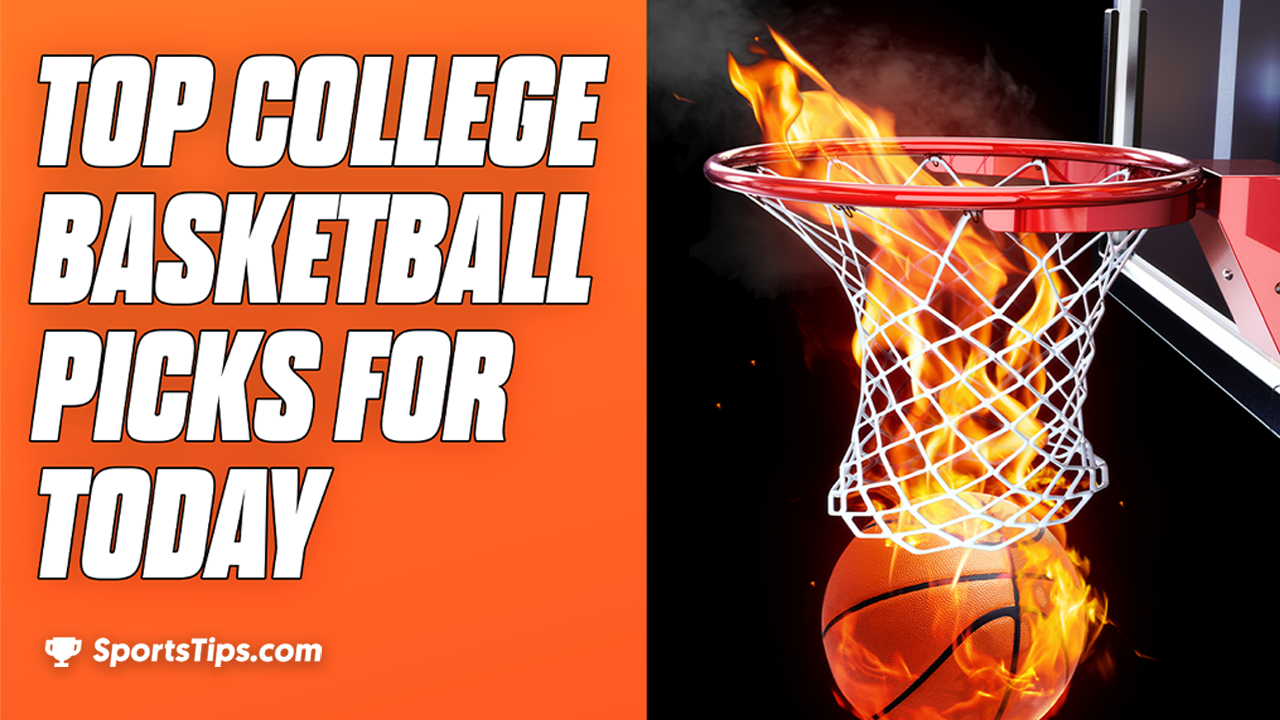 Our free College Basketball Picks are out for Thursday, November 25th, 2021! Make sure you check our College Basketball Picks before the action kicks off.
Look below to find our free College Basketball Picks for the best games on today's schedule!
#4 Kansas v North Texas – 2pm ET
The Kansas Jayhawks and North Texas Mean Green play the second game of the ESPN Events Invitational, with the winner going on to face the winner of the earlier Miami v Dayton game. While the Jayhawks are unbeaten through three games, the Mean Green have dropped a game and will need a bit more than luck in this one.
Kansas and North Texas will face each other on Thursday night in the NCAA. The Kansas Jayhawks are undefeated so far with 3 wins to their name. They have been quite merciless in their journey so far as they smashed Michigan State, Tarleton State University, and Stony Brook. Ochai Agbaji is pretty much doing all the work for Kansas as he averages 26.3 points per game which is one of the highest in the whole NCAA. He is a fantastic all-around player as he is both good in the paint and from beyond the arc, while also managing to help his team in defense positions. They also have David McCormack who can adroitly use his 6'10'' height to his advantage on both ends. Christian Braun and Dajuan Harris are quick and athletic players who further help their team progress.
North Texas, on the other hand, is looking at a 2-1 record with a loss to Buffalo in their second game for the season. It will be a huge success for them, if they somehow manage to repeat their performance from the previous campaign when they reached 1/16 finals as they defeated Purdue in the opening round of the bracket. The team has a fantastic defensive lineup with players like Thomas Bell, Abou Ousmane, and Rubin Jones. However, they are struggling in offense with their 42% FG and 32.5% from deep range. This matchup has a clear favorite and I think that the Kansas Jayhawks will also be able to cover their spread.
Denis' College Basketball Pick: Kansas -14.5 (-110)
𝐋𝐄𝐀𝐃𝐈𝐍𝐆 𝐓𝐇𝐄 𝐍𝐀𝐓𝐈𝐎𝐍

Averaging a cool 26.3 points per game…@youngoch 💪 pic.twitter.com/fKuUmlCuOE

— Kansas Basketball (@KUHoops) November 23, 2021
On Thanksgiving, Kansas and North Texas face off in the ESPN Events Invitational. So far the #4 Kansas Jayhawks are 3-0, and have been led by Ochai Agbaji, who's looking like an early All-American candidate. Agbaji is leading the nation in scoring, averaging 26.3 points per game, while shooting close to 58% from the field. That being said, the Jayhawks won't be able to strictly lean on him as the season goes on. They'll need players like Christian Braun and Arizona State transfer Remy Martin to produce as well if they want to make a deep run.
As for the North Texas Mean Green: they sit at 2-1, with their single loss being a one possession defeat to the University of Buffalo. They're led by guard Tylor Perry, who is averaging over 17 points per game, and forward Thomas Bell who averages 15 points and close to 9 rebounds per game. The Mean Green have some talent on offense, but can they compete with a highly ranked Kansas team on a neutral court in Orlando? I haven't seen enough out of North Texas for me to give them a favorable pick. I'll go with Kansas to cover.
Michael's College Basketball Pick: Kansas -14.5 (-110)
The Kansas Jayhawks come into this game with an undefeated record of 3-0 on the year. Kansas has picked up victories over Michigan State, Tarelton and Stony Brook up until this point. They are currently the number 4 ranked team in the nation as they look to capture their first national title in a couple of decades, later on this season. As Bill Self may have one of the most talented rosters in Lawrence that he has had in quite some time.
North Texas will undoubtedly be going up against their toughest test of the season, when they take the floor against the Jayhawks on Thursday evening. The Mean Green currently possess a record of 2-1 on the year, as they have picked up wins over Oklahoma Christian and UT Arlington, while losing to the Buffalo Bulls. As for the results of this one it should be all Jayhawks on Thursday night as Kansas will likely cruise to a victory.
Tony's College Basketball Pick: Kansas -14.5 (-110)
#10 Alabama v Iona – 5pm ET
In a rematch of the first round matchup of the 2021 March Madness, Alabama and Iona face off once again. They are on the other side of the bracket in the ESPN Events Invitational to the earlier game, but they could eventually meet in the final of the tournament. Can the Crimson tide get the better of the Gaels again or will we see an upset?
Two of the remaining undefeated teams in the NCAA will face off on Thanksgiving day in the ESPN Events Invitational. Alabama takes on Iona in HP Field House in Florida. Iona are 5-0 so far as they found a way to defeat teams like Harvard, Liberty, and Hofstra. The 10th-seeded, Alabama, had an easier schedule as they only had troubles in overcoming the challenge of South Alabama. Their team is quite balanced as they have both great depth within the roster and plenty of versatile skills among the players. Jaden Shackelford leads the team in points and also has a great contribution in terms of rebounds. Keon Ellis and JD Davison further help for the team's more finished state with their defensive and playmaking skills.
The Iona Gaels have won 11 out of their last 12 games in the NCAA (including the previous campaign). The only loss came against Alabama in the first round of the bracket. The Crimson Tide defeated Iona by 13 points and eventually reached the 1/8 finals where they were eliminated by UCLA after overtime. Iona will mostly rely on their fantastic sophomore, Nelly Junior Joseph, who leads the team in points, rebounds, and blocks. Tyson Jolly is also an incredible all-around player, while Dylan van Eyck and Elijah Joiner will be the core elements in building the attacking plays. For me, this meeting between Alabama and Iona will be a bit closer than the previous one and I will suggest picking Iona on their spread.
Denis' College Basketball Pick: Iona +13.5 (-110)


In a rematch of the 2021 NCAA Tournament's first round, Alabama takes on Iona. So far the Crimson Tide sit at 4-0, and aside from a close call against South Alabama, the team has had a pretty easy road. They've been led by junior guard Jaden Shackelford who's averaged 19.5 points per game and nearly 7 rebounds per game. Shackelford isn't alone—the Crimson Tide also have three other players scoring in double digits and probably two or three others that could be if they had more touches. Their well rounded squad will be looking to beat Iona for the second time in a matter of months.
Iona is led by hall-of-fame coach Rick Pitino who worked his magic last season, getting the Iona Gaels into the NCAA Tournament for the fifth consecutive year (his first with the team). He's continuing to show that he hasn't lost a step, as the Gaels are off to a 5-0 start this season. They've had some wins over quality opponents including Harvard and Hofstra, but Alabama will be the toughest team they've faced since, well, Alabama; they'll look to avenge their tournament loss and start the season an impressive 6-0. While I think Iona will be able to compete, Alabama just seems to be too overwhelming right now on both sides of the ball.
Michael's College Basketball Pick: Alabama (-800)
Two undefeated teams are set to square off in this one on Friday night in the ESPN Events Invitational as the 4-0 Crimson Tide of Alabama take on the 5-0 Iona Gaels. Alabama has gotten to 4-0 by picking up victories over Louisiana Tech, South Dakota State, South Alabama, and Oakland, four of those five wins have come in impressive blowouts. Now Alabama will face their toughest test of the year up until this point so it should be interesting to see how they respond to it.
The Gael's are 5-0 on the year as previously mentioned, they have picked up wins over Appalachian State, Harvard, Hofstra, Liberty, and North Alabama. Much like the Crimson Tide this will also be Ionas toughest test of the season up until now and potentially year in their case. As for the results of this game, I look for Alabama to be the team that comes out on top and advances in the ESPN Events Invitational.
Tony's College Basketball Pick: Alabama (-800)
#24 USC v Saint Joseph's – 9:30pm ET
The USC Trojans meet the Saint Joseph's Hawks in the opening game of the Wooden Legacy Tournament. While the Trojans are a perfect 4-0 so far this season and have climbed into the top 25 teams because of it, the Hawks have dropped their last two games to sit at just 0.500 on the season.
USC will have an easy task facing off Saint Joseph on Thursday night in the NCAA. USC is a team that managed to produce one of the biggest prospects in the NBA this year – Evan Mobley. His brother, Isaiah Mobley, will try to continue his legacy at USC and so far he is successful in doing so, having won all 4 matches for the team. The Trojans seem to be quite balanced as given 10 players at least 10 minutes per game. Apart from Isaiah, Boogie Ellis and Chevez Goodwin also help their team a lot in this early stage of the campaign.
On the other hand, the Saint Joseph's Hawks hold a record of 2 wins and 2 losses. They started off this season with two victories over Md.-East. Shore and Mount St. Mary's. However, the team eventually dropped its following two matches to Drexel and Monmouth; teams that could have been defeated by Saint Joseph's. The Hawks allow plenty of easy shots as they fail to cover the free spaces in defense. Taylor Funk and Jordan Hall lead the team this year and they have already taken on the mission to improve from last season. Saint Joseph's is not quite ambitious as they perfectly know it will be really hard for them to get their record above 0.500 at the end of the campaign, but this won't stop them from showing what they are capable of in such games. However, I think USC will put the Hawks to sleep in the first half and they will continue extending this lead until the end of the match. My pick here goes in favor of the Trojans, whom I will trust to cover the spread.
Denis' College Basketball Pick: USC -17.5 (-110)
No. 24 @USC_Hoops is 4️⃣-0️⃣ for the 5th time in the last 7 seasons. pic.twitter.com/3qEVVbZ6mz

— USC Trojans (@USC_Athletics) November 23, 2021
As Pac-12 teams like Oregon and UCLA get hit with losses, the USC Trojans look to rise in both the conference and national rankings, now sitting at #24 in the AP poll. The Trojans have a well-rounded scoring attack which includes Isaiah Mobley, the brother of Cleveland Cavaliers rookie phenom Evan Mobley. They're also thrilled to have Chevez Goodwin back after he decided to withdraw from going to the NBA and stay his senior year. He's been a massive boost, averaging nearly 15 points per game and hauling in 8 rebounds. Now the Trojans look to go 5-0 against the St. Joseph's Hawks.
St. Joe's got off to a nice 2-0 start before letting their next two slip away. Their first loss was against in-city rivals Drexel and then they followed that with a double-digit loss to Monmouth. St. Joe's looks to bounce back to their winning ways, but unfortunately they'll have to fend off a feisty Trojan team to get there. St. Joe's has some huge talent in forward Taylor Funk and do-it-all guard Jordan Hall, but I think this rising Trojans team will overpower the Hawks in Southern California.
Michael's College Basketball Pick: USC -17.5 (-110)
Don't let their 2-2 record fool you, St. Joes has all the tools capable to pull off a huge upset in this game. They are one of the few mid-majors in college basketball that really thrive off of top 25 upsets and more so higher seeded upsets when the NCAA tournament rolls around. They have picked up some victories this year over Maryland Eastern Shore by 2 points and Mount Saint Mary's by 20 points but have also fallen to teams like Drexel and Monmouth as well. Now They will face what is likely to be their toughest test of the year when they take on the Trojans of Southern Cal in the Wooden Legacy Classic.
USC comes into this game ranked number 24 in the nation. They have picked up wins in their first four games of the year. The Trojans have beaten Cal State Northridge, Temple, Florida Gulf Coast, and Dixie State so far this season by an average margin of victory of nearly 23 points. As for the result of this game on paper it should be all Trojans, and while I still expect USC to pick up the victory in the end, I expect this one to be a lot closer than most people think. I fully expect St Joes to cover as an underdog and give USC all they can handle
Tony's College Basketball Pick: Saint Joseph's +17.5 (-110)
If you need more news, information and predictions, head over to our College Basketball hub page for all your college basketball needs!
*Odds and spreads correct at time of publication, courtesy of FanDuel.