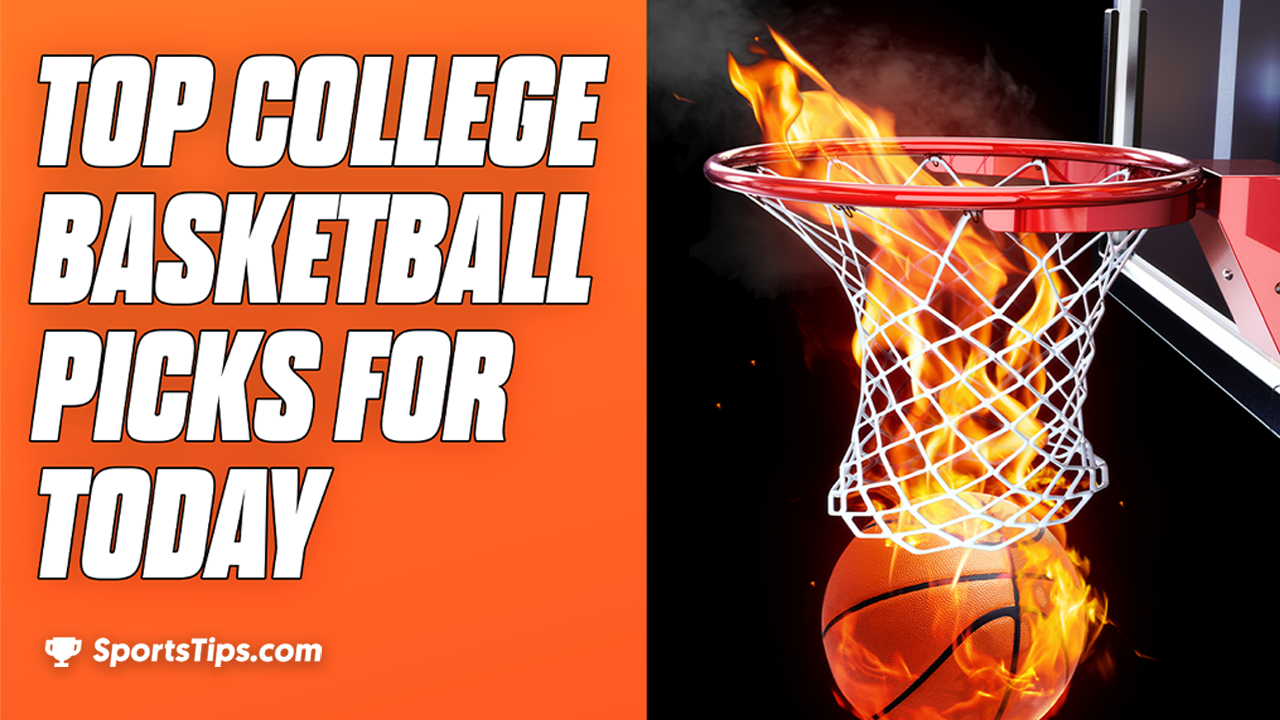 Our free College Basketball picks are out for Sunday, January 2nd, 2022! Make sure you check our expert College Basketball picks before the action kicks off.
Look below to find our free College Basketball picks for the best games on today's schedule!
#16 Michigan State @ Northwestern – 2pm ET
The 16th ranked Michigan State Spartans will open up full time Big Ten Conference play with a game on the road at Northwestern in this one. Michigan State is coming into this game with a record of 11-2 on the year, while Northwestern comes into this game with a record of 8-2 through their first ten games this season.
Coming off from a win against High Point, Michigan State will try to continue their 6-game winning streak. The team lost twice this season against the two of the top 10 teams in the NCAA. In their opener, Kansas defeated them, 87-74, while a couple of weeks later they were outlasted by the reigning champions from Baylor. Michigan State relies much on Gabe Brown who averages 14.2 points. Marcus Bingham Jr. is their biggest asset in defense, leading the team with 8 rebounds and 3.1 blocks per game. On top of that, Tyson Walker is a fantastic playmaker who presents a huge threat for their opponents.Northwestern also plays very well from the beginning of the campaign.
They hold an 8-2 record so far, with both losses coming against strong unseeded teams like Providence and Wake Forest. The Wildcats came in close in both games, but were outplayed in the last minutes. The team managed to upset Maryland in the first days of December, 61-67. Pete Nance is their most valuable player who averages 16.3 points, 8 rebounds, and 2 blocks per game. It's clear that he is strong on both ends with 53.3% FGM. Boo Buie is also an important player for the Wildcats as he has been playing quite well recently, but he will need to level up his game, because his under 40% performance from the field is surely not enough. I think that Michigan State will come on top in the end.
Denis' College Basketball Pick: Michigan State -2 (-110)
First day of 2022 🏀 pic.twitter.com/jUYIjcuEMC

— Michigan State Basketball (@MSU_Basketball) January 1, 2022
In their last game the Michigan State Spartans beat High Point by a total of 13 points as the final score was 81-68. The win over High Point gave Michigan State their sixth victory in a row and improved their record to 11-2 on the year. They are currently undefeated in Big Ten Conference play at 2-0 after beating Minnesota and Penn State back in the middle of the month of December. They look to be one of the potential favorites in a loaded Big Ten Conference that is widely considered one of the top two conferences in all of college basketball. They will be looking for a big road win in this one to start off 3-0 in conference play.
The Northwestern Wildcats put together a decent non conference season as they finished 2021 with an 8-2 record. However these next couple of months will show how much of a contender they really are as they have a gauntlet of a Big Ten schedule to get through. Northwestern is on a three game winning streak and have picked up victories in four of their last five games. They are currently 1-0 in Big Ten Conference play after beating Minnesota back in early December. However as for the result of this game I have the them losing to Michigan State in this one at home to pick up their first conference loss.
Tony's College Basketball Pick: Michigan State -2 (-110)
#12 Houston @ Temple – 5pm ET
The Houston Cougars come into this game ranked 12th in the country. They currently possess a record of 11-2 on the season. Meanwhile the Temple Owls come into this game with a record of 7-5 on the year, as they will look to get a top 25 upset at home in this one. Houston has yet to play a conference game, while Temple is 0-1 inside the American Conference.
Houston is enjoying a good performance throughout the season so far. They might have lost two games already, but it happened in pretty narrow contests. Wisconsin and Alabama were the ones who defeated them as both times the matches went down the wire. On the other hand, the Cougars smashed Virginia, Oregon, and Oklahoma State. Marcus Sasser is leading the way for his team with 17.7 points per game on 43.7% from the 3-point line. Fabian White Jr. is fantastic on both ends.
The Cougars are pretty decent in defense as they don't allow many points so far. Josh Carlton and J'Wan Roberts have been fantastic in denying their opponents.Temple has been underperforming, winning 7 out of 12 games so far. They have played numerous tight games this season, but they find it really difficult to keep a high percentage from the field. The Owls stand at 40.2% as if it wasn't for Khalif Battle and Jake Forester, this number would have been even lower. Khalif Battle averaged 21.4 points per game and scored 21 out of 43 shots from the 3-point line. The team is also struggling from the free throw line which is not a good sign for them. That's why I will go with Houston's spread in this one.
Denis' College Basketball Pick: Houston -12 (-106)
The Houston Cougars have put together a great season for themselves thus far. Now they will look to see if that momentum will carry over into American Athletic Conference play, as they head into their first conference game of the season against the Temple Owls. Houston is currently on a three game winning streak and has picked up victories in seven of their last eight games. Both losses for the Cougars have come to power five opponents this season. Their first loss was to the Wisconsin Badgers in the Maui Jim Maui Invitational, after that loss they rebounded to finish in third place of the tournament by beating the Oregon Ducks. Their second loss came to the Alabama Crimson Tide and since that loss they have won three straight games all by double digits.
The Temple Owls come into this huge home game with a record of 7-5 on the year. It has been an up and down year for the Owls as they have failed to establish any type of real momentum as they have basically traded wins and losses back and forth over the course of their first 12 games of the season. Temple is also 0-1 coming into this game in American Athletic Conference play after their loss to the Central Florida Golden Knights back on December 15th. They are coming into this game off of a blowout win over Delaware State. However as for the result of this game I don't expect the victories to keep coming in for Temple as I have the Houston Cougars picking up the win in this one.
Tony's College Basketball Pick: Houston (-820)
#13 Ohio State @ Nebraska – 8pm ET
The Ohio State Buckeyes come into this game nationally ranked at 13th in the nation. They have an overall record of 8-2 and a 2-0 record in Big Ten Conference play. The Nebraska Cornhuskers come into this game with an overall record of 6-7 on the season and they are 0-2 in Big Ten Conference play.
Ohio State should have an easy task on Sunday night as they face the Nebraska Cornhuskers. The 13th-seeded, recorded some huge wins this season. They went on to outlast Seton Hall, Wisconsin, and Duke. They have had a tense schedule so far which resulted in their losses against Xavier and Florida. E.J. Liddell is doing a fantastic job for the Buckeyes, topping the individual statistics with 20.6 points and 7.2 rebounds per game. He is also with 30 blocks from the beginning of the year, while Zed Key and Kyle Young also post huge numbers for Ohio State.Nebraska have been quite terrible this season, recording 6 wins and 7 losses.
The Cornhuskers problems arise from their defense as they are constantly conceding at least 70 points. Nebraska tried to improve this year with their freshman Bryce McGowens, but he has been quite underperforming throughout these 13 matches. He got the most minutes on the court and made just below 25% of the total attempted 3-pointers. Derrick Walker averages 78.7% from the field as his 6'9'' height and 239 lbs helps him much in the paint. He also leads the way for the team with 6.4 rebounds per game. Alonzo Verge Jr. is their most valuable player with 16.4 points, 5.9 assists, and 1.6 steals on average. However, I think that Ohio State will be quite a challenge for Nebraska, so I will trust the guests to cover their spread.
Denis' College Basketball Pick: Ohio State -9.5 (-110)
2021 ends with a W.#GBR pic.twitter.com/4oqUZuGzvw

— Nebraska Basketball (@HuskerHoops) December 23, 2021
The Buckeyes started off the season slow and left themselves open to several upsets earlier on in the year. However they have since recovered and played themselves into a great position. They are currently 8-2 and ranked inside the top 25 and will keep moving up if they continue the current level of play they are. Ohio State has won their last four games, including a win over the current number one at the time, the Duke Blue Devils at home. They will be looking for their Big Ten Conference win in this game against Nebraska.
The previously mentioned Nebraska Cornhuskers are coming into this game with a losing record of 5-7 on the season. The Cornhuskers have failed to establish any type of momentum so far this year and already started 0-2 in conference play. It doesn't look to be getting any better for Nebraska as now they have to play a tough Ohio State team. As for the result of this game I have the Ohio State Buckeyes adding yet another loss to the Cornhusker's resume in this early new year Big Ten game.
Tony's College Basketball Pick: Ohio State -9.5 (-110)
If you need more news, information and predictions, head over to our College Basketball hub page for all your college basketball needs!
*Odds and spreads correct at time of publication, courtesy of FanDuel.