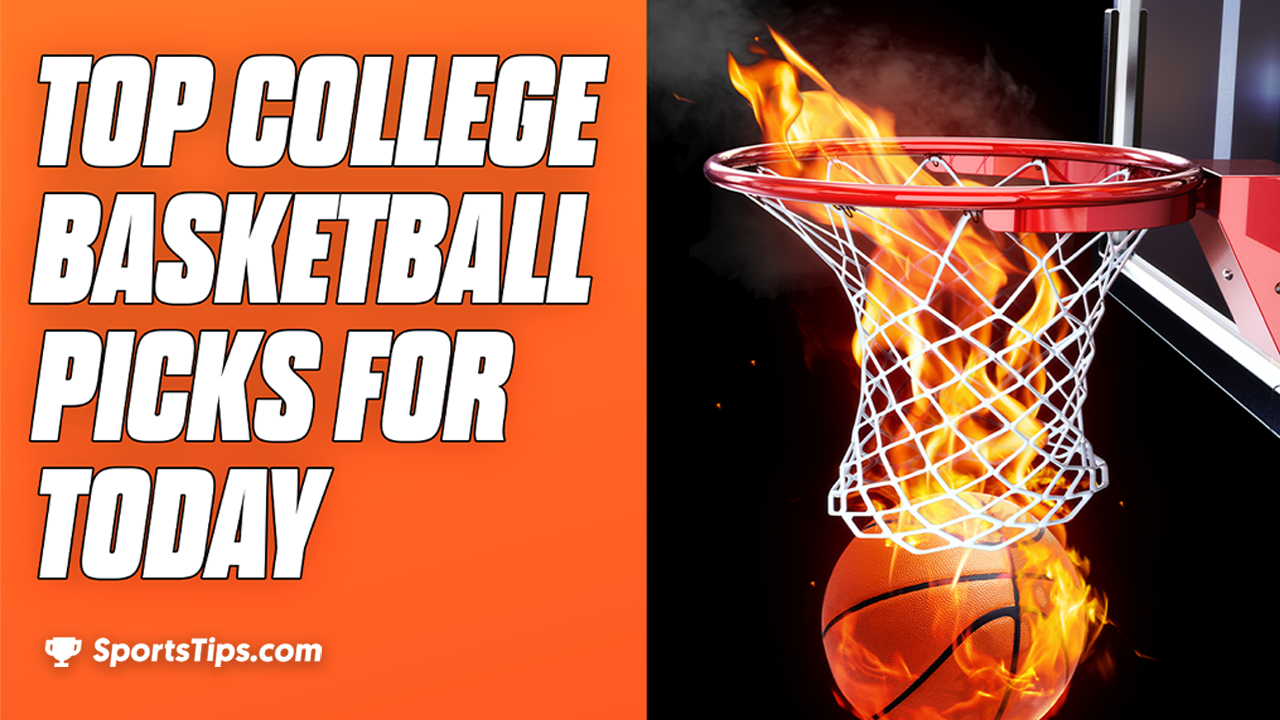 Our free College Basketball Picks are out for Saturday, November 13th, 2021! Make sure you check our College Basketball Picks before the action kicks off.
Look below to find our free College Basketball Picks for the best games on today's schedule!
Vermont @ #21 Maryland – 2pm ET
Vermont and the 21st seed, Maryland, will face off against each other on Saturday afternoon. Vermont got off to a nice start for their season, with a 71-57 victory over Northern Iowa. Maryland is currently two from two, with wins over Quinnipiac and George Washington.
Vermont started off their season with a convincing win over Northern Iowa with 71-57. Ben Shungu put up 19 points, 7 rebounds, and 2 steals. The Catamounts had a good last season finishing off with 10 wins and 5 losses in the American East Division. Their first game for this campaign suggests that they might have transferred their performance from last year into this one.
On the other hand, Maryland is looking to fight for the Elite Eight in March as they have already recorded two wins to their name defeating Quinnipiac and George Washington. They had some struggles in the match against George Washington which came because of their overall poor shooting. Only Qudus Wahab managed to be more than 40% effective from the field. On top of that, they were 15% from the 3-point line which signals a big red flag for Maryland. However, I don't think they will have troubles in this game as they seem to be the better team by far, but Vermont shouldn't be underestimated. In my opinion, the guests can even make Maryland break a sweat in order to get the victory. Hence, I will choose Vermont to cover their spread.
Denis' College Basketball Pick: Vermont +11.5 (-115)
Maryland is off to a 2-0 start, but it hasn't exactly been done with dominance. They beat Quinnipiac by 14, which is fine, but on paper Maryland is a much better team; it feels it could've been a bigger margin of victory. Even more disconcerting, they allowed the Bobcats to outscore them 42-44 in the second half. For the second game of the year the Terps faced George Washington and carried over that sluggish play from the second half against Quinnipiac—they were outscored 29-30 in the first half, but eventually pulled out a 71-64 victory. Maryland has a lot of new players on their squad this year with various transfers; it's possible they aren't quite clicking yet. Georgetown transfer Qudus Webb has been great, scoring 15+ points in his first two games, but this team needs to work better as a unit because Vermont will be no easy task.
Three days, two wins.

See ya tomorrow. pic.twitter.com/m5wp0s43gs

— Maryland Men's Basketball (@TerrapinHoops) November 13, 2021

The Catamounts won their first game of the year, beating Northern Iowa 71-57; without reigning America East Player of the Year Ryan Davis. Davis was a late scratch with a non-COVID illness, but the team rode guard Ben Shugu's 19 points to victory. With Davis back on Saturday night, the Catamounts might be a handful for a Maryland team that hasn't been convincing as of yet. I'll pick Vermont to cover.
Michael's College Basketball Pick: Vermont +11.5 (-115)
Vermont opened up their 2021-22 campaign with a double digit victory over Northern Iowa. They are one of the better mid-majors in college basketball during the 21st century having made the NCAA Tournament on seven occasions in the last eighteen seasons. Despite all the success they have only managed to make it out of the first round once, all the way back in 2005, the farthest they have ever advanced in March Madness. They are a member of the America East conference and have won the postseason conference tournament seven times, and the regular season title on twelve occasions. Last season Vermont went 10-5 as the America East played a conference only schedule due to the COVID-19 Pandemic.
As for the number 21 ranked Maryland Terrapins they come into this game with a 2-0 record having defeated Quinnipiac and George Washington over the last week. However, since leaving the Atlantic Coast Conference for the Big Ten in 2014 they have not seen the level of success they had expected within the conference. Despite making four NCAA Tournament appearances they have only won the Big Ten regular season title once, that came in 2020. They will be looking to improve on a 17-14 finish last season that ended in the second round of the NCAA Tournament. As for the result of this contest, I expect Maryland to come out on top in a hard fought game.
Tony's College Basketball Pick: Maryland (-650)
North Carolina Central @ #12 Memphis – 3pm ET
North Carolina Central continues their four game road trip to start the season when they take on Memphis. In their first game of the season, North Carolina Central lost to Richmond, 60-70. Memphis have a five game home stand to start the year, and they have made the most of it, beating Tennessee Tech, 89-65, in their opening game.
North Carolina Central started off the season with a loss against Richmond who were forced to make a great second half in order to defeat them. Alex Caldwell and Marque Maultsby led N.C. Central in points while Kris Monroe had 7 rebounds and Dontavious King added 6 more. Their roster is quite versatile and they have a chance to enjoy a better season than last year. They went 6-9 in Mid-Eastern Conference which was anticipated by their management and fans. However, they are both hoping to see the teamin a new light and such matches against seeded teams will be the starting point for that.
Memphis won the National Invitation Tournament (NIT) in March defeating Mississippi State in the final. They went 16-8 in the regular season in NCAA which wasn't enough for them to get into the final bracket. This year, they started off with a 24-point win against Tennessee Tech. Emoni Bates, Lester Quinones, and Jalen Duren showed off their skills in the opener and helped their team roll past their opponents. They are certainly better than North Carolina Central, but I don't think they will be able to cover this huge spread. I am pretty sure that the guests can keep them from scoring more than 90-100 points in this match and if that happens, it will be highly unlikely for Memphis to defeat N.C. Central by 31 points.
Denis' College Basketball Pick: North Carolina Central +29.5 (-110)
Anfernee "Penny" Hardaway's Memphis squad should be a great one to watch this year. They were able to nab two top-ten recruits this season in forward Emoni Bates and center Jalen Duren. In their season opener against Tennessee Tech, both young stars were electric: Bates scored 17 points and was 4-7 from behind the arc, while Jalen Duren was 7-10 scoring 15 points himself. It was an assuring win for Memphis as they beat Tennessee Tech by 24 and had their two young stars playing efficient basketball.

Their next game comes against the North Carolina Central Eagles who started the season 0-1 after a loss to Richmond. Though Richmond is no easy task and the Eagles only lost by 10, thanks to a solid performance from guard Alex Caldwell who put up 17 points, 6 rebounds, and 5 assists. North Carolina Central has some potential there, and even though Memphis should be able to handle them with ease, I'll still take the Eagles to at least cover.
Michael's College Basketball Pick: North Carolina Central +29.5 (-110)
North Carolina Central starts the year of a four game road trip that also includes a stop in Iowa City to play the Iowa Hawkeyes. Their season has got off to a rough start as they were defeated by the Richmond Spiders by a score of 60-70 on Tuesday night. Having only made the jump to Division 1 in 2011, they have managed to put together some success, having made the NCAA Tournament four times in the last ten years. They have been a dominant force in the MEAC where they won the conference regular season title four times. Also having won the postseason conference tournament and earning an automatic bid to March Madness an additional four times, including three in a row between 2017 and 2019.
As for the 12th ranked Memphis Tigers, this is the fourth season of the Penny Hardaway era, and if the last three year's performances is any sign of things to come, Memphis may end up becoming a dominant force in college basketball sooner rather than later. The Tigers have compiled a record of 64-32 during the last three years, including their season opening win this year. As for the result of this game, the Memphis Tigers should have no problem cruising to a victory in this one. They are a much more talented team, despite all of North Carolina Central's Mid-Major success in the last decade.
Tony's College Basketball Pick: Memphis (-100000)
Campbell @ #9 Duke – 8pm ET
Campbell is playing on back-to-back days when they take on Duke, who will be playing in front of a home crowd. The Fighting Camels have two wins to start their season, which includes a narrow one point victory against Hartford last time out. Duke have a seven game home stand to start the season, and they took full advantage of this as they got a 79-71 victory over 10th seed, Kentucky.
Campbell is 2-0 from the start of the season as they overcame the challenge of William Peace and of Hartford. The game against the latter one was narrow and full of changes in the lead. The Fighting Camels have a great depth in their team as a total of 15 players got playing time in their first two games. Jesus Carralero, Jordan Whitfield, and Cedric Henderson Jr. should be the main names this season for Campbell as they will try to improve their 17-10 record from last year. Their guard, Ricky Clemons, will also do his best to perform on a high level in his last season for the team.
Duke also recorded two wins in the first week of the NCAA. They defeated their direct rival in the face of Kentucky with 79-71 and later on, the Devils were relentless against Army, beating them by 26 points. Trevor Keels and Paolo Banchero seem like the driving force for Mike Krzyzewski's team. Wendell Moore Jr. and Jeremy Roach are two great players with big potential who can turn the game upside down. The difference between the two teams is big enough to even question who will win this match, but I'd rather go with Duke's spread. I think they will try to look as strong as possible in these early matches of their coach's historical last season in Duke.
Denis' College Basketball Pick: Duke -20.5 (-110)
The Duke Blue Devils have got out to two wins on the year, beating #10 Kentucky 79-71 and then running over Army 89-65. Star recruit Paolo Banchero has been brilliant in both games, already budding into a must-watch talent across the NCAA. He got some great help against Army, as upperclassman Wendell Moore Jr. put up a triple-double.
Grayson from deep to tie it late 👀#DukeintheNBA pic.twitter.com/yn5qF4ukfm

— Duke Men's Basketball (@DukeMBB) November 13, 2021

Their next opponent will be against the Campbell Fighting Camels (great name), who have also got off to a nice 2-0 start. They've been carried by upperclassmen Jesus Carralero and Jason Whitfield who've put together consecutive double-digit scoring performances. That being said both wins came against small opponents; Duke is a whole different animal. I'll go with the simple pick here and take them to win outright!
Michael's College Basketball Pick: Duke (-8000)
Duke picked up a huge blowout win over Army to improve to 2-0 on the 2021 college basketball season. This is Coach K's final season at the helm of Duke and what has been a legendary career, so he will be looking to go out on top by winning a national championship and his curtain call to add to his already impressive legacy. Duke is one of the most storied programs in the history of college basketball and with every new season brings a new group of fabulous freshmen to Durham to try to become kings of the college basketball world once again and this year they certainly have the talent to do so.
Meanwhile their opponent Campbell, they have also opened up the season at 2-0. They are a member of the Big South Conference and last season they finished with a record of 17-10 however they failed to qualify for the NCAA Tournament. For the result of this game, I look forward to be all Duke, as the Blue Devils cruise to a massive blowout and start 3-0 in the final year of Coach K's legendary career
Tony's College Basketball Pick: Duke (-8000)
Prairie View @ #6 Michigan – 8pm ET
Prairie View will be looking to turn around a poor 0-2 start to the year, but things don't get much easier for them, as they take on the sixth seed, Michigan on Saturday night. The Wolverines got their season off to a win, 88-76, against Buffalo on Thursday.
Prairie View began their campaign with two huge losses against San Francisco and St. Marys (CA). They won the Southwestern Conference last year with 16 wins and 5 losses, but this year they might not be able to repeat that. The team's leader in rebounds for last year, Lenell Henry, is no longer with the team and the same goes for the best player in terms of assists and steals per game, Cam Mack. They will once again mostly rely on Jawaun Daniels to lead them to victories.
Michigan is off to a good start of the season after defeating Buffalo in their opening game. They built a convincing 15-point lead in the 1st half and although they lost the second part by 3 points, they were never under pressure of losing the match. The Wolverines had to part ways with some key players from last year, but that's common for a team of their class. Isaiah Livers signed with the Pistons, while Franz Wagner was taken by the Orlando Magic. However, Michigan kept presumably its best player, Hunter Dickinson, who will try to lead the team to the NCAA Championship. I think this game will be like a walk in the park for the hosts as I am expecting to see a dominating performance from Dickinson, Eli Brooks, and Terrance Williams II, and it will be enough to cover the spread.
Denis' College Basketball Pick: Michigan -21.5 (-118)
Michigan is one of the country's most complete teams; their eyes will not only be on a Big 10 championship but an NCAA as well. They have a potential Naismath candidate in Hunter Dickinson, who got off to a great start against the University of Buffalo, scoring 27 points in an 88-76 win. The Wolverines were outscored by an always solid Buffalo team 37-40 in the second half, but that's only after they manhandled them 51-36 in the first—so they weren't exactly playing with level ten of intensity down the line.

Michigan's next opponent is Prairie View A&M who have got off to a pretty ugly start. They were trounced by both St. Marys and San Francisco in their first two games; now it will likely get even uglier against the number 6 team in the nation. This one shouldn't be a problem for the Wolverines, especially in Ann Arbor.
Michael's College Basketball Pick: Michigan -21.5 (-118)
Prairie View A&Ms 2021 season has not got off to the ideal start as they come into this game with a record of 0-2, having lost to Saint Marys and San Francisco in a blowout fashion by a combined score of 179-144. Despite the slow start to the year that will likely result in them starting 0-3 after this game, they have been a dominant force in the SWAC, having won the regular season conference title each of the last three seasons. Despite their regular season success they have only managed one NCAA Tournament appearance in that span.
As for the Michigan Wolverines, they came into this season ranked sixth in the Preseason AP Poll and won their opening contest over Buffalo by double digits onThursday night. Michigan is one of the most storied programs in the history of college basketball and recently they have qualified for March Madness eight of the last ten years. During that run they have finished as runner up to the National Champions, those accolades coming in 2013 and 2018. As for the result of this game, I expect it to be all Wolverines in this one, as Michigan is by far the most talented team that will be on the court that night. I expect this one to be a dominant performance from start to finish by Juwan Howard's Michigan team.
Tony's College Basketball Pick: Michigan (-10000)
#5 Texas @ #1 Gonzaga – 10:30pm ET
This has got to be the game of the day when the fifth seed, the Texas Longhorns, take on the number one seed, in the Gonzaga Bulldogs. Both teams have got their season off to a winning start, with Texas winning, 92-48, against Houston Baptist, and Gonzaga winning, 97-63, against Dixie State.
The highlight of Saturday's NCAA will be the game between Texas and Gonzaga. Texas started off their season with more than a convincing win over Houston Baptist. They didn't give any chance to their opponents as they won by 42 points. The Longhorns parted ways with many players from their roster last year like Kai Jones, Jericho Sims, and Greg Brown III. They still have Courtney Ramey, Andrew Jones, and Marcus Carr on whom Texas will mostly rely this year. Other prospective players include Timmy Allen and Tre Mitchell. Keeping in mind that all of them are Seniors, I think they might be able to put up a good fight against the top-seeded Gonzaga.
Gonzaga, on the other hand, will try to make up for the loss to Baylor in the NCAA Championship Final last year. They also had to find replacements for some of their top players like Corey Kispert, Jalen Suggs, and Joel Ayayi. The Freshman, Chet Holmgren, is one of the best additions to their list this season as the 7'0'' center will try to help his team under the rim and secure as many rebounds as possible. Nolan Hickman and Hunter Sallis are other prospects who will be the core elements for Gonzaga's future. I think that this game will go towards the #1 seed, but I don't fancy the odds of it happening. That's why I will try to pick another option with greater value and that will be the over.
Denis' College Basketball Pick: Over 150.5 (-114)
In what is certainly Saturday's marquee matchup, the Texas Longhorns head to "The New Kennel" in Spokane, Washington to take on the Gonzaga Bulldogs. Gonzaga had a nice practice game (essentially) for their first matchup of the year as they took on Dixie State, and won 97-63. Prized number one recruit Chet Holmgren was a machine with 13 points, 14 rebounds, 7 blocks and 6 assists, as he looks like a potential quadruple-double waiting to happen. Gonzaga will have their first real test in their goal of winning that elusive National Championship, as they the #5 team the Texas Longhorns.
Tomorrow 🤫 pic.twitter.com/43yTNDXLI2

— Gonzaga Basketball (@ZagMBB) November 13, 2021

The Longhorns are determined to win the Big 12 and make a run at the Final Four this season as they want to give beloved guard Andrew Jones a proper send off in his final season. Jones has had a battle with Leukemia that first occurred during his sophomore season. The senior has fought back to rejoin the team and be one of the nation's premier guards. Jones is thrilled to have a veteran group of guys around him with the likes of Courtney Ramey and Marcus Carr, as well as star freshman Jaylon Tyson. The Longhorns should be able to put up a great fight, but considering this one is going to be at an electric McCarthy Athletic Center, and with all the talent Gonzaga has, I have to go with the Bulldogs.
Michael's College Basketball Pick: Gonzaga (-345)
This one is yet another top 5 early season matchup that should deliver. As the 2021 Runner Ups to the National Champs and number 1 ranked team in the nation take on the number 5 ranked Longhorns of Texas. Both schools opened up their 2021-22 seasons with blowout victories but it certainly will not come as easy in this one. Gonzaga has transformed from mid major to top 5 power in the game of college basketball over the last 5 or so seasons. While Texas is a consistent national title contender.
As for the winner of this one, it is by far the hardest decision of the night but I think the Gonzaga Bulldogs come out on top in a close hard fought battle. This is a game that could very well go down to the final whistle of regulation and potentially overtime as well. Gonzaga is set up this year to finally capture that national title that has eluded them several times over the past 4 seasons. They will make yet another statement with a big win over the Longhorns in this one.
Tony's College Basketball Pick: Gonzaga (-345)
If you need more news, information and predictions, head over to our College Basketball hub page for all your college basketball needs!
*Odds and spreads correct at time of publication, courtesy of FanDuel.