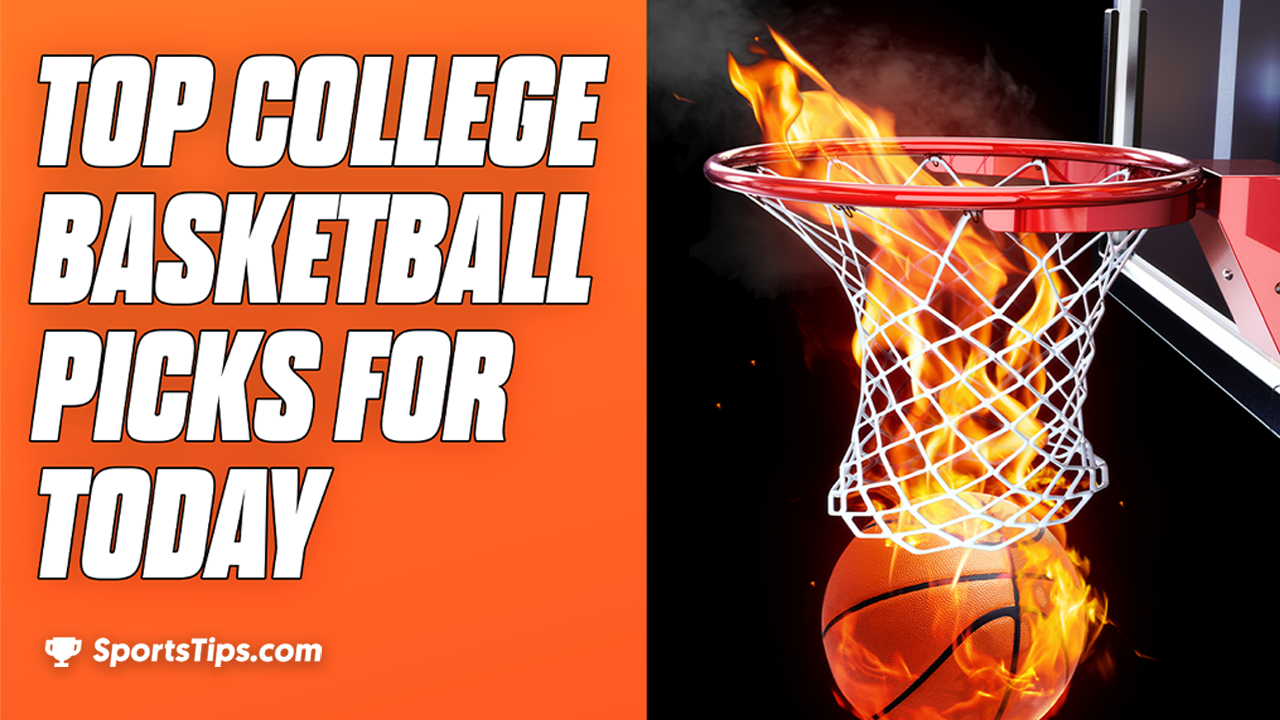 Our free College Basketball Picks are out for Friday, November 26th, 2021! Make sure you check our College Basketball Picks before the action kicks off.
Look below to find our free College Basketball Picks for the best games on today's schedule!
Omaha @ #3 Purdue – 2pm ET
After a thrilling win over Villanova, the Purdue Boilermakers look to have themselves as close to a night off while playing as possible. They host the Omaha Mavericks, who managed to win their first game of the season but have dropped four straight since then, with the most recent of those being by 56 points.
Omaha will have a tough task on Friday facing one of the best performing teams in the NCAA so far, Purdue. The Mavericks are in a tough position with four consecutive losses, the last one of which was a devastating 96:40 defeat against Texas Tech. Last year, the team from Nebraska won just 5 out of 25 games in total. It's clear that they are not from the same league as the top-seeded rosters.
Purdue, on the other hand, sets its expectations high and aims for the NCAA title. They have all the potential to lift the trophy, starting with Zach Edey who is a monster on both ends of the court. He rallies for 17.2 points, 8 rebounds, and 1.2 blocks on average. Additionally, Jaden Ivey and Trevion Williams help him with their playmaking and defensive skills. Sasha Stefanovic, Brandon Newman, and Isaiah Thompson have high percentages from beyond the arc which further completes the whole squad. I think they won't face any problems in reaching the 90-point mark in tomorrow's game, which is essential for them so that they will be able to cover the spread.
Denis' College Basketball Pick: Purdue -34.5 (-110)
Boilermakers in the NCAA ranks.

4️⃣: Scoring Offense
8️⃣: Field Goal Percentage
8️⃣: Rebound Margin
1️⃣7️⃣: 3-Point Percentage
1️⃣7️⃣: Assists Per Game
1️⃣9️⃣: 3-Pointers Per Game
2️⃣3️⃣: Scoring Margin
2️⃣7️⃣: Assist/Turnover Ratio pic.twitter.com/17IP01be4Z

— Purdue Mens Basketball (@BoilerBall) November 24, 2021
Omaha comes into this game with a record of 1-4 on the season. Omaha is a member of the Summit League, which is also home to football powerhouse North Dakota State. They have not gotten off to the start they have hoped for. They picked up a victory in their first game but have since lost four all by blowout fashion to some mid majors and power 5 teams like Texas Tech and Kansas State. However this game against the third ranked Purdue Boilermakers is their toughest test of the entire season.
As for the Purdue Boilermakers, they come into this game with an undefeated record after winning their first five games of the year, two of those victories were over some elite teams like North Carolina and Villanova. As for the result of this game, the Purdue Boilermakers should pick up the victory in blowout fashion in this game as they are by far the most talented team on the court.
Tony's College Basketball Pick: Purdue (-50000)
Tennessee Tech @ #15 Tennessee – 3pm ET
We are keeping this one in-state as the Tennessee Volunteers host the Tennessee Tech Golden Eagles this evening. While there isn't much distance between the two sides geographically, there is a massive distance in ability, with the Volunteers sitting at 3-1 with their only loss coming to #5 Villanova, while the Golden Eagles are just 2-3 so far this season and lost their only matchup against a ranked opponent by 24 points.
Tennessee will face Tennessee Tech in game 5 for their season. They are 3-1 so far with a loss against Villanova. Tennessee had actually performed pretty well in the other games as they managed to outclass North Carolina by 17 points. Their biggest issue comes from the 3-point line as they are quite inefficient, but this gives another chance for Olivier Nkamhoua to grab some rebounds. He leads the team with 8.5 rebounds per game, while Santiago Vescovi averages 16.8 points. The team has the potential to make an upset against some top-seeded team, but they will need to take care first of the Tennessee Tech Golden Eagles.
Tennessee Tech holds a record of 2 wins and 3 losses which puts them in 6th place in the Ohio Valley Conference. The team is certainly better than last year when they finished off the campaign with 5 wins and 22 losses. They will try to finish in the top half of the table, but that's the most they can get from this season in the NCAA. They managed to grab an important win over Lipscomb in their previous game where they scored a massive 88 points. However, Tennessee smashed one of Tennessee Tech's main rivals, UT Martin, by 28 points and I don't think this game will be any different. I expect the difference to be around 25 points, but I hope it will be in favor of the 15th-seeded, Tennessee.
Denis' College Basketball Pick: Tennessee -24.5 (-106)


Tennessee Tech comes into this in-state match up with a record of 2-3 on the year, as they have gotten off to a mixed start so far this season. Tech is a member of the Ohio Valley Conference. They picked up a victory over Lipscomb by double digits on Tuesday. Now they will face their toughest competition of the season to date, the number 15th ranked Tennessee Volunteers. They will have to play near perfect basketball to pick up a win in this one.
The Tennessee Volunteers are 3-1 on the year as their only loss was to the number #5 ranked Villanova Wildcats, by an 18 point margin last Saturday. However Tennessee followed it up with a blowout victory of the number 18th ranked North Carolina Tar Heels the following evening in the Hall Of Fame Tip Off Tournament. Tennessee is likely to be one of the top teams in a very competitive SEC. As for the result of this game, the Volunteers should take this one in blowout fashion.
Tony's College Basketball Pick: Tennessee (-4500)
North Florida @ #10 Kentucky – 7pm ET
The North Florida Ospreys finally got their first win over the season, dominating Webber International 103-43. They now follow up that emphatic win by getting on the road to take on the Kentucky Wildcats, who have won four straight games and their smallest winning margin over that stretch was 18 points.
North Florida is in a tough spot as the Ospreys started off the season with 1 win and 5 losses. The team has been struggling to put up a lot of points against some of the better teams they had to face. North Florida isn't hoping for anything special as they perfectly know that they are capable of winning around 30-40% of their games and nothing more. Last season, they finished second-to-last in the Atlantic Sun Conference with 8 wins and 15 losses. This year, the team is last in its Conference with the worst points difference by far.
The 10th-seeded, Kentucky, was off to a bumpy start as they had to face Duke in their opening game for their campaign. They eventually lost by 8 points, but this only motivated them to prove how much they are worth it. Later on, the Wildcats demolished Robert Morris (110:60), Mount St. Mary's (80:55), and Albany (86:61). Kentucky also defeated Ohio by 18 points in what was expected to be a closer match. Oscar Tshiebwe averages 16 rebounds which is one of the highest numbers in this particular aspect of the game in the NCAA. TyTy Washington Jr. leads the team with 15 points, 5 rebounds, and 3.4 assists per match. I think that with such players, Kentucky shouldn't have any troubles in covering the spread.
Denis' College Basketball Pick: Kentucky -25.5 (-110)
Four straight wins heading into Thanksgiving 😼🏀 pic.twitter.com/zBPK9Oc5yh

— Kentucky Men's Basketball (@KentuckyMBB) November 24, 2021
North Florida comes into this game with a record of 1-5 as their season has not been good up to this point. They play a very competitive schedule as 4 of their 6 games have come against top teams like Texas Tech, UCLA, Arizona State, and Texas A&M. However they did pick up a blowout victory in their last game against Webber. This game against Kentucky is yet another tough test for them that will likely have them prepared for Atlantic Sun conference play when the new year comes around.
The Kentucky Wildcats come into this game with a record of 4-1 on the year as they currently ranked tenth in the country. Their lone loss came to the Duke Blue Devils in the first game of the year in the State Farm Champions Classic. They have since won their last four games to open up this season, with wins over Robert Morris, Ohio, Mount Saint Marys and Albany. When the final horn sounds in this one the Kentucky Wildcats will end up on the winning side in blowout fashion.
Tony's College Basketball Pick: Kentucky -25.5 (-110)
Texas-Rio Grande Valley @ #14 Illinois – 8pm ET
After suffering back to back losses, the Illinois Fighting Illini needed a boost and they got just that against Kansas State last time out, beating them by eight in the Hall Of Fame Classic consolation game. They now return home to host the Texas-Rio Grande Valley Vaqueros, who are 4-2 so far this season but are just 1-1 on the road, including a 54 point loss to #17 Arizona.
Texas-Rio Grande Valley will have to travel to Chicago to face Illinois in what promises to be a very one-sided game. However, the guests are 4-2 so far which is a bit surprising as they managed to upset CS Fullerton and Northern Arizona in their last two fixtures. The team plays with a conservative approach as they rarely make turnovers in their matches. Justin Johnson leads UT Rio Grande Valley with 17.5 points, 6.8 rebounds, and 0.8 blocks per game.
On the other hand, Illinois is amongst the seeded teams who are underperforming so far. They have already lost twice this season as Marquette and Cincinnati solved their puzzle and outplayed them. Later on, they had troubles against Kansas State, but managed to close out the game by 8 points. Kofi Cockburn leads the team with 20.5 points per game, but this is just from the past two games as he didn't take part in the opening fixtures. There seems to be a good balance within the Fighting Illini as most of the players are getting some decent time on the court. However, I think they don't have the potential to beat a well-performing team by 28 points. For me, this spread is a lot higher and Texas-Rio Grande Valley should be able to easily cover it.
Denis' College Basketball Pick: UT Rio Grande Valley +27.5 (-115)


Texas Rio Grande Valley comes into this match up with the 14th ranked Illinois Fighting Illini with a record of 4-2 on the year. They have picked up victories over a ton of smaller schools while their losses have come to the Arizona Wildcats and Northern Arizona. They are a member of the Western Athletic Conference. This game against the Fighting Illini will be their toughest test of the season by far.
As for the previously mentioned Fighting Illini they started off the season with a bang, even without star player Kofi Cockburn. However it did not last long as after starting 2-0 they would go on to lose 2 of their next three against Maquette in the Gavitt Tip Off games and then fall to Cincinnati in the Hall Of Fame Classic. They would rebound quickly as they defeated Kansas State in a consolation game of the Hall Of Fame Classic. As for the result of this game Illinois should have no problem picking up a victory.
Tony's College Basketball Pick: Illinois (-10000)
#1 Gonzaga v #5 Duke – 10:30pm ET
Four nights after dismantling UCLA, the #2 team in the country, the Gonzaga Bulldogs now turn their attention to the #5 Duke Blue Devils in the Continental Tire Challenge in Las Vegas. Both sides have started the season 6-0 and have faced ranked opponents, however Duke has only beaten #10 Kentucky, while Gonzaga has already managed to get the better of #2 UCLA as well as #5 Texas (at the time). Can the Bulldogs claim another top five scalp or will the Blue Devils show why they are always one of the best programs in the business?
The top-seeded team, the Gonzaga Bulldogs, will face one of the toughest teams in the NCAA's history, the Duke Blue Devils, right after Thanksgiving Day. Expectedly, both teams are undefeated so far this season as Gonzaga plays on another level in these six matches as they have 55.6% FG, while at the same time keeping their opponents below the 38%-mark. Chet Holmgren, Drew Timme, and Julian Strawther are yet to face a tough competition this year that will fight them well in the paint.
Duke, on the other hand, looks promising in Mike Krzyzewski's final season as a head coach of the team from North Carolina. Paolo Banchero, Wendell Moore Jr., and Trevor Keels will have to try and keep their full focus on the important games this season as this will have the greatest impact on their rankings and hence on their position in the bracket. This will be the 6th top 10 matchup for this campaign and so far, only Purdue managed to upset Villanova. In my opinion, we won't see another win from the lower-seeded team as I believe Gonzaga's focus is directed at enjoying their game at the moment and they will most probably cruise easily past Duke. I am going with the Bulldogs' spread once again.
Denis' College Basketball Pick: Gonzaga -7.5 (-110)
Gonzaga is just the 5th team in the AP Poll era with multiple wins over Top-5 opponents in November, joining:

2016-17 Indiana
2012-13 Duke
2001-02 Ball State
1989-90 Kansas@ZagMBB can make it 3 such wins when they face (5) Duke on Friday. pic.twitter.com/k2FCLSe1Zr

— ESPN Stats & Info (@ESPNStatsInfo) November 24, 2021
This is by far the most anticipated game of the Thanksgiving weekend slate in all of college basketball. It should be a great game as the number one ranked Gonzaga Bulldogs are playing the fifth ranked Duke Blue Devils. Both teams come into this game with undefeated records of 6-0 on the year. Gonzaga is coming off of a huge win against the currently number 2 ranked UCLA Bruins where they dominated the entire game from start to finish en route to a 83-63 blowout win. Duke has picked up some hard earned wins as well, most notably against the Kentucky Wildcats to open the season up.
As for the result of this one, Gonzaga should pick up another huge win in this one. They are living up to their number one ranking at the moment and they look like they are going to finally capture the national title that has eluded them for the last several seasons. Both them and Duke will surely end up being NCAA Tournament participants at the end of the season and could likely face off again in March Madness down the line.
Tony's College Basketball Pick: Gonzaga (-315)
If you need more news, information and predictions, head over to our College Basketball hub page for all your college basketball needs!
*Odds and spreads correct at time of publication, courtesy of FanDuel.